As teachers, we look to the first day of school with mixed emotions — excitement about a new term, curiosity about the new class of students, and sometimes a bit of overwhelm. There is a lot to do to prepare for welcoming a new class — from picking a classroom theme (perhaps boho rainbow this year?) to setting up your displays, and it can be hard to prioritise what needs to be done vs. what it would be nice to do.
Take a deep breath! The teachers on the Teach Starter team have been through heaps of first days over our years in the classroom, and we've put our heads together to help make YOUR first day easier.
What to Do Before the First Day of School
First, let's talk about the things you will want to prioritise to do before that first day of school! The list can seem long, but if you write it all out, you'll be able to see what has to be done and what you would simply like to do if you have time. Figuring out what's urgent and important helps us to prioritise.
It's tempting to believe that labelling every non-living thing in your classroom and making things look pretty is a top priority. But consider that decorating your classroom can wait and that other things are more important.
The most important thing to plan for the first day of school is ways to connect with your students, being to create a classroom community and to build relationships.
Here are the top things we always have on our lists:
Prepare your classroom displays for birthdays, subjects, doors, etc.
Arrange students' desks, and set up your desk name plates.
Tidy the classroom — wipe everything down, organise cupboards, sort your storage, etc.
Label where things should go so students can help you with sorting and organisation during the school year.
Set up a welcome note for your classroom door.
Write a 'Meet the Teacher' letter.
Choose an active game and an icebreaker.
Choose an 'All About Me' activity.
Plan a desk activity for the children as they enter.
Plan a take-home activity.
---
What to Do on the First Day of School
Well, it happened. The first day of school is officially here! Now what? Here's what a typical first day will look like!
1. Welcome Note on the Classroom Door
Parents and students will arrive at your classroom door at least 15 minutes prior to the start of the school day, especially on the first day! We have found having a poster-sized welcome note displayed outside of the classroom extremely useful. It helps both parents and students, giving them confidence in knowing how the morning is going to run as soon as the classroom door is opened. Make sure that the note explains that parents were most welcome to come in and help settle their children, but give the parents the opportunity to leave once their child is settled at their own desk.
It doesn't need to be fancy, a handwritten note on butcher's paper is perfectly fine! You can use bullet points to make it simple and clearly outline what will happen when the door opens for the day. You can also make it really stand out with these printable pencils (and photo props!) — take a peek at the entrance to Cait Markham's classroom below!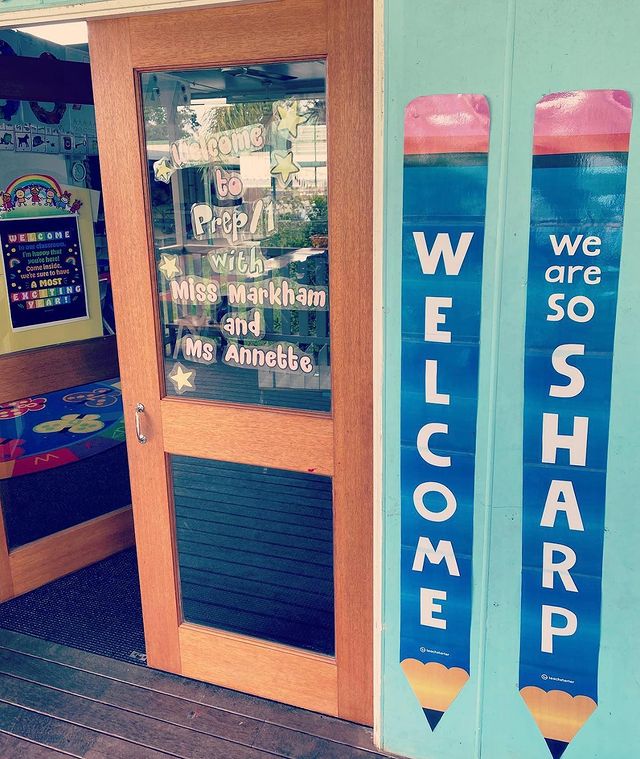 2. Name Tags and Desk Plates
As students enter the room, welcome them, and help them find their name tag. This greeting ensures that parents know who the teacher for their child straight away and the students feel welcomed. Ensuring students have name tags and their names on the desks fills them with confidence and a sense of belonging as well.
3. Get Sorted!
It's often easy to forget that students are likely to arrive with a school bag full of books, stationery, and other miscellaneous items such as USBs, headphones, photocopy paper, tissue boxes, etc. Having a plan for how you are going to sort all of these items as soon as they walk in is key!
Go through the book list and create tray labels for every item. Place them on baskets or just on a table in the corner of the classroom.
As you welcome the students and parents, ask mums and dads or other carers to work with their children to sort their items around the classroom. This will make your  job a lot easier when sorting through other items throughout the day. Students will be kept busy with parents sorting out their school supplies and finding their own desks. Having prepared desk plates for each student helps to make this a smooth process.
Teach Starter Teacher Tip: We've made many of the designs in our desk name plates collection easily customisable with your class list, so you don't have to spend hours writing them by hand! 
This frees you up to welcome additional students and do a quick check to see if there are going to be any students who may not cope well with the separation from their parents. It also gives you a chance to help out students who had come straight from before-school care or whose parents are settling in other siblings at that time.
Teacher Ms. Mitchell popped our printable monkey labels on each of her bins, so students know just where to put their coloured pencils!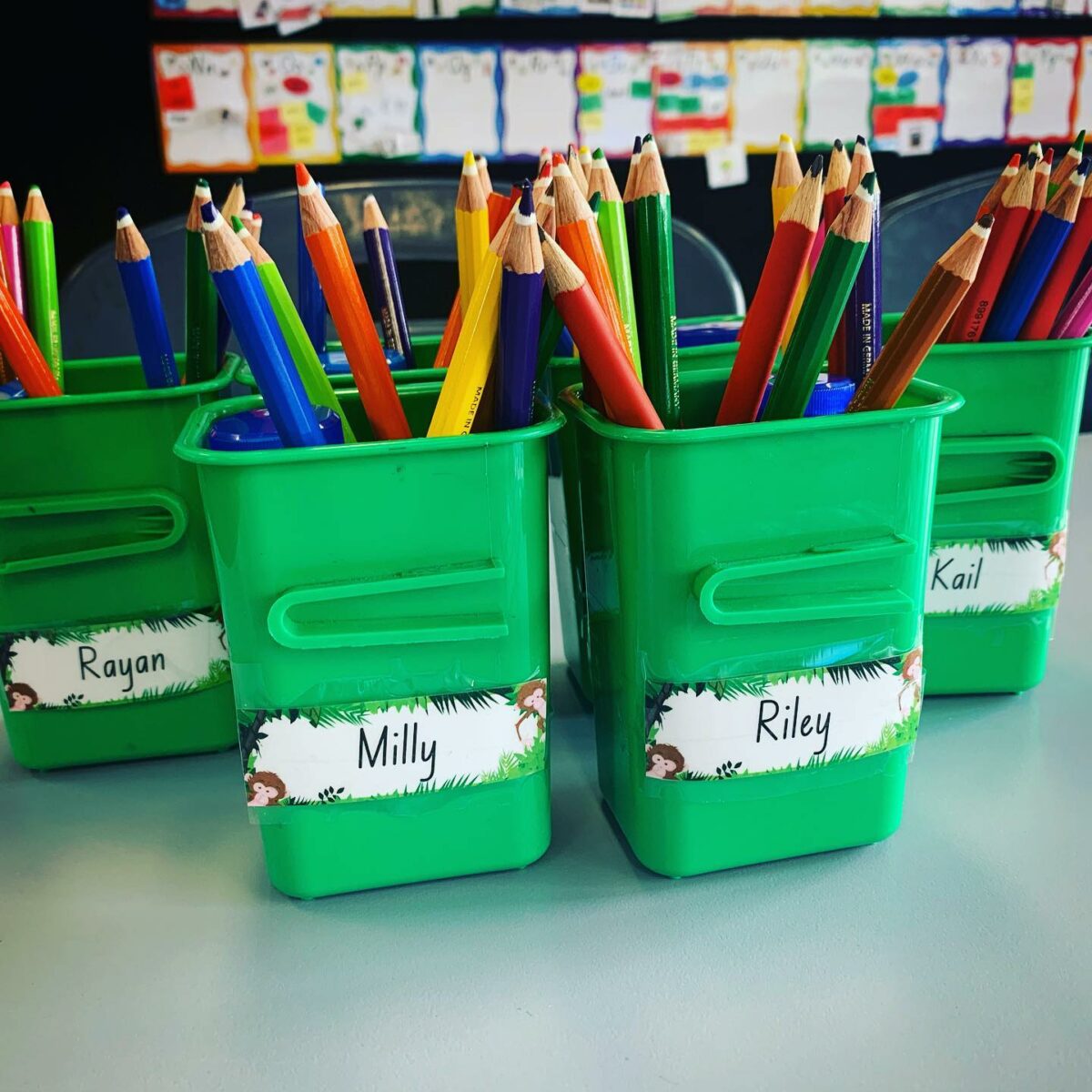 4. Desk Activity
Name tags collected, belongings put away, it's now time for the parents to say their goodbyes and settle their children at their very own desk. Have a fun desk activity prepared for this moment.
Colouring sheets are perfectly fine, or why not create a word search with the names of the children in the class to keep their minds off the daunting fact that their grown-ups are now leaving for the day! Use our Word Search Generator to easily create a customised word search.
5. Scavenger Hunt
You may need to do a tour of the school, especially if you have new students in your classroom. This can be done as a whole class by using our QR Code School to Library Scavenger Hunt.
This is a fun activity that will allow for new students to walk around the school and for older students to reacquaint themselves with the school grounds and where their new classroom is located. In this scavenger hunt, they will end up in the library, so why not organise to have a back-to-school story picked out to read to them while they are there?
6. Icebreaker Games
We always try incorporating a couple of fun icebreaker games into the day to break up the sorting, general procedures, and routine chats. It's a fantastic opportunity for you to get to know the students and their personalities, identifying those that are leaders and those that prefer to sit back and watch.
Explore dozens of fun icebreakers and getting-to-know-you printables, or head straight for this super versatile one — the interactive friends in the pond icebreaker display wall, writing prompt, and getting-to-know-you activity in one!
Brisbane teacher @mrsloudlife (below) printed out each of the getting to know you questions in the resource, and her teacher's aide popped them onto a key ring for easy access!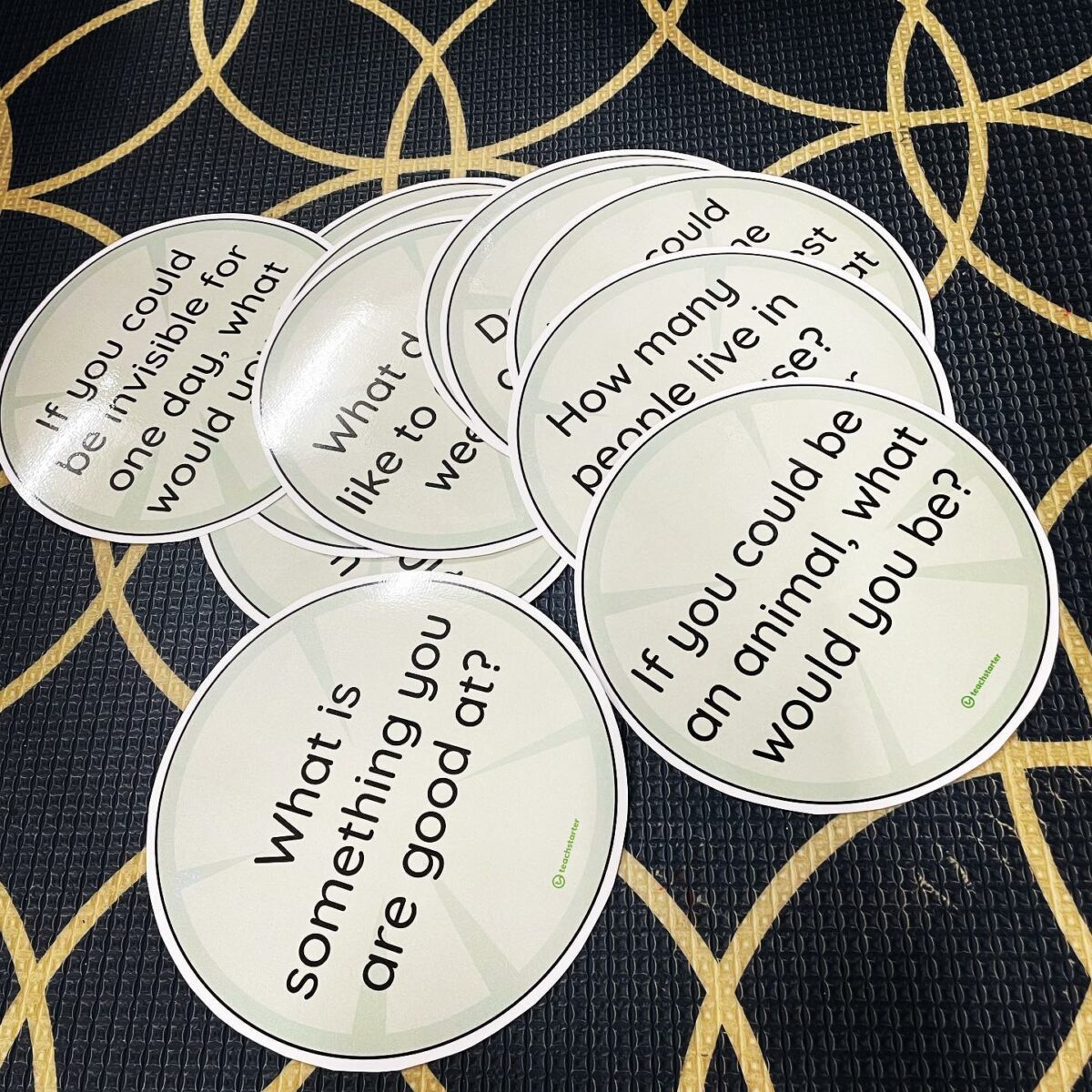 Explore more fun icebreaker activities you can print right now! 
7. Explore the Classroom
The school isn't the only new place to explore. For students, one of the most exciting things about the first day of school is getting to know their new classroom! Once they have settled into their desks, give your students the opportunity for a physical movement break with our Classroom Scavenger Hunt – PowerPoint Presentation.
This is the perfect activity to acquaint your students with their new classroom. Each slide in the PowerPoint provides a prompt to find something in the classroom. The best part is, the slides are editable so you can customise the presentation to suit your class.
Remember to ask your students to think about where they got things from so that they can be returned afterward! Or, why not task them with drawing a picture of each item instead?
8. All About Me Activities
Completing an all-about-me activity on the first day gives students a chance to get to know one another and a chance for you to start building those relationships! Prep teacher @shaping_little_minds loves to use our Brag Bag activity on the first day with her students. Take a look at how they all turned out!
Print your own brag bag all about me, here.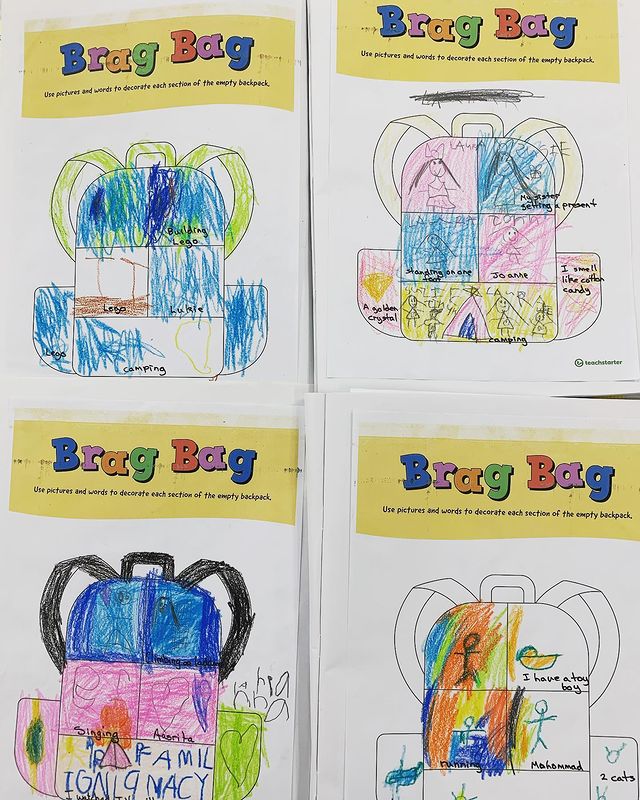 Teach Starter Teacher tip: Complete your all about me activity with your students as well! They will love hearing about you, what your hobbies are etc. It will provide them with a clear understanding of what they needed to do when they began the activity on their own.
9. Work on Expectations
If you really want your class to work as a team this school year, then you need to work together to form behaviour expectations for the year.
Using our In This Class… – Expectations Posters, encourage your students to write down what each of these things means to them:
excellence
respect
kindness.
Then, use their responses to create a wonderful classroom display!
Your students will love that they've already contributed to a whole-class activity. Even better, they will be motivated to demonstrate the class expectations as they will have a clear understanding of what these expectations mean.
Listen to teacher Ash Curmi talk about expectation setting on the Teach Starter podcast.
Remember to reiterate your collaborative rules and expectations throughout the day. For example, explain the packing up routine and lunch procedure just before lunchtime, reinforce bookwork expectations during writing time, and remind students of respectful language as the need arises!
Relationships and trust are important. Get to know your students and settle them. You have the whole year with them, so don't panic and bombard them with information on the very first day.
10. Ask the Students Questions
Show your students you are as interested in them by setting up questions for students written on pieces of butcher's paper scattered throughout the room (just like the image below by Adventures of a 3rd Grade Teacher). The goal will be for students to place a sticky note on each question by the end of the day.
It does not need to be a forced activity that they have to do within a designated time. They just need to make sure they answer each question by the end of the day. Look at the answers and discuss them as a class on the second day of school or sometime during that first week.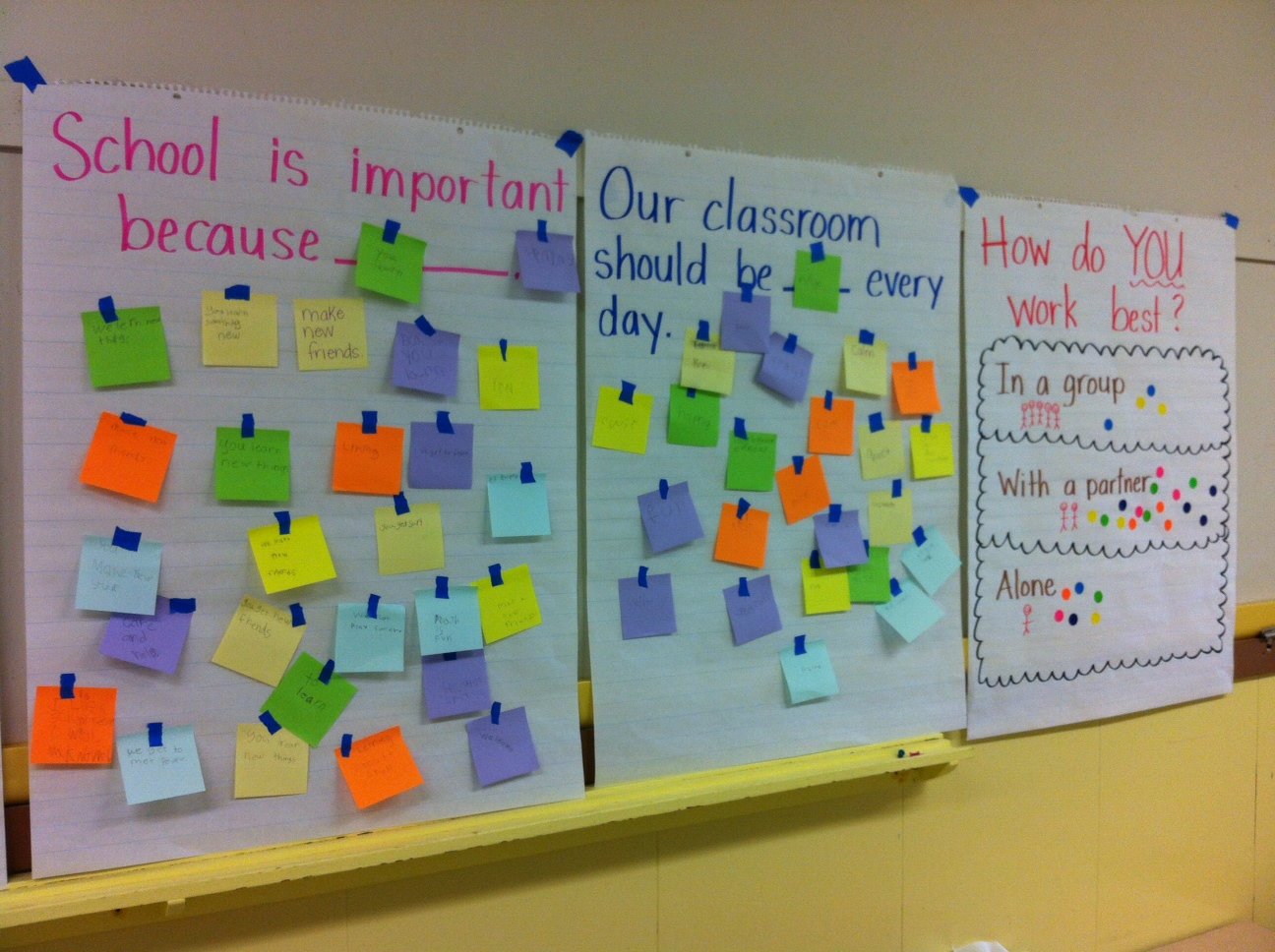 Image source: The Adventures of a 3rd Grade Teacher
11. Summer Snapshot
Students often love to share what they've done over the summer. Help them share what they've been up to with our Summer Snapshots template.
Once they've finished the suggested drawing prompts, your students can create some of their own original hashtags to share with the class.
12. Getting to Know You T-Shirt
Of course, it's not all about learning what your students like at school. You can't have first-day activities without getting to know your students' interests out of school too!
This awesome Getting to Know You T-Shirt activity is just the creative lesson you need to get your students to share their interests. Have the class introduce themselves to each other by sharing their T-shirts. They may find some new friends who share common interests that will set them up for the year to come.
13. Would You Rather? Writing Task
Ahhh: a good ol' fashioned writing task! There's nothing like asking a student's opinion to get them writing. You can do just that with our fun Would You Rather…? Question Cards!  Provide your students with a card to prompt them to write an opinion piece or a story!
We have plenty of writing templates, such as this Narrative Writing Planning Template. Give one to your students and see what creative stories they can come up with.
Don't forget: this will help you assess their handwriting, spelling, and narrative writing skills too! It's a win-win!
14. Choose a Children's Book
Having a good children's book up your sleeve for the first day of school is essential. Reading a good book to your class on the first day of school is a bit like sharing a pot of tea – it brings everyone together.
Explore a booklist of 36 teacher favourites from the Teach Starter team to help you choose the right one. You may not be able to read them all, but the list will also give you new ideas for your classroom library.
15. Play an Active Game
After a long active holiday, it's going to be a challenge for students to sit down for long periods of time. Need some new active game ideas? Our Brain Break Active Game Resource Pack has heaps!
16. Assign a Take-Home Activity
Be smart and choose an activity that is easy for your students to complete independently and without much teacher instruction. With early years in mind, we have created this brand new Starting School Chatterbox.
This fun template is ideal to use during the first week of school and encourages students to:
learn how to spell their teacher's name
get their school uniform ready the night before school
pack their bag the night before school
learn the names of two people in their new class
read to an adult at home
introduce themselves to a classmate
draw a map of their classroom
show an adult how to hold their pencil
Banner image via Shutterstock/mother_ana