Encourage students to think about how they could make the world a better place with our Nobel Peace Prize writing template.
What If You Won The Nobel Peace Prize?
In 1964, Martin Luther King, Jr. was awarded the Nobel Peace Prize for his ongoing activism in the American civil rights movement. 
Use this resource around MLK Day to celebrate his legacy and explore the importance of the Nobel Peace Prize.
Students will imagine receiving the honor of the Nobel Peace Prize. Then, they will write a paragraph explaining why they received it.
By completing this creative writing activity, students will use descriptive details to describe an imagined event.
Scaffolding + Extension Tips 
Use this single-page resource with your upper elementary students to celebrate Martin Luther King, Jr. Day. It was designed as an independent exercise, post-lesson exit ticket or reading center activity. Additionally, you can use this writing exercise as a:
Civil rights movement lesson activity

Black History Month

lesson activity

Composition practice

Homework assignment

Whole-class lesson review (via smartboard)
Students who need extra support can complete this worksheet in a 1:1 teacher intervention setting or in your guided writing group. 
Fast finishers can draw a picture on the back of the worksheet showing themselves receiving the Nobel Peace Prize. 
Before You Download 
Use the dropdown menu to choose between the PDF and Google Slides versions. 
To turn this teaching resource into a sustainable activity, print a few copies on cardstock and slip them into dry-erase sleeves. Students can record their answers with a dry-erase marker, then erase and reuse. 
Additionally, project the worksheet onto a screen and work through it as a class by having students record their answers in their notebooks.
---
Don't stop there! We've got more activities to stimulate engaging MLK lessons: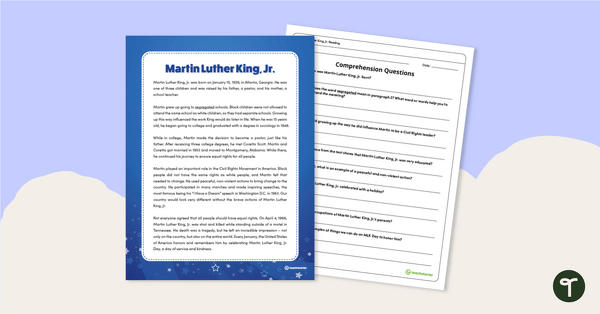 teaching resource
Apply a range of reading comprehension strategies to learn about Martin Luther King, Jr.
teaching resource
Define and discuss vocabulary words associated with diversity and equality using this flip-book writing activity.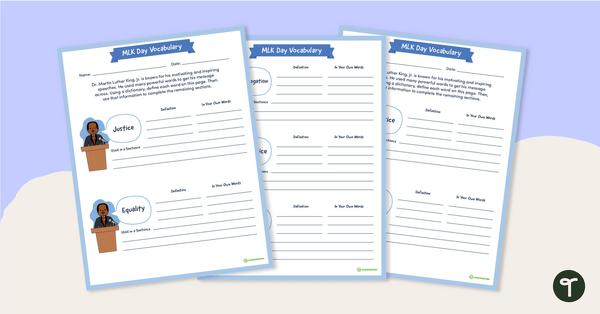 teaching resource
Build dictionary and vocabulary skills by identifying the meanings of words related to Martin Luther King, Jr. and civil rights.