Roll out an online dice roller, designed for classrooms, with the ability to roll as many as 6 different types of dice at a time. This teacher-created resource is the perfect addition to your next math lesson plan!
Teachers, rejoice! The Teach Starter Dice Roller widget has been created just for classrooms to use online with board games, maths warm-ups, roll-to-create activities, and much more!
Online Dice Roller
Chasing the dice across the classroom? So yesterday! Rolling the dice out the door? Not anymore.
Never lose your classroom dice again with the dice roller widget designed by the teachers of Teach Starter to put an end to those classic headaches. This 3D simulation allows you to roll up to six dice all at once, and each die can be individually customized to one of six different types.
Dice are easily one of the most popular classroom tools. The problem comes with their size. They don't make great tools for whole-class activities as they can be difficult for all your students to see. Their small size also means they easily get lost around the classroom (especially when rolled with great enthusiasm!). That's why we made classroom dice that can never get lost!
Not only is the Dice Roller Widget large enough to share with all students on an interactive whiteboard or projector, but students can also do a virtual dice roll on their iPads or devices! Bonus: This online dice roller has more than just the traditional 6-sided dice – it comes with the ability to have up to 6 dice at a time, with an assortment of sides. That's right! You get the options of 6, 8, 10, 12, or 20 faces or ten faces counting up in 10s.
How to Use the Dice Roller
Using the Dice Roller is simple, so your students can do it themselves.
Select how many dice you would like to roll.
Select the number of faces for each dice — you can have all the dice with the same number of faces, or a variety (great for upper years probability activities!)
Click to roll!
No more rogue dice flying across the room!
Automatically Find the Total
The tool generates an addition number sentence based on the results of each dice throw. This feature can assist students with finding the total value of multiple dice. It can be hidden by clicking the checkbox in the settings menu.
Dice Types
Choose from 6 different types of dice:
1–6
1–8
0–9
1–12
1–20
00–90 (increments of 10).
Ways to Use the Dice Roller Tool in the Classroom
Need a few ideas for adding this tool to your teacher toolkit? Here are just a few from our teacher team:
Vocabulary Dice Roll Activity
Using the dice with numbers featured in the dice widget is a great opportunity to get your students to practice their subitizing skills when matching the dots on the dice featured in many activities. This Vocabulary Dice Roll Activity is a simple activity that asks students to roll the die and complete the corresponding activity with a selection of their sight words. For a more advanced activity, try out the Read and Roll – Comprehension Dice Game!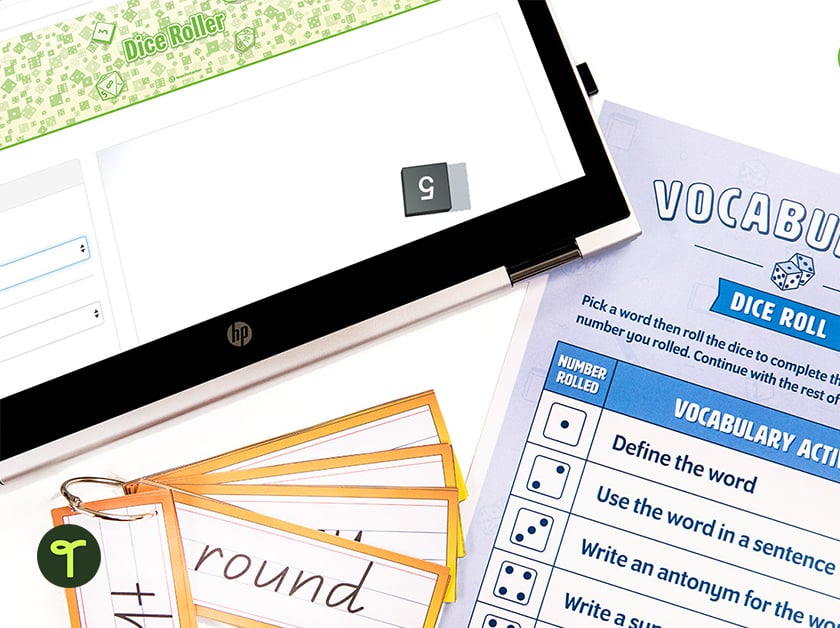 Roll to Create
Roll to Create Games are a super fun way to make an old activity new! Build the excitement by rolling the online dice and seeing what you create — each student will have something different. Students roll a die and use the corresponding features on the chart to create a picture, word, number or story.
Randomize Your Brain Break Games
This is a great idea if your class can never decide which game to play. Using any selection of brain break activities, assign each activity a number. When your class is ready for some active fun, roll the dice and perform the corresponding activity.
Looking for more help? Watch how to use the Dice Roller with some tips from a member of our teacher team!