You can't really be ready for the first day of school if you're still on the hunt for back-to-school bulletin board ideas. Good news, though!
The teachers of Teach Starter (you know, the ones who make all those printables you love?) have put together some of the best back-to-school bulletin boards for 2023, from beginning-of-the-year decorations that will welcome the students back to the classroom to bulletin boards that will inspire them to dive right into learning!
Our teacher team has put together their heads together for some seriously punny word play to create a list of fun ways to welcome your students back to the classroom and the school building, plus we've gathered photo inspiration for your own decorating. And that's not all … we've even included links to some ready-made kits you can use to set up your boards in no time flat!
Back to School Bulletin Board Ideas
Best of all, we've got fall bulletin board ideas that will work for the first day of school all the way through until it's time to put up a winter bulletin board. Before we get started, don't forget to download a free set of bulletin board letter and number cut-outs that can be used with any classroom theme!
Then peruse the list for ideas you can use at back-to-school time, plus a few bulletin boards you can set up for fall, keep for winter, and even use in the spring.
All Are Welcome Welcome Board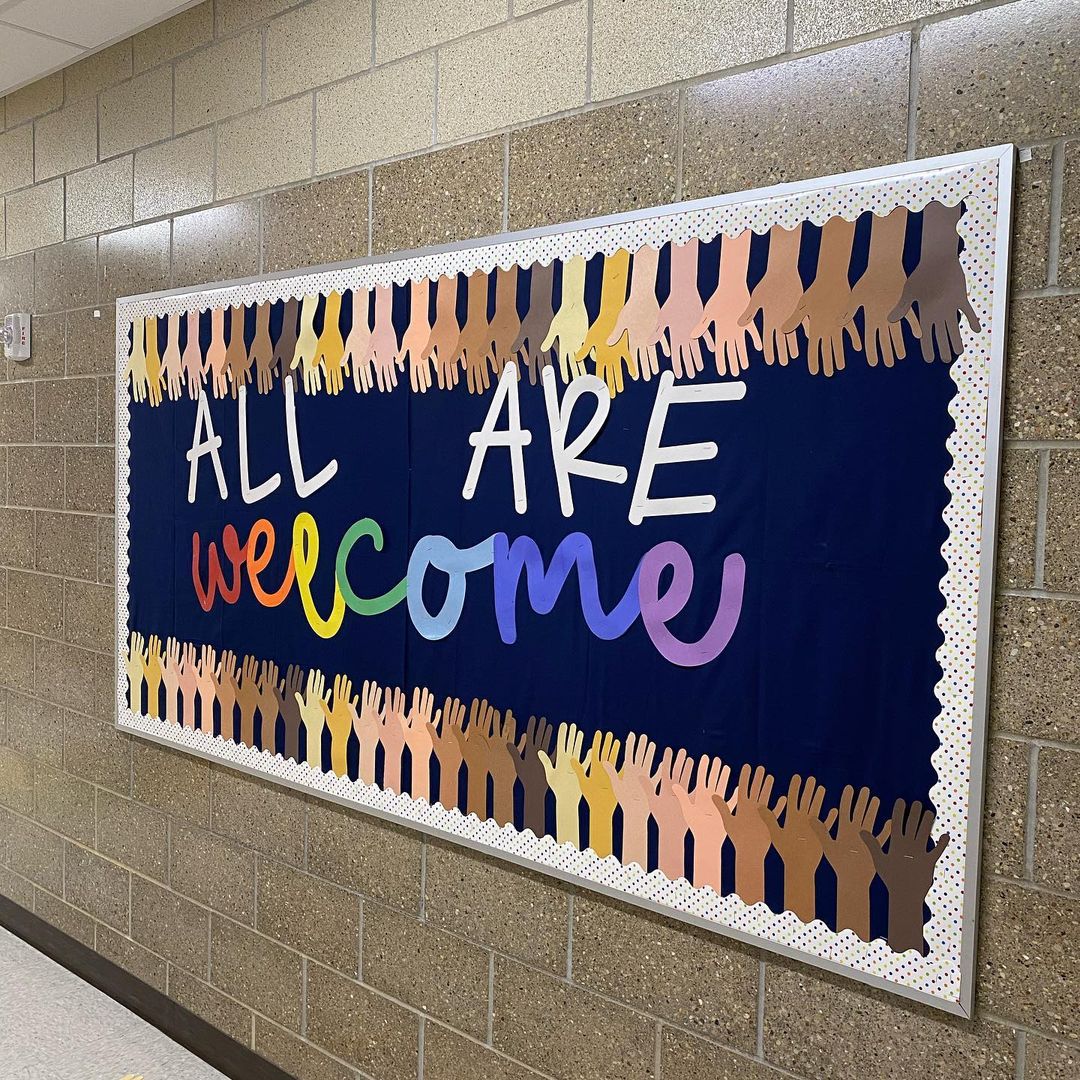 Inclusion matters. Let your students know that no matter who they are, the minute they walk in their doors they are your kids with this back to school bulletin idea from teacher Amy Jones (and check out her crafty ideas on Instagram while you're at it!).
This is one of those bulletin boards that would work near the doorway to the school or in any hallway, in addition to fitting in perfectly as a classroom bulletin board. It's also the kind of inclusive message you can hang on a fall bulletin board, leave up for winter and still have around in spring to remind your students of the importance of valuing their classmates.
We're a Bright Bunch
Let your students know that the future is so bright, they have to wear shades with this fun back-to-school bulletin board idea. We used the generic letter cut-outs above for this, and the sunglasses are from our free Funky Bunny printable template!
For an added personal touch to make students feel welcome, you can always add their names in the "glass" part of each of the sunglasses — first name in the left eye and first initial of their last name in the second.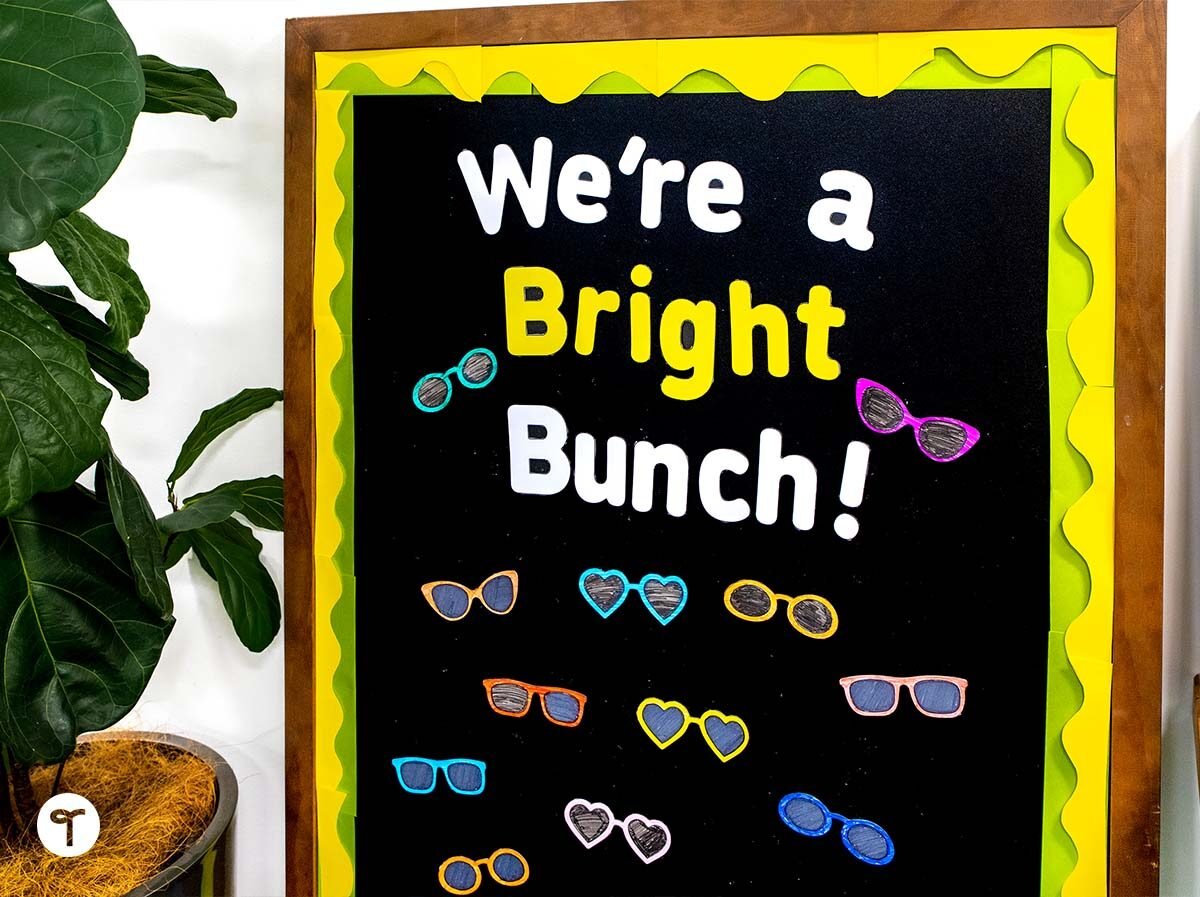 Want a bulletin board set that's already put together? Try our colorful "We're a Bright Bunch" bulletin board kit with colorful crayons!
We're O-Fish-ally In X Grade
We didn't have to dive deep for this fish pun, we admit, but if you're planning an under the sea theme for your classroom in 2023, you can't go wrong with a bulletin board that celebrates the fact that your students have officially (or o-fish-ally) joined your classroom.
Learning Is So Sweet
Set just the right tone for going back to school with a bulletin board that emphasizes all the good that's in store! Learning really is so sweet when you've got pineapple letter cutouts and pineapple classroom decor cutouts to make this bulletin board creation super simple. Finish it all off with a few pineapple bulletin board borders, and you're done!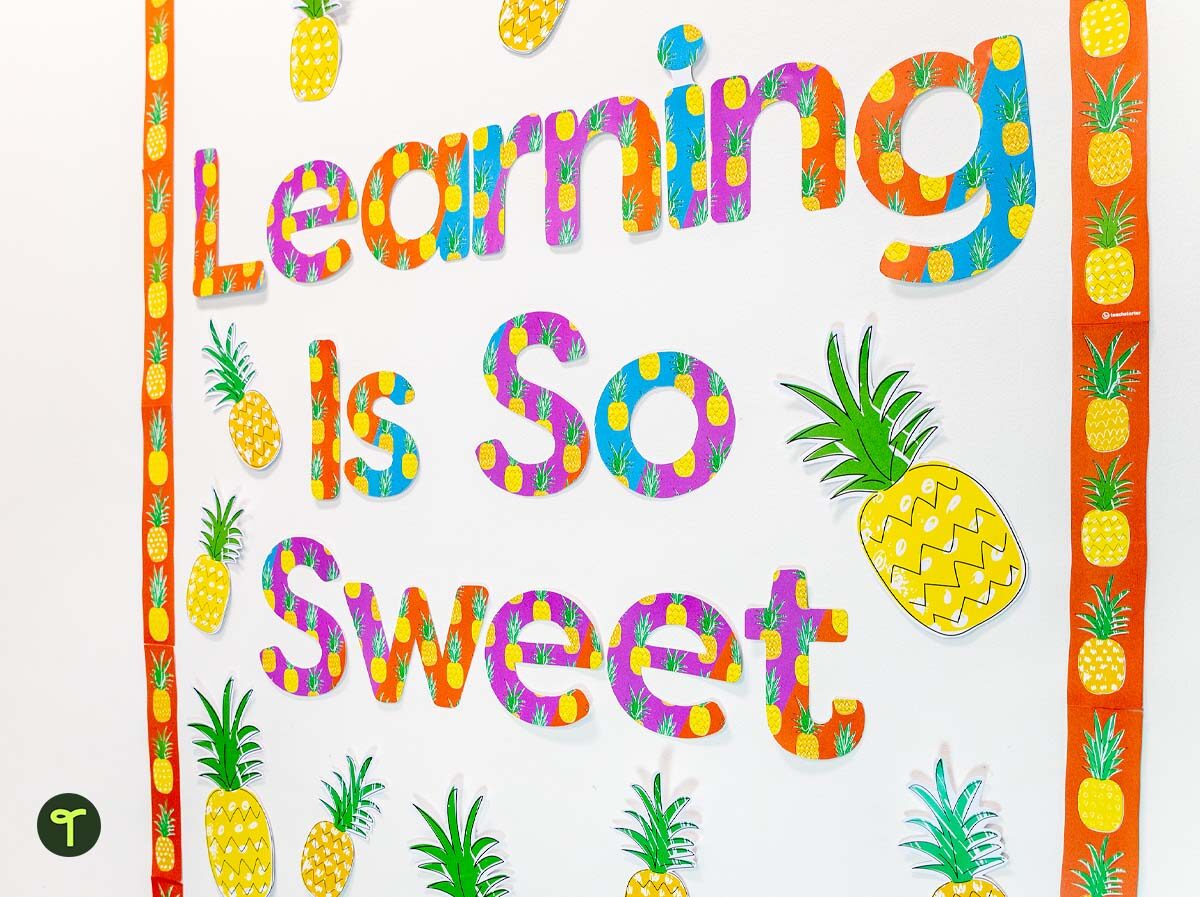 Check Out Our Fall Lineup
We love this incredibly easy idea for incorporating your first day of school "all about me" activity into your bulletin board!
Here's all it takes:
Print out a "Getting to Know You T-shirt" (it's free!).
Have your students decorate the shirt pattern with information about themselves and cut out their shirts.
Line your bulletin board with green paper or green fabric, and add the t-shirt decorations.
Add the words "Check Out Our Fall Lineup" for a fun board that parents can check out on meet the teacher night.
Whether you're thinking soccer, football or another sport, this is another bulletin board that plays off (many) kids' love of sports, and it helps create that sense that every child belongs in the classroom.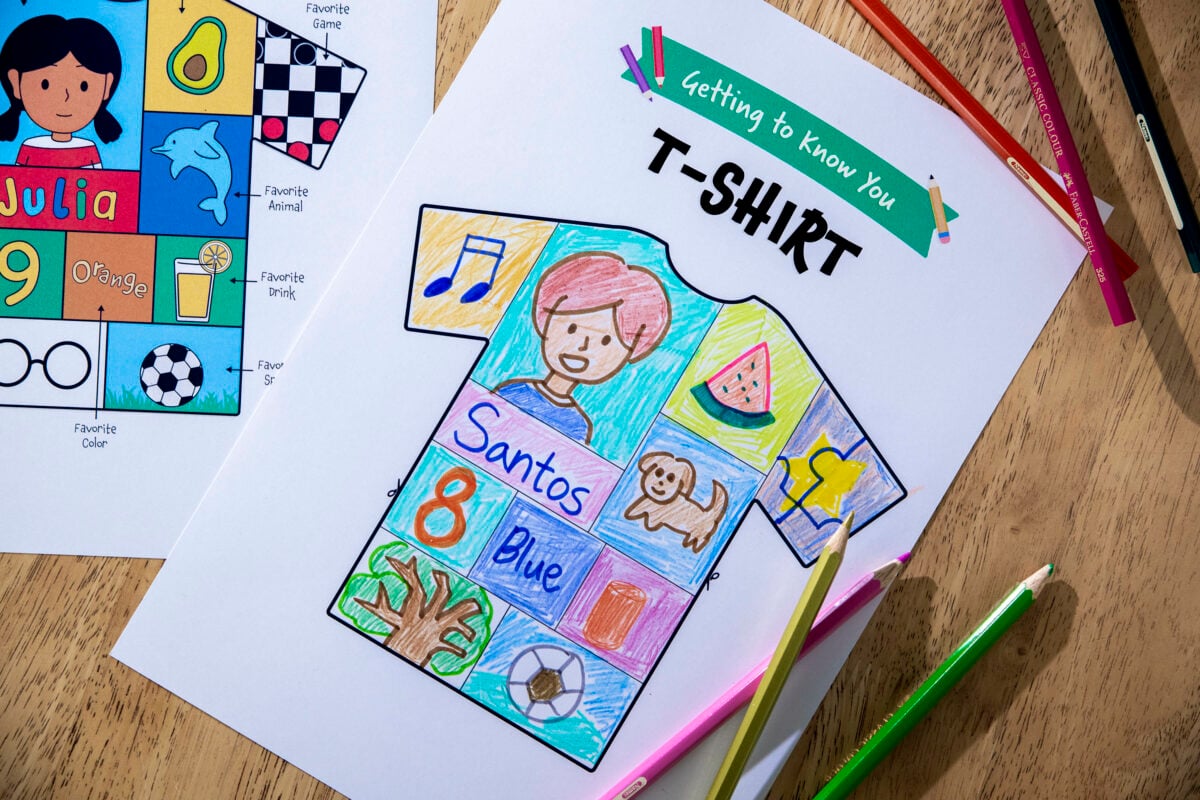 Place Value Bulletin Board
Do you start off your school year with a review of place value? You're not alone!
That's why the teacher team at Teach Starter created a place value bulletin board kit to make it just a little bit easier to get your classroom first-day-of-school ready!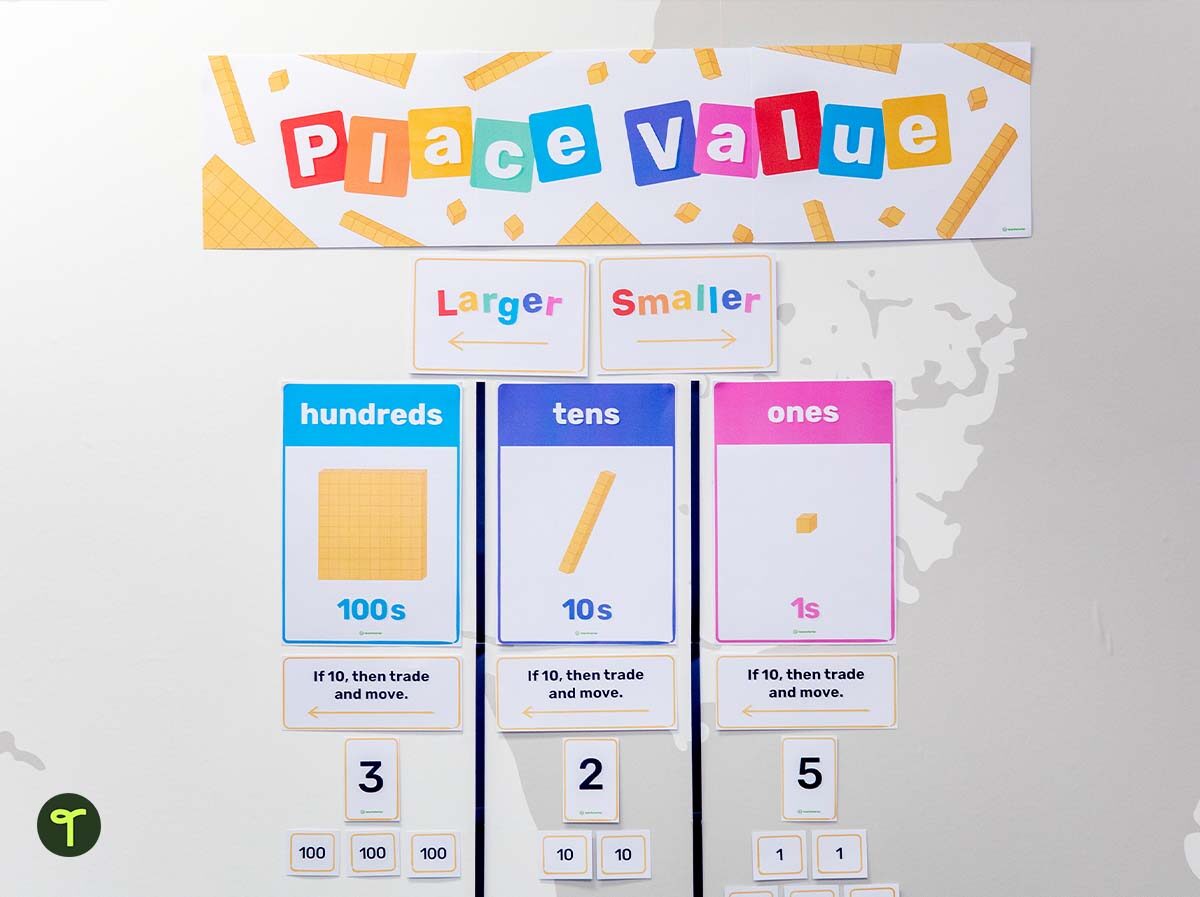 A Book a Day Keeps the Monsters Away
Do you need the perfect back-to-school bulletin board for a school library? Or maybe you're a reading teacher? Either way, this bulletin board idea will encourage a love of reading and can easily be paired with a fall reading challenge!
Print the entire bulletin board set — cute little monsters included!
Welcome Back — Our School Just Got a Little Bit Brighter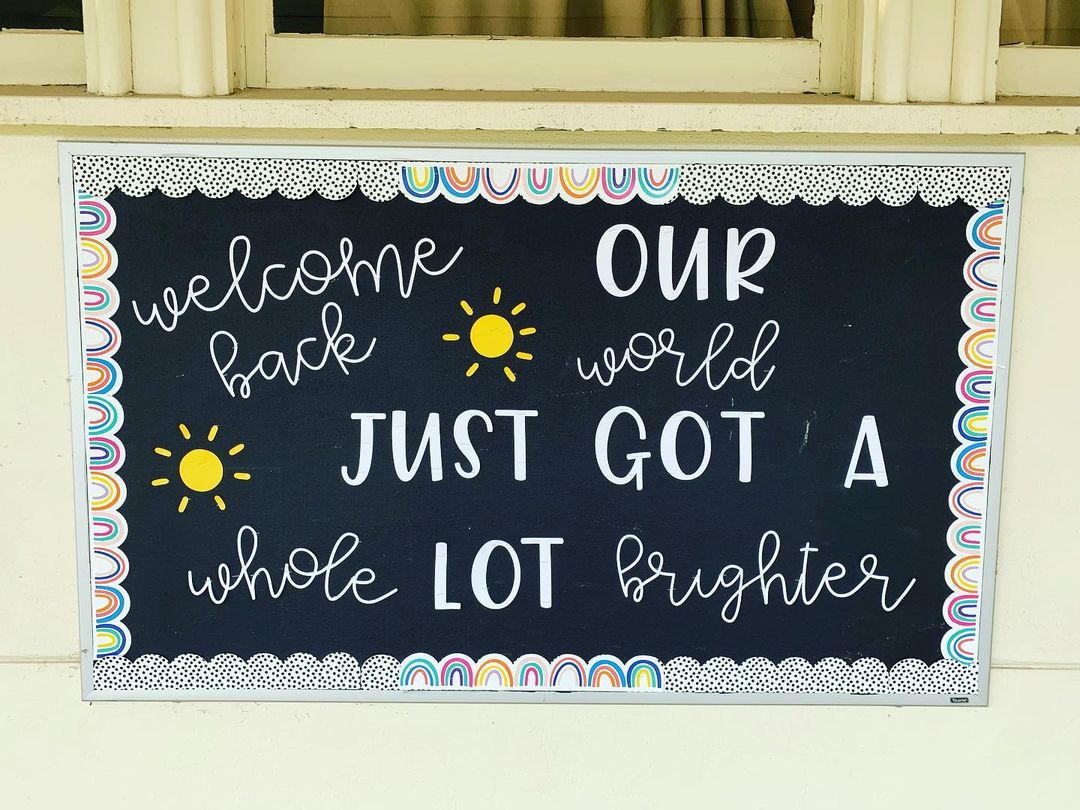 It's the beginning of a school year, and you have a lot of faces you haven't seen in a while and a lot of new faces too! Making sure kids feel welcome is key, and San Diego, California teacher Ms. Hartig shared this fun bulletin board idea with us that lets students know right from the very first day of school that they're the real reason we teach!
Bee Brave, Bee You
Start your year off with a social-emotional lesson about being comfortable forging your own way in the classroom with bee-themed letters spelling out the words "Bee Brave, Bee You." Add our busy bee border trimmers on to complete the bulletin board!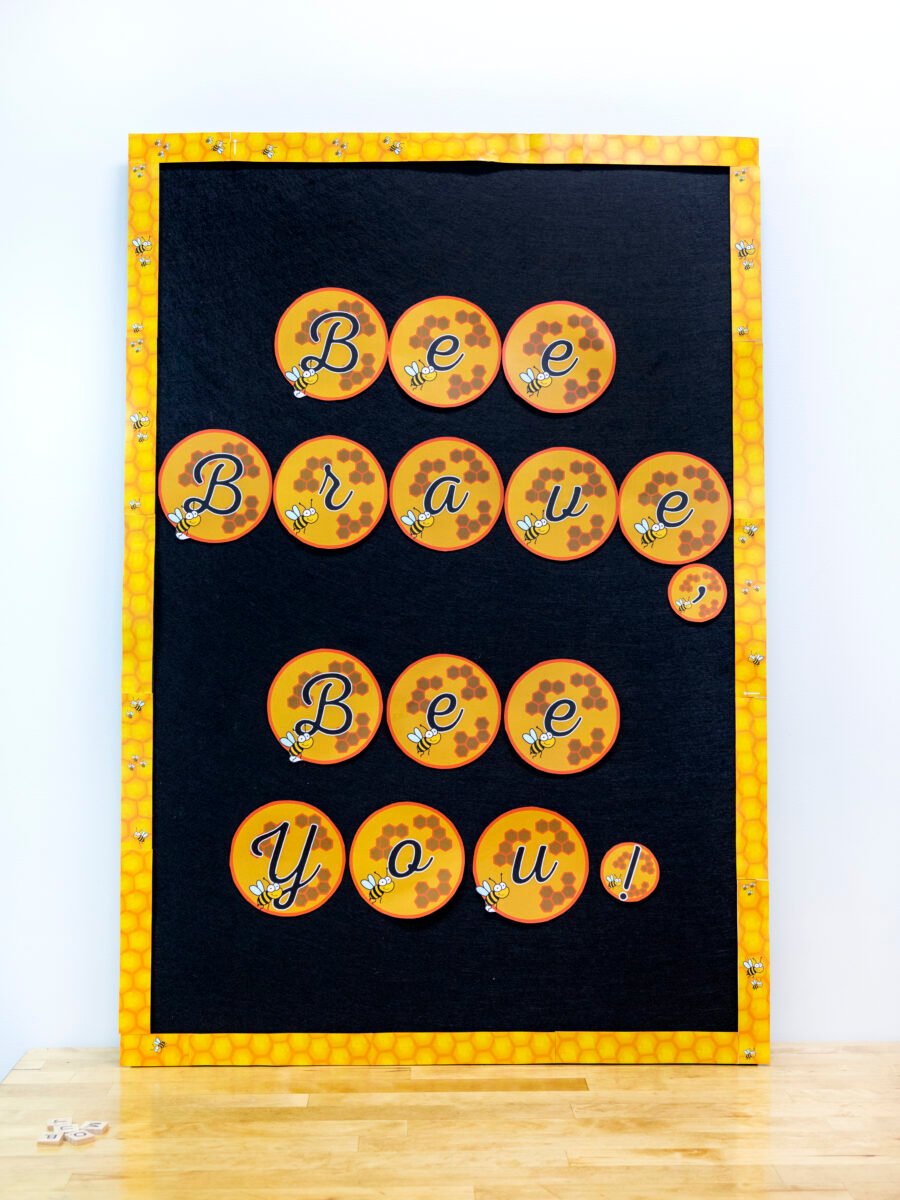 Welcome to Our Hive
Another fun bee-themed bulletin board idea for the beginning of the year, you can get double usage out of the fun bee theme by set up a "Welcome to Our Hive" bulletin board to welcome students when the school year begins. Use the bee letters above or the blank cut-outs, and add the hive from our free bee-havior tracker (get it?), and top it with this busy bees welcome sign!
We All Bee-Long
We hope you'll excuse us bee-laboring the quality of bee puns for your bulletin boards, but this one is a favorite for the Teach Starter teacher team. That's why we created this first-day-of-school activity that can be turned into a bulletin board focused on building a classroom family and making sure everyone feels like they "bee-long." Download the bulletin board kit, and you'll noticed each student has a small honeycomb to fill out, and there's a "we all bee-long" banner to bring the whole thing together.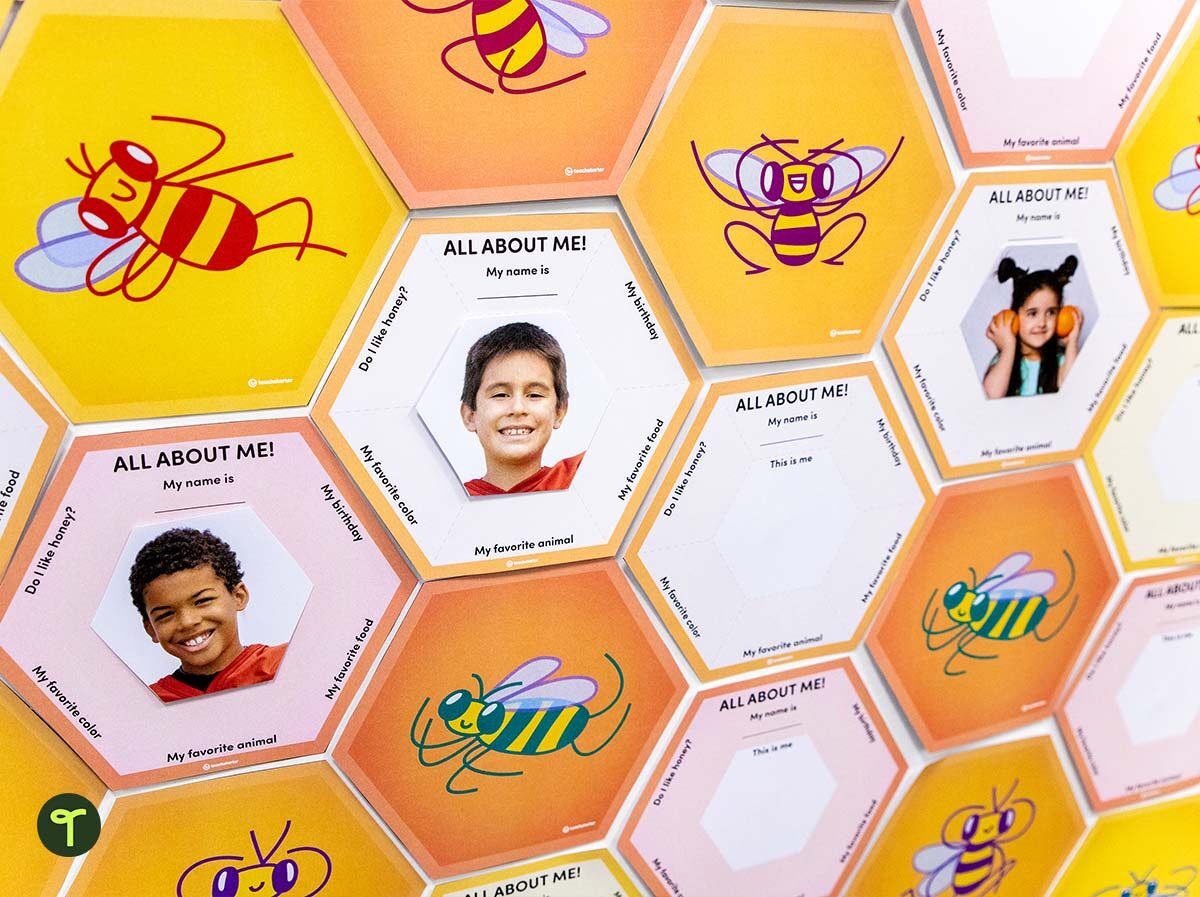 Student Work Coming Bulletin Board
We hinted at this one earlier with Brittany Collins' must-try bulletin board idea! Are you a teacher who prefers to let students' own work take over the bulletin board? We are on, ahem, board with that idea, and you can make it work for your fall bulletin board too — even setting this one up before students come back to school.
But how do you possibly create a student work bulletin board without the student work already completed? Easy! Grab a pile of clothespins — one each for every student in on your class list — along with your hot glue gun and small tacks. Hold a pin upside down, so the gripper part is pointing toward the floor, add a dot of glue to the back, and add your tack.
When you've added a tack to every pin, download these fun student work buffering and under construction posters. Set them up on your bulletin board, and you've got a completely designed display ready for your students' work! Best of all, this is a fall bulletin board, a winter bulletin board, a spring bulletin board … basically you just got the entire school year done!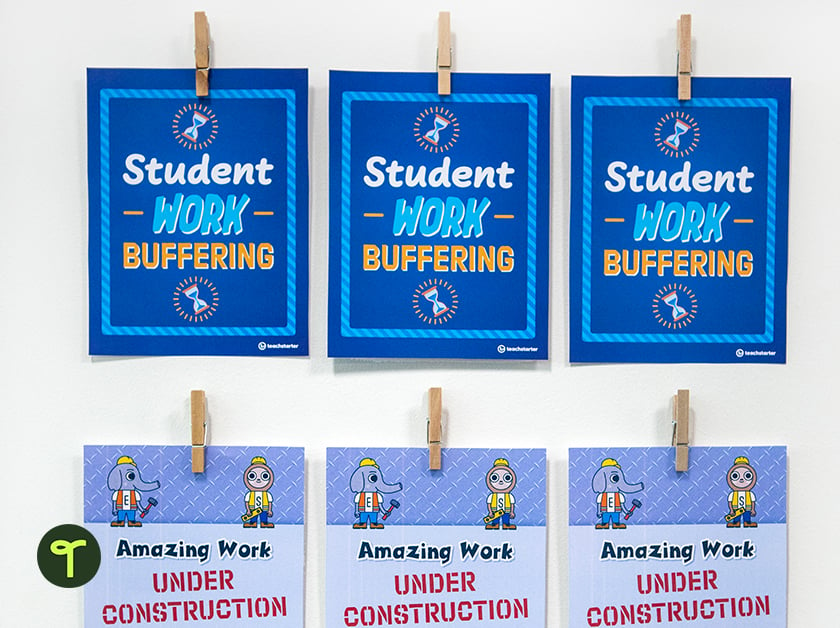 Add a Little Sunshine to Someone's Day
Do you try to plan your classroom decor so you don't have to set up new bulletin boards too often? We know all-too-well how long set-up (and breakdown) can be, and we have the perfect back-to-school option for you!
This sunny bulletin board idea works for this time of year to remind returning students of the importance of being kind to one another — setting a tone for your classroom — but it's also a perfect hit in the doldrums of winter when you need something bright and cheery on the walls of your school hallways.
Print the bulletin board kit here, including clouds, sunflowers, and the letters you'll need!
Kickin' It In Your Grade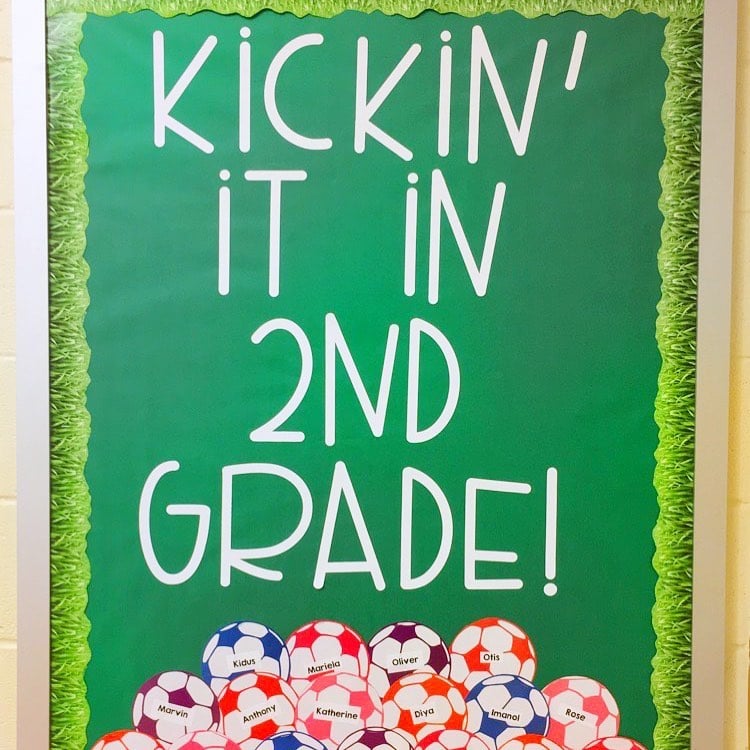 Fall is soccer season in many parts of the country, so bring those weekend game vibes into the classroom with an uplifting message like this one from Tampa, Florida teacher Alexis.
If you love the soccer theme, but this isn't "quite" right for your classroom, there are plenty more ways to bring the fun in from the field with any of these sayings:
It's Game On for Learning
Learning With Mrs./Mrs. X Is a Kick
Let's Kick Off a Great School Year
You could also try focusing more on the goal-setting your class is doing at the beginning of the year with one of these fun puns that play off soccer goals?
We're Goal-Getters in This Class
Aiming For Our Goals
We're Setting Goals
Browse printable goal setting templates that students can fill out to add to your board!
Birthday Bulletin Board
Kick the year off with a special place in the classroom to celebrate your students' birthdays! This under-the-sea theme is a snap to put together with our jellyfish birthday display template, or check out our other birthday bulletin board ideas!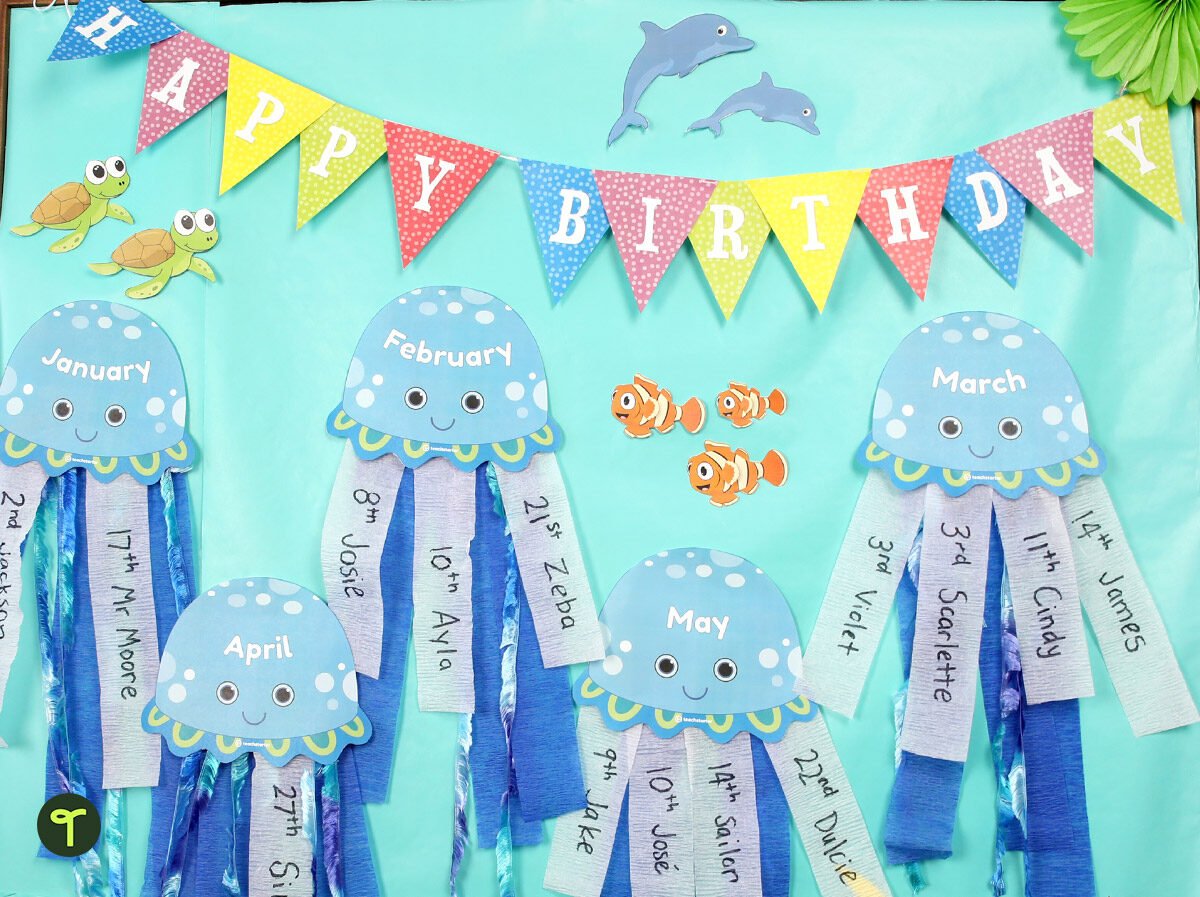 We're O-fish-ally Ready to Learn
Carry on that under the sea theme with a reminder that it's time to turn their brains back into school mode. These fun under the sea animal cutouts pair perfectly with the words "We're O-fish-ally Ready to Learn" in our ocean letter set!
We're Glad to Sea You
OK, OK, we'll stop with the fishy puns, but there are so many ways to dress up your bulletin board with under the sea animals to welcome kids back to the classroom! Let everyone know you're glad to "sea" them, and you've got a talking point for your discussion of homophones this school year.
Gear Up for a Great Year
If there's one thing we teachers love, it's puns, amiright? We created this fun robot bulletin board with the robots, gears, and letters from our robot pack! It works for a classroom door too.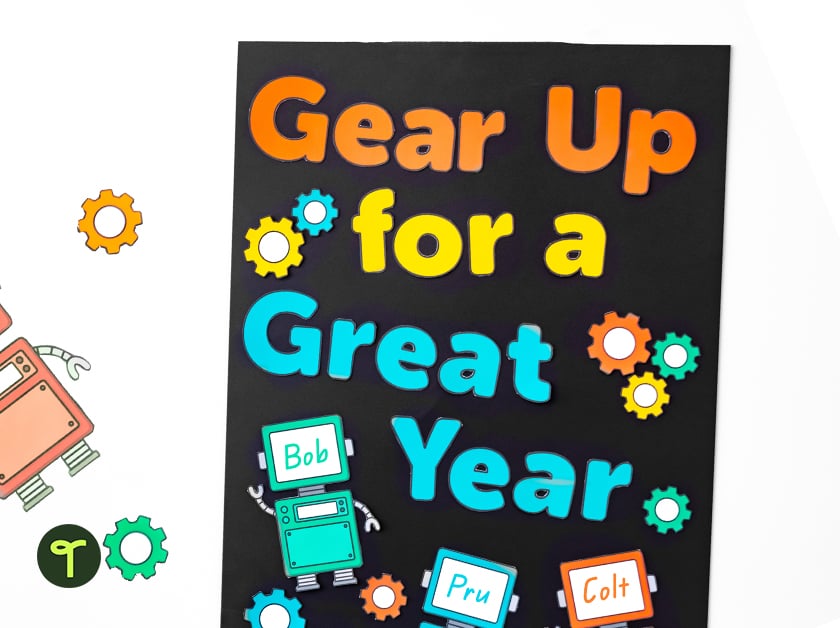 You Are a Rainbow of Possibilities
Another great way to open the school year is to remind kids that it's a blank page with so much possibility for them. Cover a board in black construction paper, and add these rainbow letters for a seriously simple bulletin board!
Video Game Bulletin Board
Go retro with this vintage video game bulletin board idea that doubles as a great first-day of school activity to help students get to know one another. After students fill out their game tiles, put it all together a Tetris-style bulletin board that will impress their parents on meet the teacher night! Download the video game bulletin board kit, including the score tile, banner, and game tiles!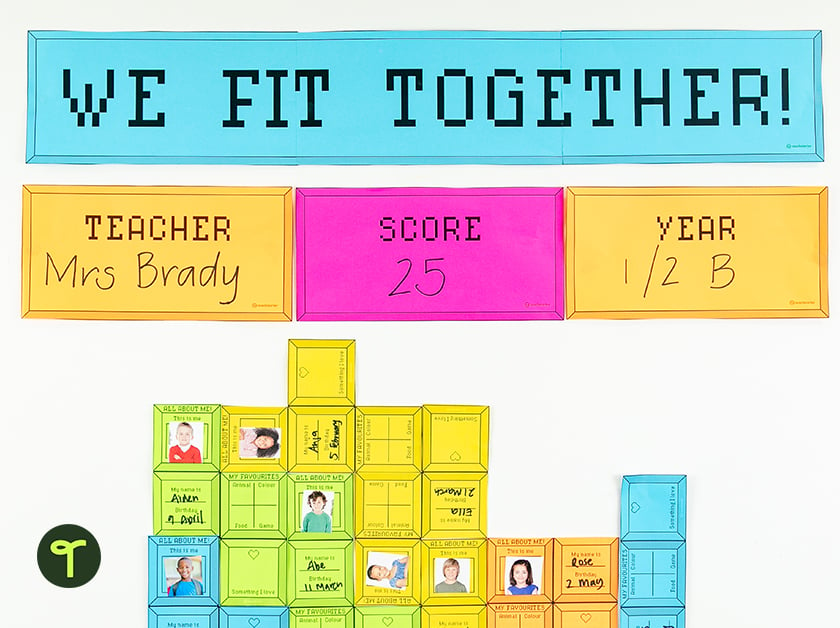 We're Back for S'More Learning
These cute camping cut-outs and camping-themed letters are absolutely begging to be used to spell out "Back for S'More Learning!" If you're doing a camping theme in the classroom this year, all the better!
In This Class, We Think Like …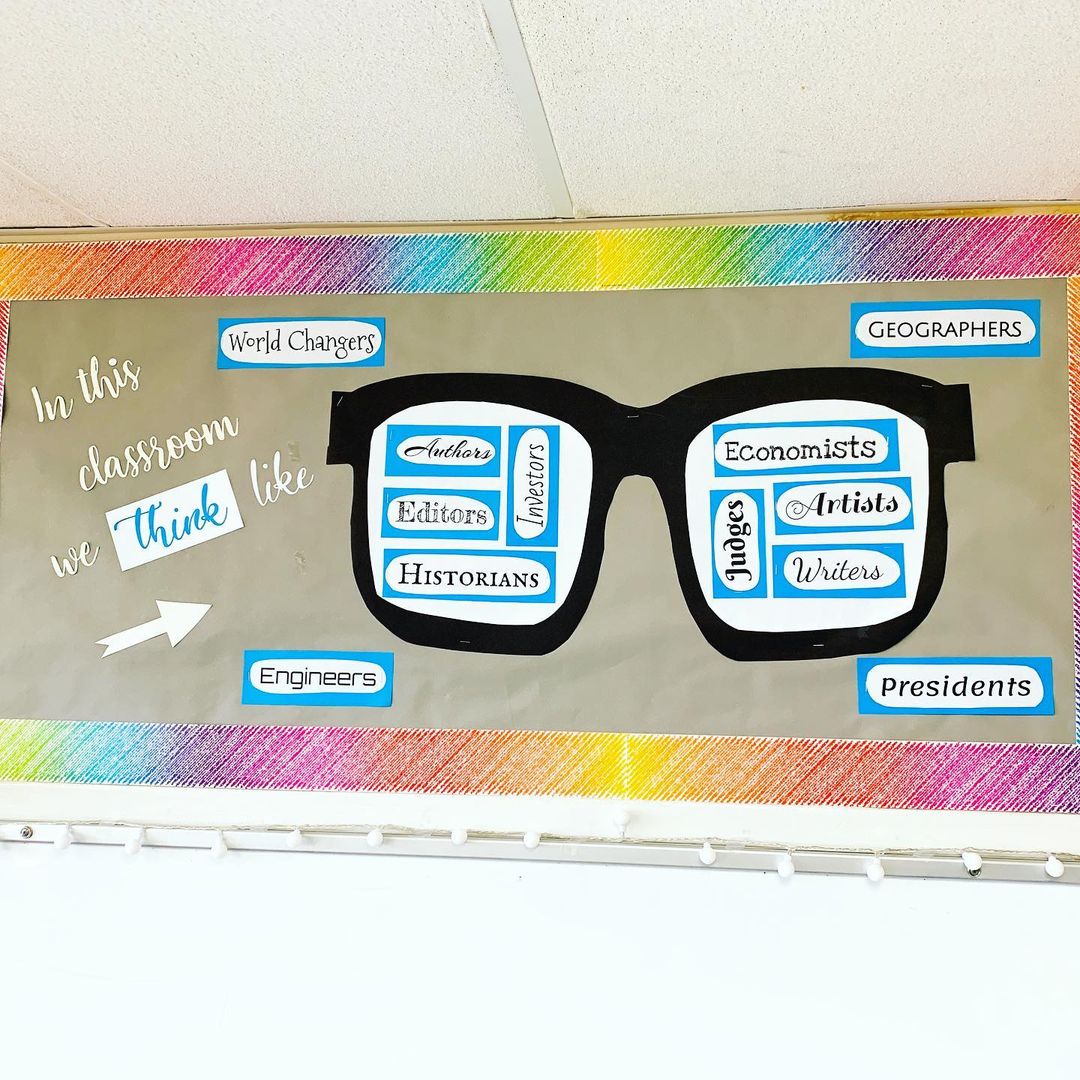 Set expectations early with a back-to-school bulletin board idea that lets your students know you think they can do big things! This fun board idea comes from @crafty.ms.g, a fifth grade teacher with some brilliant ideas on Instagram!
Color Your World
If you love interactive bulletin boards that pull the kids in as much as we do, how about turning your back-to-school bulletin board into a giant coloring sheet that the kids can work on all year?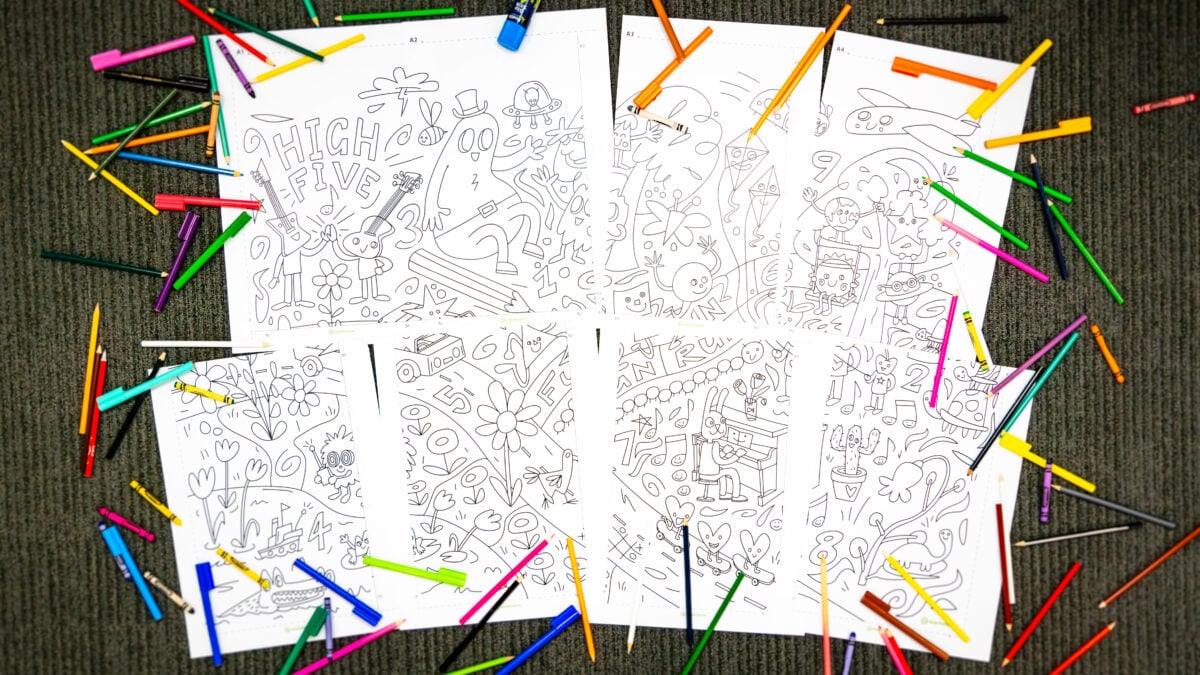 The Sky's the Limit
Encourage your students to take off on a learning journey in the new school year with these fun astronaut cut-outs and letter set that promotes aiming high.
Soar Into Learning
Double up on your astronaut puns with a Soar Into Learning bulletin board! Grab some space-themed decor from our space classroom theme pack to make set-up a snap!
Reading Colors Your World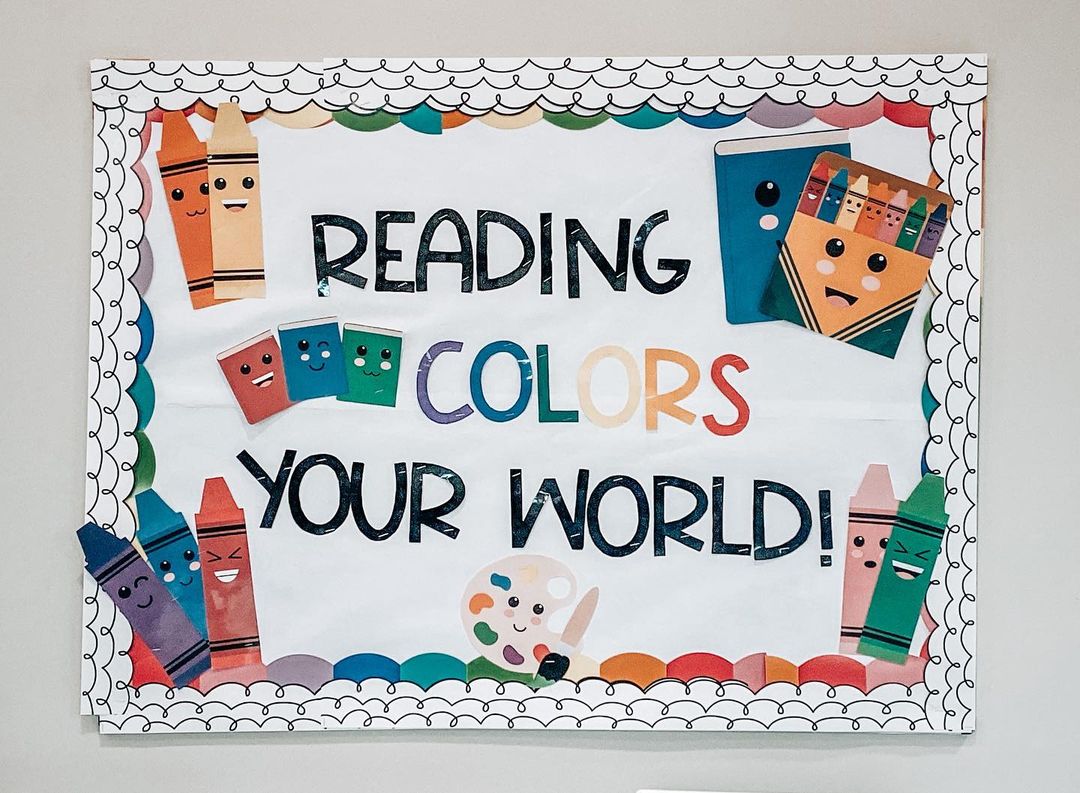 The perfect bulletin board for your classroom reading nook, this idea comes from teacher Chelsey Hanke who reminds her students that "Reading Colors Your World." Pair it with these fun crayon decorations for a bulletin board that's as colorful as the rest of your classroom.
Other Classroom Bulletin Board Ideas
Need something that can stick around for a while and help kids learn? Try some of these ideas!
Use Pennants to Decorate Bulletin Boards: We have a huge collection of printable classroom pennants that will spruce up any bulletin board.
Set Up a Help Center Display: Give your students starter tips for spelling, writing … anything you're planning to focus on that they might need help with!
Make Your Bulletin Board an Icebreaker: Another interactive idea, this Friends in the Pond Interactive Icebreaker Display, is an example of how you can use your board to break the ice.
Set Up a Word Wall: Check out these editable word wall templates that are extremely easy to print or edit to create your own words!
Set Up Welcome Signs: Save time with these pre-designed classroom welcome signs that can be personalized for your class.