Have you got your back-to-school bulletin boards up yet? If you're yelling no, wait, I'm not ready yet, it's OK. We've done at least half the work for you!
Back to School Bulletin Boards
We put together some of the best back-to-school bulletin boards for 2021, from beginning of the year decorations that will welcome the students back to the classroom after a year of being fully remote to bulletin boards that will inspire them to dive right into learning!
Welcome Back — Our School Just Got a Little Bit Brighter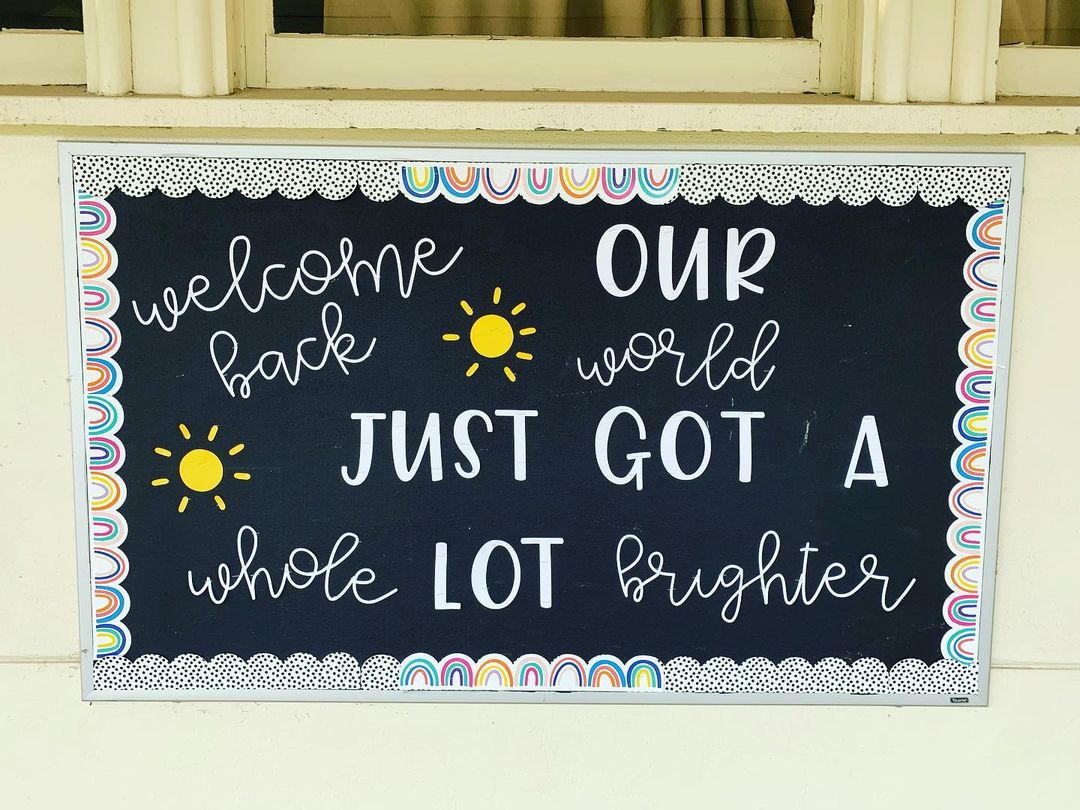 It's the beginning of a school year, and you have a lot of faces you haven't seen in awhile and a lot of new faces too! To make sure kids feel welcome is key, and San Diego, California teacher Ms. Hartig shared this fun board with us that lets kids know they're the real reason we teach!
Bee Brave, Bee You
Start your year off with a social-emotional lesson about being comfortable forging your own way in the classroom with bee-themed letters spelling out the words "Bee Brave, Bee You." Add our busy bee border trimmers on to complete the bulletin board!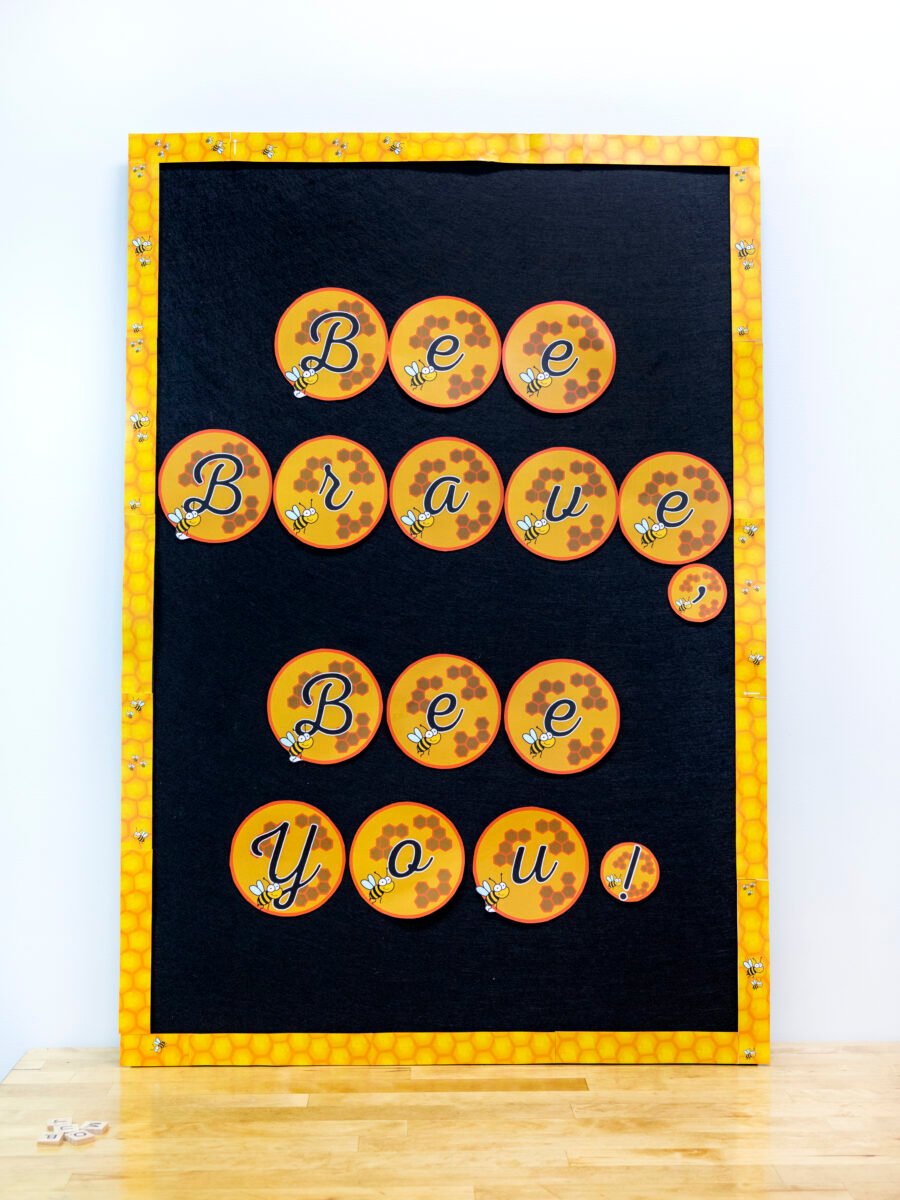 Welcome to Our Hive
Another fun bee-themed bulletin board idea for the beginning of the year, you can get double usage out of the fun bee theme!
All Are Welcome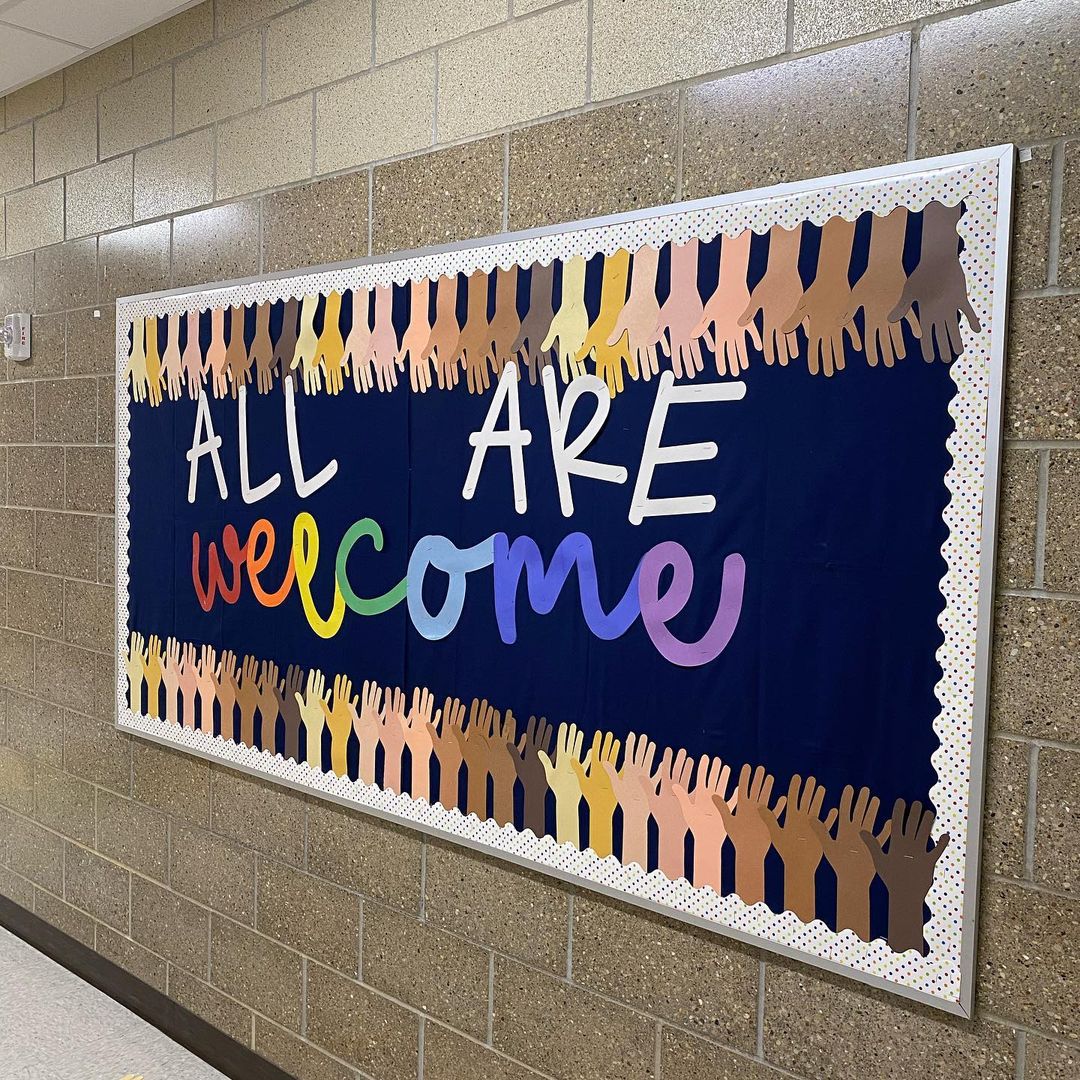 Inclusion matters. Let your students know that no matter who they are, the minute they walk in their doors they are your kids with this idea from teacher Amy Jones (and check out her crafty ideas on Instagram while you're at it!).
Kickin' It In Your Grade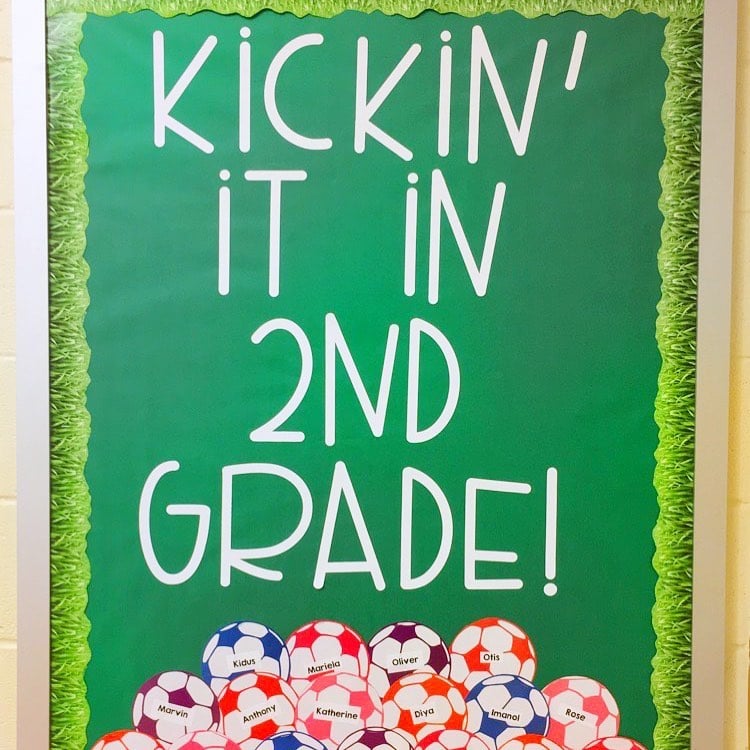 Fall is soccer season in many parts of the country, so bring those weekend game vibes into the classroom with an uplifting message like this one from Tampa, Florida teacher Alexis. Kick things off just right!
Birthday Bulletin Board
Kick the year off with a special place in the classroom to celebrate your students' birthdays! This under the sea theme is a snap to put together with our jellyfish birthday display template, or check out our other birthday bulletin board ideas!
We're O-fish-ally Ready to Learn
Carry on that under the sea theme with a reminder that it's time to turn their brains back into school mode. These fun under the sea animal cutouts pair perfectly with the words "We're O-fish-ally Ready to Learn" in our ocean letter set!
We're Glad to Sea You
OK, OK, we'll stop with the fishy puns, but there are so many ways to dress up your bulletin board with under the sea animals to welcome kids back to the classroom!
Gear Up for a Great Year
If there's one thing we teachers love, it's puns, amiright? We created this fun robot bulletin board with the robots, gears, and letters from our robot pack!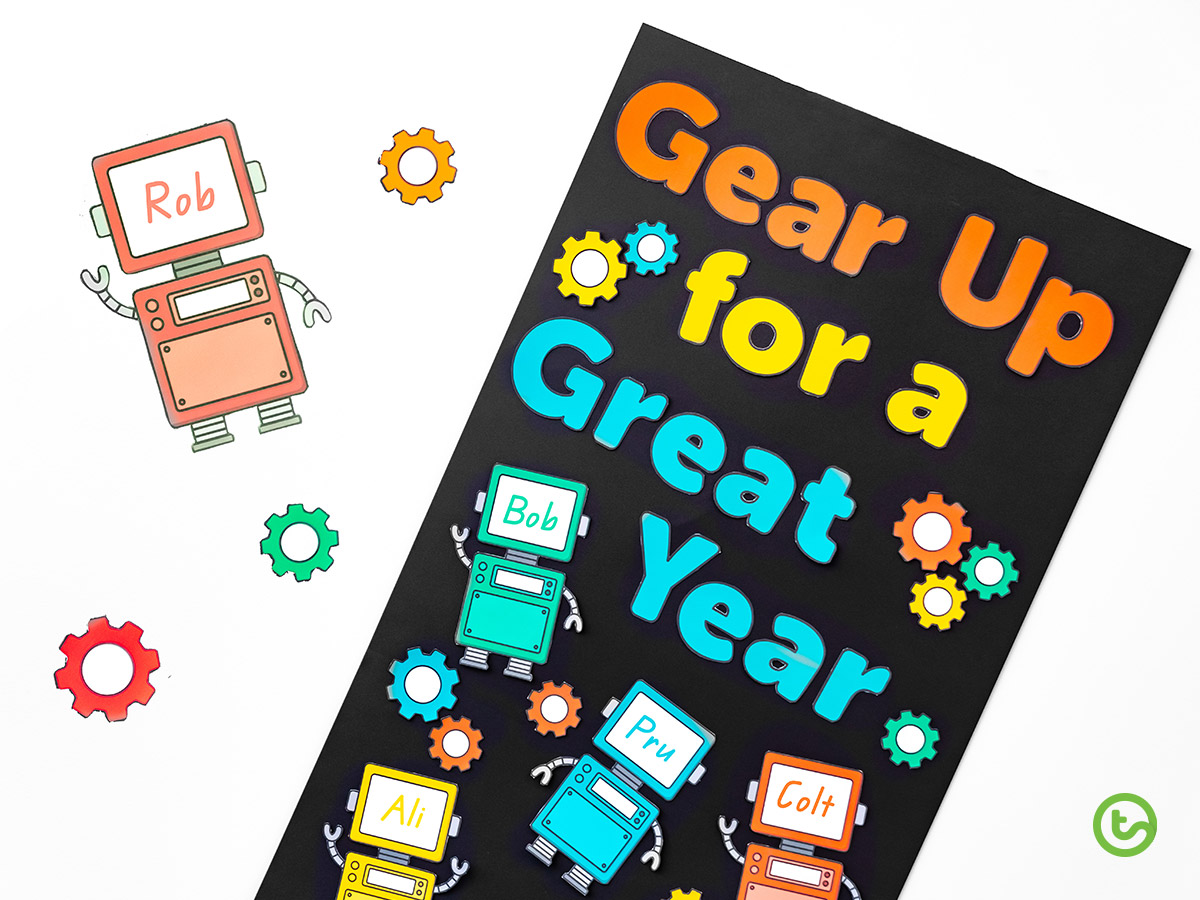 You Are a Rainbow of Possibilities
Another great way to open the school year is to remind kids that it's a blank page with so much possibility for them. Cover a board in black construction paper, and add these rainbow letters for a seriously simple bulletin board!
Back for S'More Learning
These cute camping cut-outs and camping-themed letters are absolutely begging to be used to spell out "Back for S'More Learning!" If you're doing a camping theme in the classroom this year, all the better!
In This Class, We Think Like …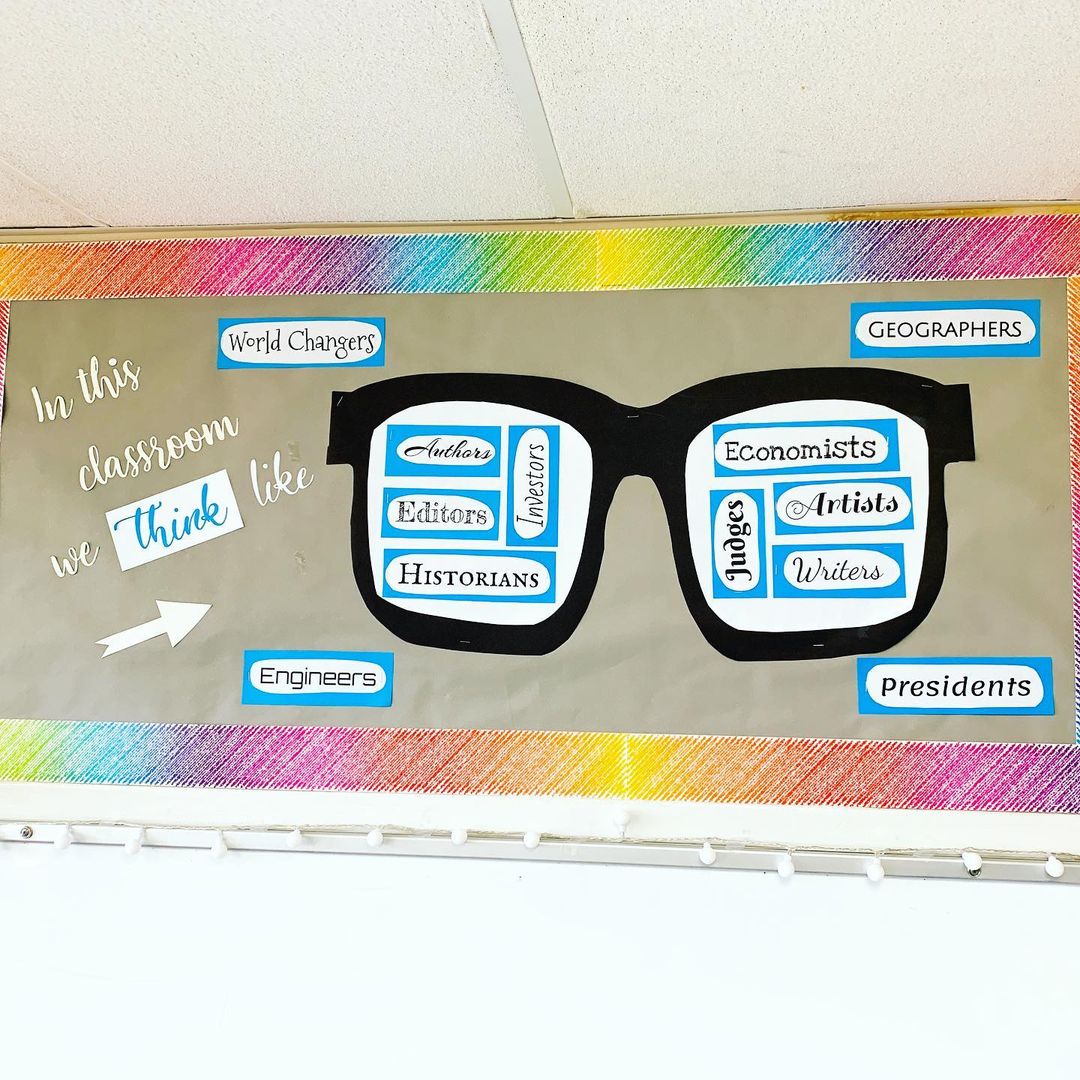 Set expectations early with a back-to-school bulletin board that lets your students know you think they can do big things! This fun board idea comes from @crafty.ms.g, a fifth grade teacher with some brilliant ideas on Instagram!
Color Your World
If you love interactive bulletin boards that pull the kids in as much as we do, how about turning your back-to-school bulletin board into a giant coloring sheet that the kids can work on all year?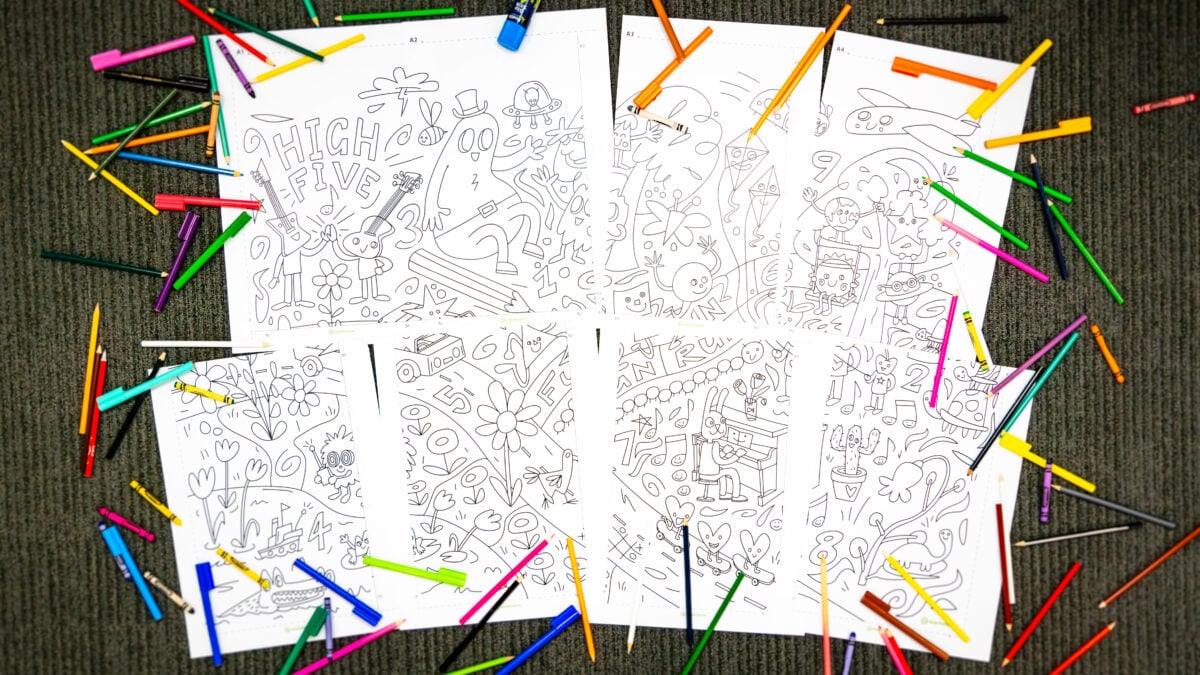 Learning Is So Sweet
Grab some pineapple cutouts and our pineapple borders for a sweet invitation to start learning!
The Sky's the Limit
Encourage your students to take off on a learning journey in the new school year with these fun astronaut cut-outs and letter set.
Soar Into Learning
Double up on your astronaut puns with a Soar Into Learning bulletin board! Grab some space-themed decor from our space classroom theme pack to make set-up a snap!
Reading Colors Your World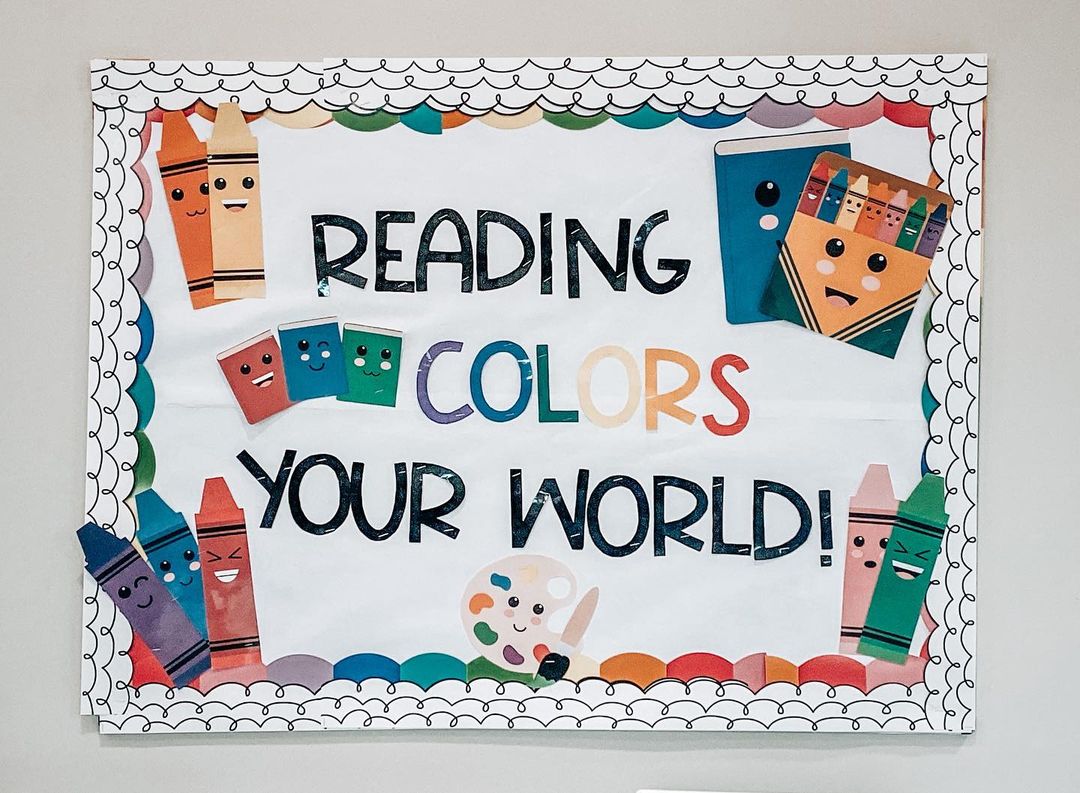 The perfect bulletin board for your classroom reading nook, this idea comes from teacher Chelsey Hanke who reminds her students that "Reading Colors Your World." Pair it with these fun crayon decorations for a bulletin board that's as colorful as the rest of your classroom.
Other Classroom Bulletin Board Ideas
Need something that can stick around for a while and help kids learn? Try some of these ideas!
Use Pennants to Decorate Bulletin Boards: We have a huge collection of printable classroom pennants that will spruce up any bulletin board.
Set Up a Help Center Display: Give your students starter tips for spelling, writing … anything you're planning to focus on that they might need help with!
Make Your Board an Icebreaker: Another interactive idea, this Friends in the Pond Interactive Icebreaker Display, is an example of how you can use your board to break the ice.
Set Up a Word Wall: Check out these editable word wall templates that are extremely easy to print or edit to create your own words!
Did you make a bulletin board from this list? Tag us on Instagram — @teachstarter_us for a feature.