Just when you thought our new inference activities couldn't get any better, one of our amazing members gave us a new idea that just HAD to be made! Imagine if your classroom came with a professional illustrator, who you could call upon at any time to draw up the engaging and exciting resource visions you have in your mind… Well, that's what we try our best to be for you with our Request a Resource website feature!
How a New Resource is Born
Here's what one of our members, Erika, suggested:
Because making inferences is one of the building blocks of reading, I would absolutely adore a busy image with question cards such as 'What is about to happen?', 'What just happened?', 'Why is the girl angry?' I've had this idea for a while and I think the amazing illustrators at Teach Starter could really pull this off!
A great idea, right!? Well, when our members put in a new resource request it generates a little automatic message that is shared with all of the staff members here at Teach Starter. Most of the time it's our team of teachers who get excited when a great request idea comes through. However, this one caught the eye of one of our talented illustrators, Boaz. Lucky it did, because now we can introduce to you these amazing new Inference Scenarios and Worksheets!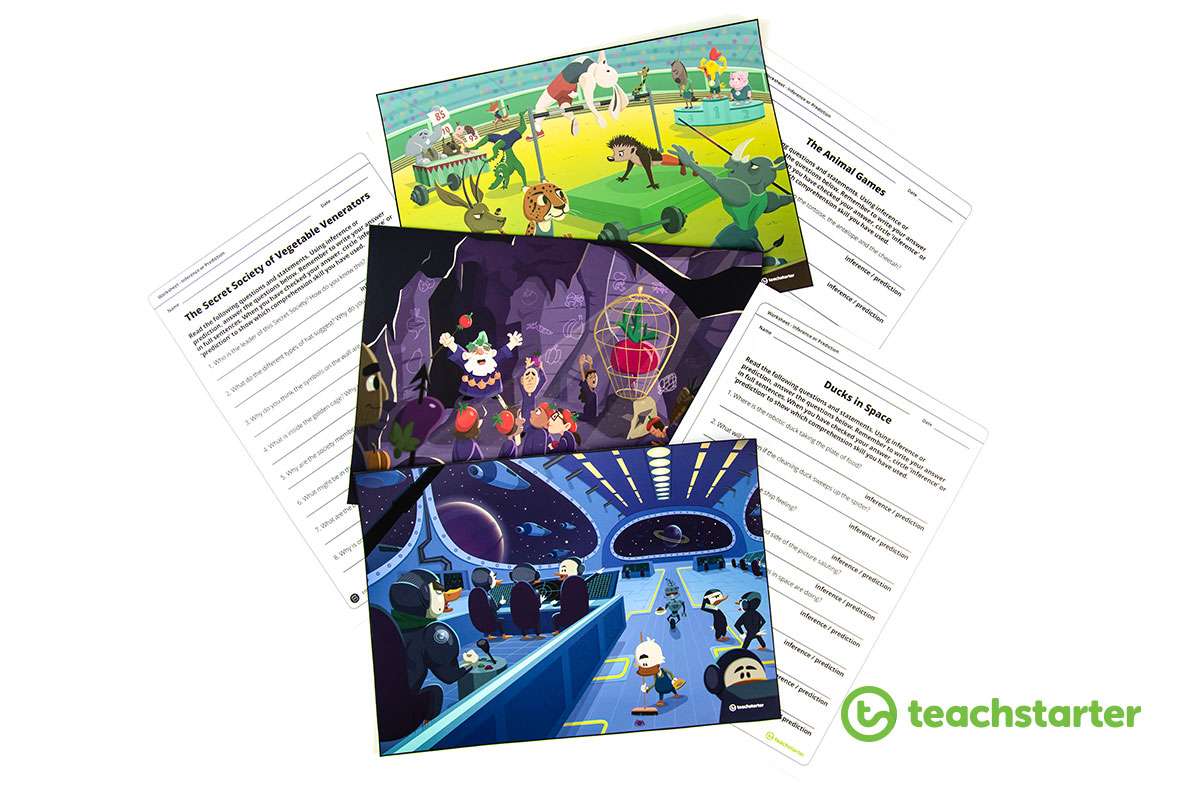 Inference Scenario Pictures and Worksheets
Cue the creativity of an artist unleashed. And the teaching of inference skills through said artist's work supported by the skills of one of our experienced teachers, Kristian.
This set of 5 Inference Scenario Worksheets are comprised of two elements. The first, a picture of a unique and unfamiliar scenario. The second, a worksheet of questions that scaffold students in applying their inference skills.
The worksheets don't have to be used in the traditional way, one per student completed individually… Instead, you can use these as prompts for teacher questioning as a whole class, or in small groups during guided reading rotations.
Here are the five illustration and question sets available to download:
Yes, this spaceship is manned by ducks. But what exactly are all of these ducks doing?

This inference scenario will have your students examining the illustration to find the answers to the worksheet's questions.

On the Elegant Express, most everyone has a story to tell. But what might those stories be?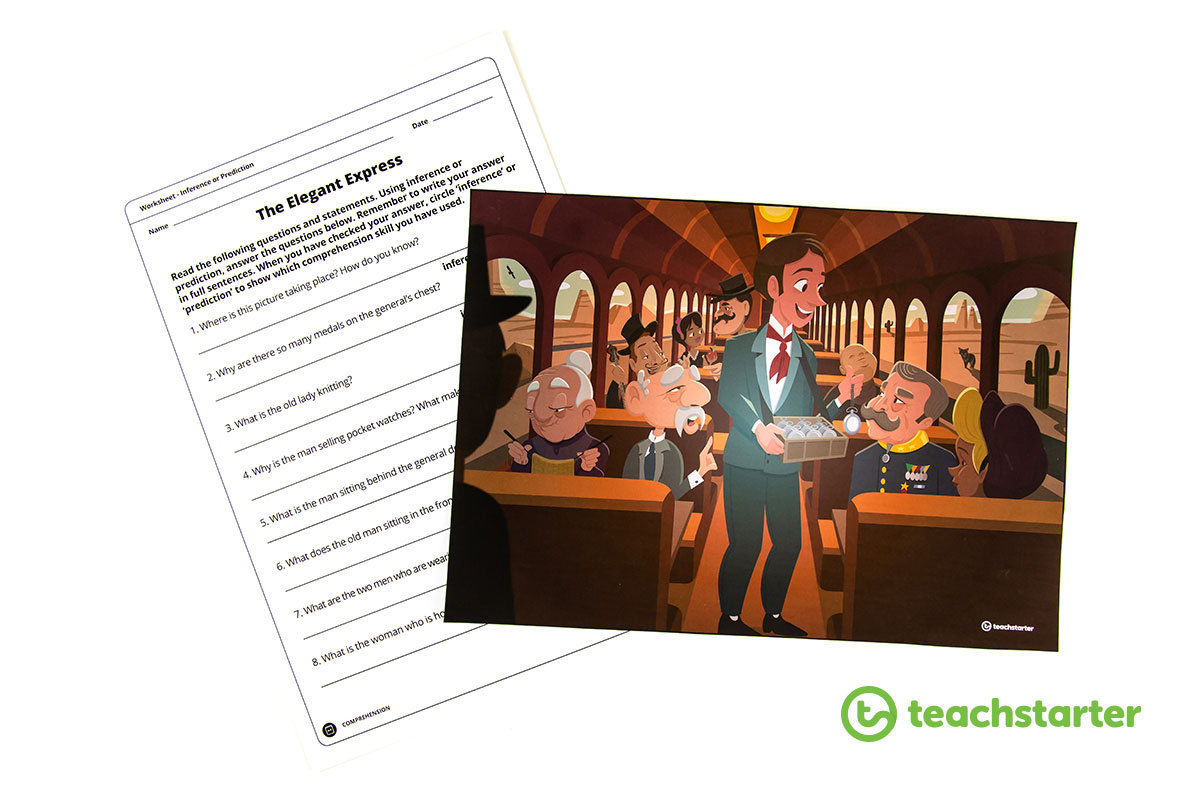 Shopping at an underwater market is just as busy as shopping on the land! 
And for a little more of an inference challenge, introduce your students to The Secret Society of Vegetable Venerators…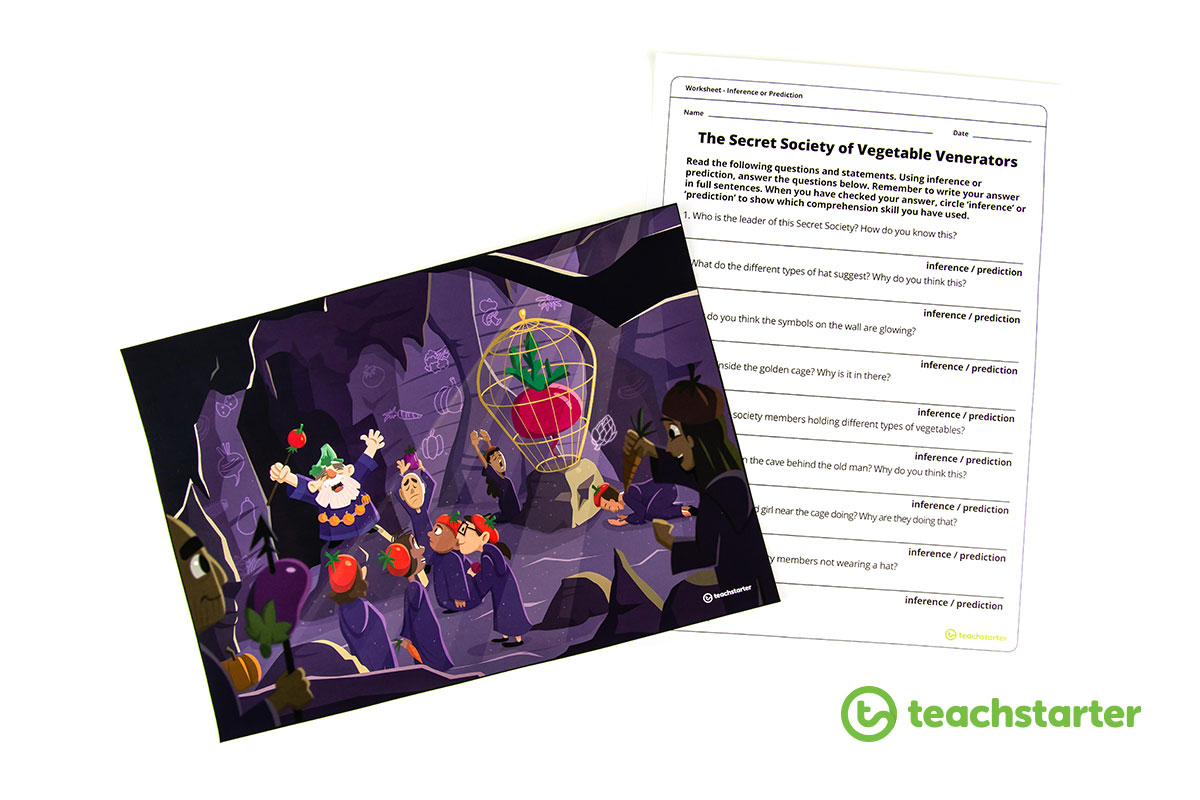 ---
The other new inference activities that you might like to check out include:
Which is your favorite of the five new Inference Scenarios?! Let us know in the comments below or on instagram @teachstarter_texas!