Enhance your students' comprehension, vocabulary, and writing skills with a close reading passage and activity pack about the Lewis and Clark Expedition.
Lewis & Clark Reading Activities for Social Studies Integration
Are you struggling with integrating your social studies content into other subject areas? We've got the perfect resource to blend your history content with reading and writing. Check out this  Lewis and Clark Close Reading and Writing Pack!
This close reading and writing pack is an engaging way for students to learn about the Lewis and Clark expedition into the American West during the era of Westward Expansion. Students will read about the journey, answer comprehension questions, sort facts, and details, and then utilize information from the passage to write an informative essay.
Through this resource, students can answer the following essential questions.
What was the purpose of the Lewis and Clark expedition?

When was the Lewis and Clark expedition completed?

Why was the Lewis and Clark expedition important to America?

What was the Corps of Discovery?
An answer key is included with your download to make grading fast and easy!  
Tips for Differentiation + Scaffolding 
In addition to independent student work time, use this worksheet as an activity for:
Lesson warm-up

Homework assignment

Whole-class review (via smartboard)
For struggling readers, try the following:
Provide read-aloud accommodations.

Allow students to partner read the passage and complete the comprehension check together.

Pre-teach the vocabulary words related to the passage before reading. 

Build background before completing by viewing videos and images or discussing prior knowledge on the topic.
For fast finishers, enhance their learning by trying the following:
Encourage students to read further and make a timeline of the significant events leading up to and during Lewis and Clark's journey.

Have students read additional texts or watch videos about the Corps of Discovery.

Have students enhance their writing using text evidence or change their essay into a bulleted list of essential details about the journey.

Encourage students to continue their exploration of history with informative

writing prompts

for third grade and up.
Easily Download & Print
Use the dropdown icon on the Download button to download the PDF or Google Slides Version.
Because this resource includes an answer sheet, we recommend you print one copy of the entire file. Then, make photocopies of the blank worksheet for students to complete.
To save paper, we suggest printing the 2-page worksheets double-sided. 
Additionally, project the worksheet onto a screen and work through it as a class by having students record their answers in their notebooks. 
Get more American History worksheets to have handy!
---
Don't stop there! We've got more resources to help you teach those historical figures: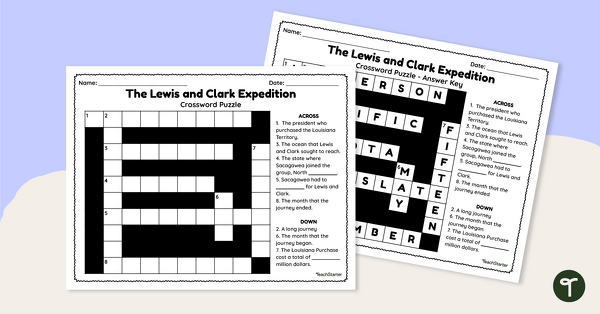 teaching resource
Practice and review vocabulary associated with the Lewis and Clark Expedition using a crossword puzzle.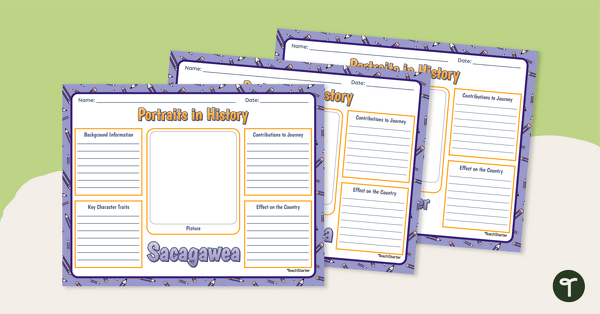 teaching resource
Use these three templates to record notes or research project content on the life and contributions of Meriwether Lewis, William Clark, and Sacagawea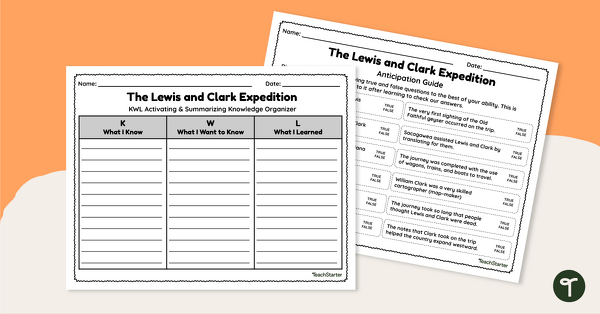 teaching resource
Introduce a unit of study on the Lewis and Clark expedition with a KWL chart and anticipation guide.