Teach your students how to write dialogue correctly with an interactive teaching presentation.
Boost Narrative Writing- Teach Students How to Write Dialogue
As a classroom teacher, imaginative writing is often the most fun type of writing to teach. Students get to invent their characters, have them interact with each other, and go through some wild and crazy adventures. However, imaginative writing can be one of the most challenging to teach. After learning the parts of a story, students need to be taught how to write dialogue.
This presentation clearly explains the rules for
placing quotation marks,

how commas and other punctuation marks work with dialogue,

when to use capitalization in dialogue, 

how to write breaks in dialogue,

how to format dialogue in a story,

how to write two characters talking at once.
This presentation provides dialogue examples, dialogue rules, and a review of the rules with multiple models and participate in activities that allow them to apply the concepts.
Through this activity, students will show improvement in their ability to include and edit dialogue in their writing.
Extend the Lesson 
A team of dedicated, and experienced educators created this resource to support your Writing lessons. 
If you have a mixture of above and below-level learners, check out these other suggestions for extending their learning of the concept:
Find more ideas for your writing blocks with Storytelling for Kids: Creative Ideas Teachers Can Use to Get Kids Writing
Easily Prepare This Resource for Your Students
Use the download button to download the Google Slides presentation.
---
This resource was created by Emily Pate, a teacher in California and Teach Starter Collaborator.
Don't stop there! We've got more activities and resources that cut down on lesson planning time: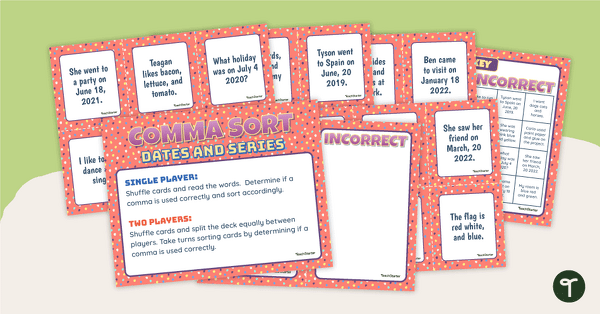 teaching resource
Practice correct comma placement in dates and series with a sorting activity.
teaching resource
A poster that explains commas and provides an example of how to use them.
teaching resource
A set of 6 worksheets to reinforce punctuation in the upper grades.