A love for reading often starts between the four walls of a classroom. Maybe you even still remember your favorite book from elementary school?
Our teacher team has put together a list of beloved books for 5th grade that will not only captivate young minds but can also teach a host of valuable lessons. To help you brainstorm lesson ideas, we have specific sections on stories surrounding World War II topics and mentor texts. Explore the list for read-aloud options, books for reluctant readers and stories that will open up some deep classroom discussions.
Many of these titles are award winners, engage resistant readers and inspire a love of reading. Keep reading to explore the list!
Books for 5th Graders
Aven Green is a young girl born without arms who bonds with a classmate who also feels isolated because of a disability in this book that made the Library of Congress's 52 Great Reads List in 2018. Aven and her family move to Arizona to manage a western-themed amusement park. Navigating the frigid waters of a new school is difficult for Aven — other kids stare and ignore her until she befriends a boy named Connor who has Tourette Syndrome.
This uplifting, coming-of-age story is a great representation of empathy for young readers, all while the plot thickens as Aven learns about her own past through the amusement park. Enthusiasts of this book can check out the sequel, Momentous Events in the Life of a Cactus.
In this children's literature classic, a mysterious tollbooth adds excitement to life for a young, once perpetually bored boy named Milo. Writer Norton Juster has said the book is meant to speak to the importance of learning to love learning. Now more than 50 years old, the book is still a kid favorite that can help you get your students hooked on idioms and figurative language — both are used in a creative, entertaining way throughout Juster's book!
Bud Not Buddy by Christopher Paul Curtis
Is your class studying the Great Depression in American history this year? Consider adding this book to your lesson plans about a 10-year-old motherless boy on the run in 1936 Flint, Michigan. After spending time in orphanages and foster homes, Bud is a 10-year-old with a big hope: finding his father in Grand Rapids. Many of the characters he meets along the way help assist him in his quest, only for the reader to find a surprising turn when Bud reaches his destination.
This Coretta Scott King Award and Newberry Medal winner was also voted Best Book of the Year by The New York Times, and School Library Journal. This story is not only entertaining, but it also shines a light on perseverance through difficult situations.
This powerful book of hope and perseverance intertwines the stories of two 11-year-olds in Sudan overcoming life-threatening situations. Two parallel stories from different eras — 1985 and 2008 — intertwine in Park's novel, and the alternating chapters of Nya's and Salva's stories make for a good narrative flow that will keep your 5th-graders engaged.
This book can spark classroom discussions on different lives and how some people are forced to live through extreme obstacles.
Hatchet by Gary Paulsen
This survival story is a riveting read and one that's great for reluctant readers. The teen protagonist, Brian, is the only survivor of a plane crash and must learn to survive in the Canadian wilderness.
Hatchet was nominated as one of America's best-loved novels by PBS's the Great American Read, and you can use the award-winner as a model text for teaching descriptive writing. Have students write their own descriptions of the wilderness based on the book.
Known to captivate classes, Because of Mr. Terupt tells the story of a 5th-grade teacher who brings students together by helping them find each other's strengths despite their differences. Weaving in important life lessons, the focus on students their own age will be relatable to your class, and the book has the added bonus of being a great model text for teaching character development.
Teach Starter Teacher Tip: Ask students to create a character profile for each of the students in Mr. Terupt's class.
Based on a true American mathematician, Carry On, Mr. Bowditch tells the story of Nathaniel Bowditch, a self-educated man of humble beginnings who went on to become the founder of modern maritime navigation. The novel includes descriptions of Nathaniel Bowditch's passion for learning, and scenes of him studying late into the night and teaching himself Latin and French could motivate your students to pursue their own passions.
Curtis's book captures the power of family bonds as the Watson family travels to Birmingham, Alabama right as the civil rights movement gains momentum in 1960s America. This fictional Coretta Scott King Honoree is a great read and introduction to the civil rights movement or Black History Month with your students. The real-life bombing of the Sixteenth Street Baptist Church is included in the tale, and this tragic moment in American history is handled with sensitivity and nuance, making it a powerful teaching moment.
Explore our civil rights movement resources collection for worksheets and more to reinforce your lessons.
Known for teacher favorites like Because of Winn Dixie and The Tale of Desperaux, award-winning author Kate DiCamillo brings us this perfect tale for reading out loud to your fifth-grade class. This emotional story is a tale of love and adventure when a little porcelain rabbit named Edward Tulane gets lost.
Use the book to open up discussions of compassion, brokenness and character development in a story.
Also the author of Walk Two Moons, Sharon Creech tells the beloved story of orphaned teenage twins in Ruby Holler. Your class will stay rapt as the twins finally learn the meaning of family after being in and out of foster homes. Be aware that there are some descriptions of child abuse exacted by the children's foster parents.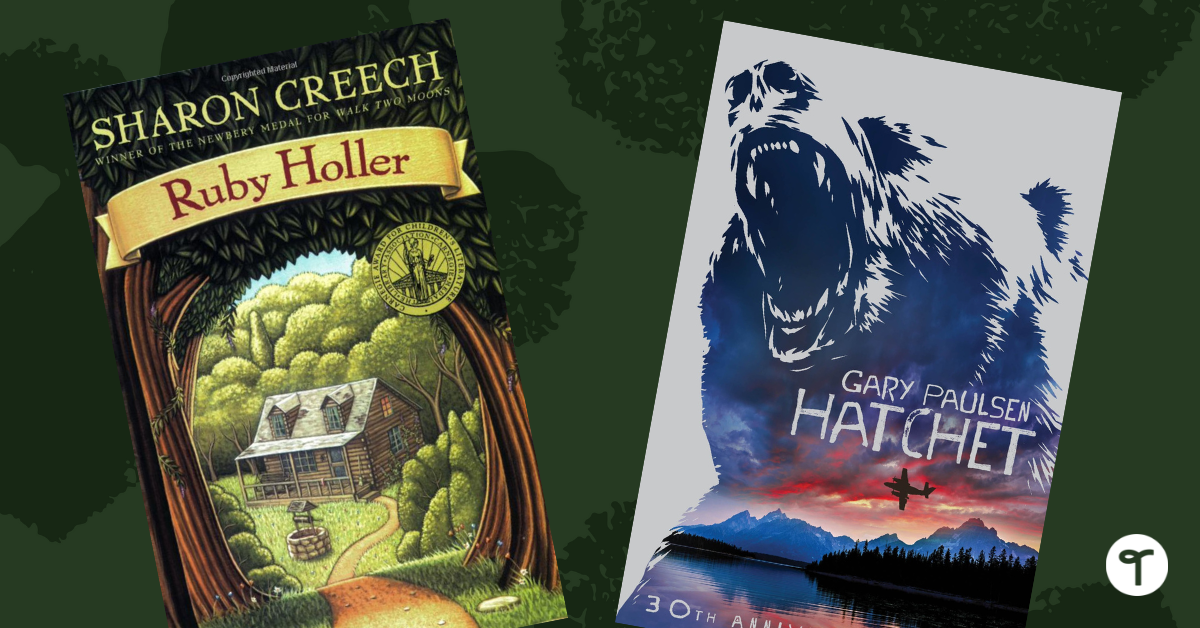 We realize it's almost impossible not to have heard of or read Bridge to Terabithia if you work in an elementary school, but we also know you'd be asking why we left this off our 5th grade book list if we did! This Newbery Medal winner is a story of friendship featuring two 5th graders, Jess and Leslie, who form a special bond while creating their own imaginary kingdom.
Although this book involves a tragedy with one of the main characters, its lessons in loss, finding strength, and building confidence in oneself make it an unforgettable read.
Holes by Louis Sachar
For more than 20 years, readers have read and reread this beloved New York Times Bestseller and National Book Award Winner. Holes tells the story of Stanley Yelnats, a boy sent to a detention center to build character by digging holes all day. Your students will love this cleverly written adventure story as the boys in the detention center work to find out why they're digging holes.
Adventure-seeking historical fiction-loving students will enjoy this Newbery Honor book. Charlotte Doyle is a 13-year-old who finds herself companionless on a long sea voyage from England to Rhode Island.
The journey becomes complicated as she gets entangled in a conflict between the captain and the crew. Resistant readers are known to gobble up this adventure story along with their bookworm buddies.
This incredible survival story, based on real life, follows a young girl living alone on an island off the coast of California. Students will be inspired by the protagonist's resistance, independence and courage as she navigates her small world alone.
You can explore the book's historical context by discussing Native American history and the colonization of California. Why not have your students research and present on related topics?
Wishtree by Katherine Applegate
This heartfelt book tells the story of a 216-year-old wish tree that shelters animals and watches over the neighborhood. When the wish tree's life is threatened by the arrival of a new family, it seeks help from its animal friends. Topics covered in Wishtree include prejudice, hope, friendship and kindness.
This hard-to-put-down mystery has sold more than 4 million copies! It follows the protagonist, Lina, as she and her friend try to save the city of Ember, the last refuge for the human race before it's too late. This book sparks great discussions about human nature and immigration.
Wonder by R. J. Palacio
Wonder is not only a wonderful story; it's a great novel to read to teach higher-order thinking. Wonder follows a boy named Auggie Pullman who tries to navigate the harsh environment of bullying in a public school. Auggie is picked on because he has a facial deformity, but the book turns out to be a heartwarming, emotional and hopeful read that will spark discussions on acceptance, tolerance and awareness.
Try some of these ideas with your students after reading:
Discuss common themes of the story including courage, kindness, bullying, isolation and acceptance.
Brainstorm random acts of kindness students can do at school and in their communities.
Check out the Wonder guide for teachers for project inspiration, teaching ideas and more.
Watch the movie starring Julia Roberts, Owen Wilson, and Jacob Tremblay.
We already mentioned one DiCamillo book, but we couldn't skip this teacher favorite! Students' imaginations will run wild as they follow the adventures of a little mouse. Despite feeling different from the other mice, Despereaux sets out to change the life of others and simultaneously finds his own courage and self-esteem along the way.
Suzanne Collins's five-book series starts with Gregor the Overlander and ends with Gregor and the Code of Claw. These novels tell the story of a boy named Gregor who discovers that his destiny is to embark on a quest in the Underland, a world below New York City, and find his father. This enticing series will captivate students' imaginations and hopefully inspire them to finish the series on the own (if you don't do so as a read-aloud in class!).
A story of determination, E.B. White's classic tells the tale of a trumpeter swan born without the ability to make any sound. Louis is the book's protagonist who tries to find his own voice and win the affection of another swan. After he struggles in vain with this hope, his father gives him a trumpet — allowing Louis to both find his voice and express his feelings through music.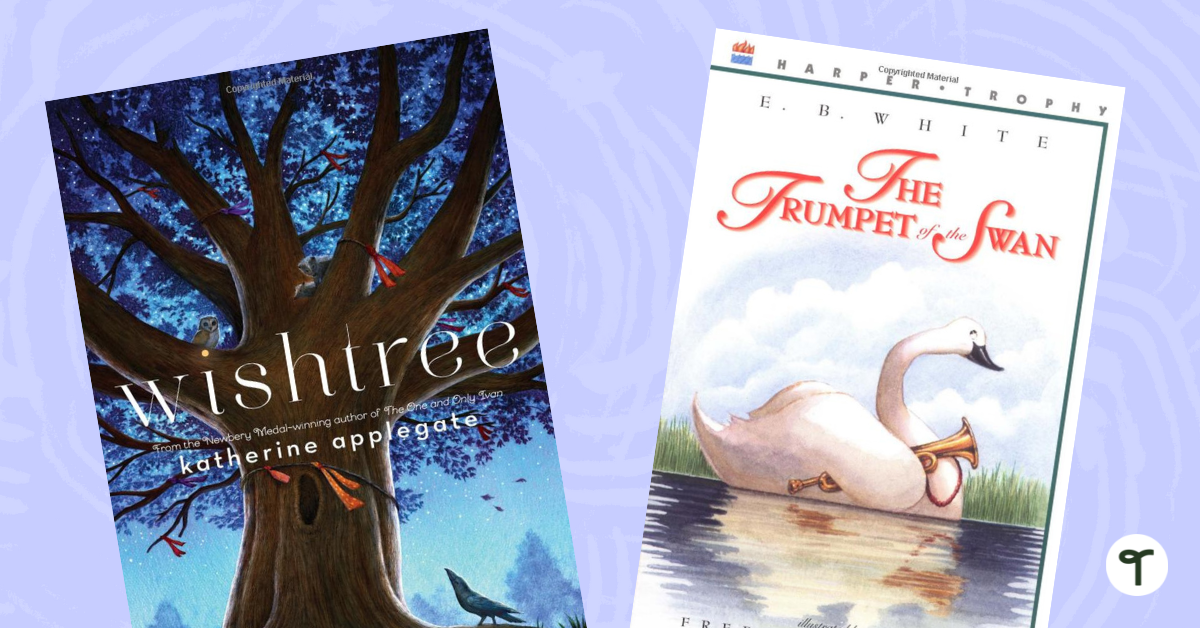 Bambi by Felix Salten
We all know of the cute, simplified interpretation by Disney, but the original Bambi story by Felix Salten is a true classic originally published in 1923. This timeless story of a young deer teaches lessons on the fragility of life, the cycles of nature and the human effect on wildlife.
Teach Starter Teacher Tip: After reading, ask your students to create a nature journal based on their observations of the natural world, inspired by the descriptions in Bambi.
A young girl named Winnie Foster discovers a spring that grants immortality in this modern-day classic. The story makes readers and listeners ponder whether eternal life is a blessing or a curse. Other themes in this novel include friendship, change, and transformation.
Discussion questions you can ask your class include:
Would you want to live forever?
If you had the opportunity to live forever, what age would you like to be and why?
Lowry dives into the world of dreams with her imaginary creature, Littlest One, who's responsible for delivering pleasant dreams to humans. When Sinisteeds, or dark creatures that deliver nightmares, try to control the dreams of a foster child with a troubled past, Littlest One tries to protect him. This original story lays a foundation for conversations about identity and perspective with your fifth graders.
Do you have students interested in STEM? This novel by Madeleine L'Engle can spark some imagination and perhaps encourage some of your young female students to embrace the world of STEM with vigor and enthusiasm, much like the story's protagonist Meg.
In this classic Newbery Medal-winning story, Meg and Charles' father mysteriously disappeared, and they must travel through space and time to try and find him. Family love and friendship are two takeaways from this story, along with good overcoming evil.
Browse our STEM resource collection for further activities and worksheets after reading.
Tragedy strikes a wealthy family in Mexico forcing them to resettle in California during the Great Depression in this book perfect for 5th grade. The young protagonist, Esperanza, must learn important life lessons such as sacrifice and hard work for the well-being of her family. Many layers of discussion points stem from this book including rising above tragedy and adversity to the struggles many immigrants face on a daily basis.
Teach Starter Teacher Tip: Why not use the book as a starting point for a larger discussion on labor rights and workers' rights? Students can do research and present on related topics such as the United Farm Workers and the history of labor unions in America.
Before Holes, Louis Sachar wrote another hit with kids, There's a Boy in the Girls' Bathroom. This realistic fiction novel tells the story of Bradley, the most hated kid in school. Through the encouragement of a new school counselor, Bradley finds the strength to believe in himself and find friendship. Teachers comment that this is an annual hit with their classes and teaches the importance of kindness.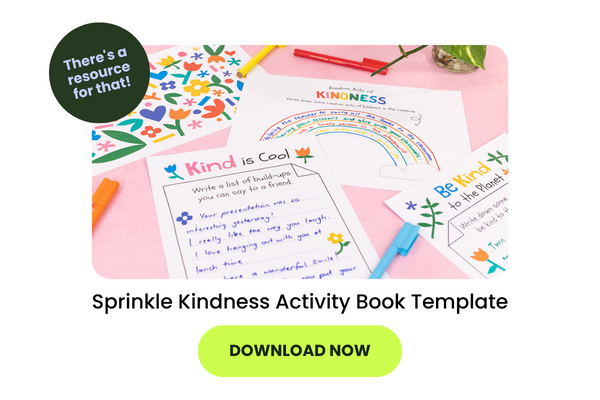 The Giver is a great introduction to the dystopian fiction genre from the author of Gossamer. Jonas is the protagonist living in a world where no one questions anything and citizens blindly obey orders. Once he receives his life assignment as the Receiver of Memory, he starts to understand the darkness of his fragile community. This thought-provoking story will have students analyze what it means to be human and have the ability to question and make choices.
If your students are begging for more when you've finished up this book, don't worry — Lowry wrote four books in the series, so you can keep it going!
Shiloh by Phyllis Renolds Naylor
Who doesn't love a story between a dog and a child? This heartwarming book is about a young boy, Marty, who befriends an abused dog owned by his neighbor. Although simplistic, this book has many underlying life lessons and messages that kids can relate to. It's also relatively short, making it accessible to reluctant readers.
This action-packed story is included in Time Magazine's 100 Best Fantasy Books of All Time. The author mixes Chinese folklore with fantasy, making this book an engaging option for young readers. Minli is the protagonist and gets inspired to set off on her own journey to find the Old Man on the Moon after listening to her father's folktales.
Metaphors are woven into the characters symbolizing lessons of gratitude, becoming a role model and focusing on the positive.
Another Newbery Medal-winning classic, this survival story will engage young readers who love wilderness adventures similar to Island of the Blue Dolphins and Hatchet. Julie runs away from her village in this novel and becomes lost and alone on the Alaskan tundra. She must survive by copying the ways of a wolf pack until she can return to civilization.
The question is, when she returns to her old life, is it what she really wants? This story touches upon Inuit culture, the impact of Americanization and the protagonist's determination to survive and learn to use her surroundings.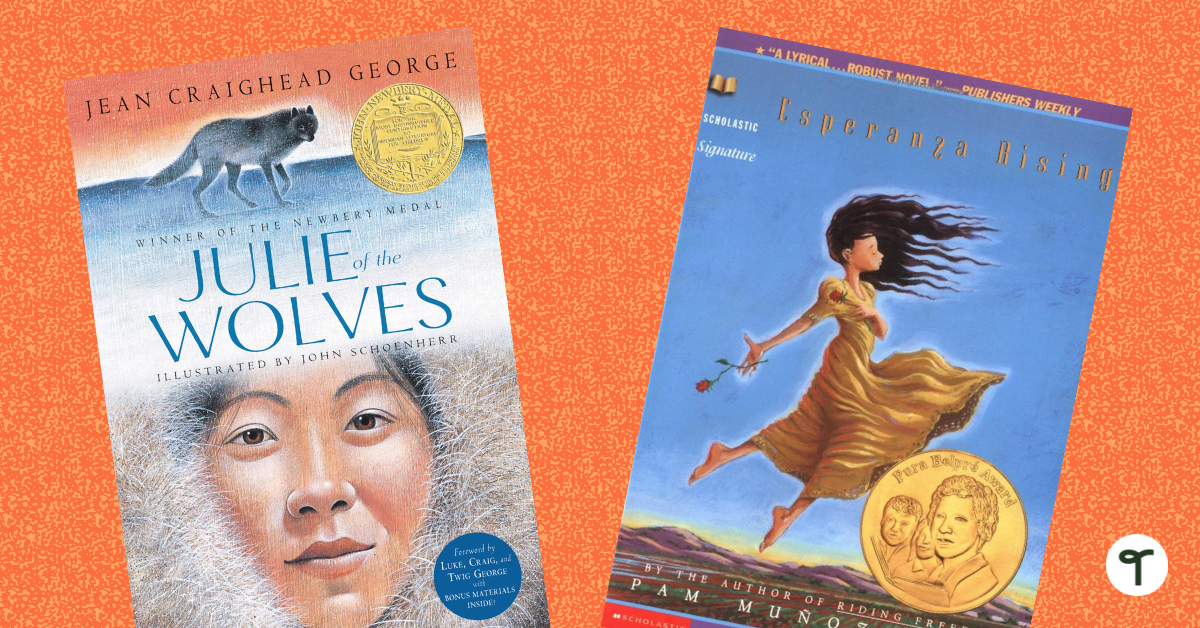 Written from the perspective of a young teenager living during the dust bowl days, readers will enjoy this story of perseverance steeped in history. Billie Jo loves playing the piano, but an accident robs her of her ability to play which used to be the one thing that made her feel better. While dust storms and environmental turmoil ravage the land, Billie Jo and her family learn the power of hope and inner strength. This is a powerful story of the human spirit.
Billy is a young boy living in the Ozark Mountains of Oklahoma who works hard to save every penny in pursuit of buying two hunting dogs. His hard work pays off, and his small team's achievements catch the attention of the region.  When tragedy strikes, Billy must learn how to focus on the power of hope. As a protagonist, Billy makes a great model of integrity, determination and hard work for students.
A sweet and classic story of friendship, Charlotte's Web's beloved characters have captivated young minds for decades. Wilbur, a little pig in Zuckerman's barn, befriends a small spider named Charlotte who expresses her feelings for him in her doorway web. This story is another treasured look at the circle of life, friendship and love.
Yes, it's another DiCamillo book! Animal stories sure have a way of touching our souls and inspiring lives. This uplifting story is about a little girl named Opal who befriends a dog. It's because of this dog — named Winn-Dixie just like the grocery store — that Opal starts to make friends and has the courage to ask her father about her mother abandoning them. She admits that everything that happened that same summer is because of her special canine friend.
While the overall story is heartwarming and age-appropriate, this story deals with more difficult experiences such as abandonment and losing a loved one.
The False Prince is the first of five books in the Ascendance series by Jennifer Nielsen. Sage is the orphaned protagonist who is recruited to compete for the role of impersonator of the king's long-lost son. Sage is defiant and questions the motives behind this plan, but knows he will surely be killed if he refuses. With its twists and turns, this story is known to glue readers to the pages. Engage your young learners after reading with discussions around vocabulary words like deceit, the fantasy genre, and how monarchies still make an appearance in today's world.
The first installment of a two-part series, Out of My Mind is the story of a girl named Melody, the smartest kid in school. No one knows this, however, because Melody has cerebral palsy and cannot walk, talk, or write. Draper's story is a great book about inclusion and accepting others despite their abilities, tying directly into social and emotional learning lessons.
The second book in this series is Out of My Heart.
Salamanca (Sal) Tree Hiddle is an imaginative 13-year-old on a road trip from Ohio to Idaho with her eccentric grandparents. To pass the time, Salamanca tells them a made-up story about Phoebe Winterbottom. It becomes clear that as their road trip progresses, Sal's story about Phoebe parallels her own life. Themes in this story include loss, empathy and family, which you can discuss with your students.
Fast-paced adventure fills the pages of The Lightning Thief and the rest of the Percy Jackson series. Some compare Percy Jackson to Harry Potter in the sense that the protagonist chases his destiny in a fantastical world through seven books. These stories also surround the overarching themes of friendship, loyalty, and doing what is right. Percy finds himself in a world where the mythical creatures in his mythology textbooks walk straight into his reality. He becomes the prime suspect for stealing Zeus's lightning bolt and has 10 days to return it.
The Lightning Thief and the Percy Jackson series is a great base for a Greek mythology unit. As you come across new gods and goddesses in the novel, take time to explore each one, discover their symbolism and read shorter versions of their myths.
From the author of False Prince, Jennifer Nielsen's A Night Divided tells the fictional account of a girl named Gerta in 1960s Germany. When the Berlin Wall divides the country into East and West Germany, Gerta's family is separated. Now, she and her family must carefully find their way to freedom.
Themes of courage, determination and family are all found in this story while also introducing the true construction of the Berlin Wall that stood for over two decades.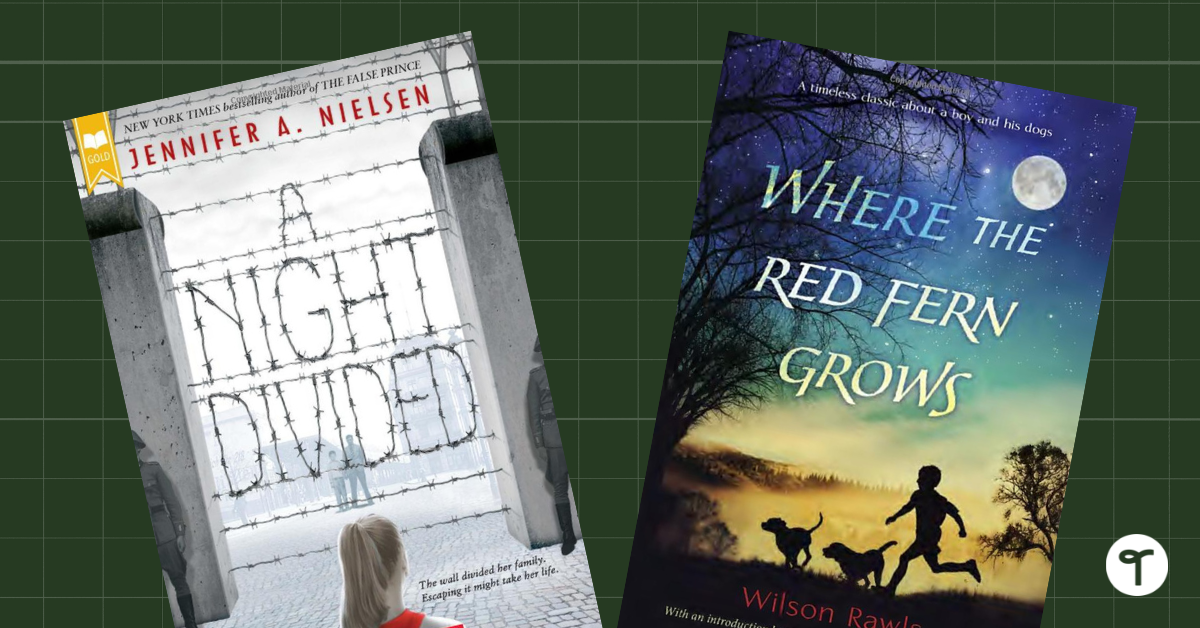 World War II Books for Kids
Looking for some books that are specifically focused around World War II to read with your 5th grade class? We've got you covered there too! Here are a few of our teacher team's favorites from this era.
The Cay by Theodore Taylor
Your survival story-loving readers of Hatchet and Island of the Blue Dolphins will also love The Cay. This survival story takes place during World War II when the Germans invade the island of Curaçao. The Cay covers serious topics such as racism in a captivating story that won The New York Times Best Book of the Year award.
Milkweed by Jerry Spinelli
Though written as historical fiction, Milkweed is a teacher-trusted story to share with students and introduce the Holocaust. This story is about a young orphan boy named Misha living on the streets of Warsaw, Poland. As the Nazis rise to power, he must learn to avoid them and those close to him at all costs.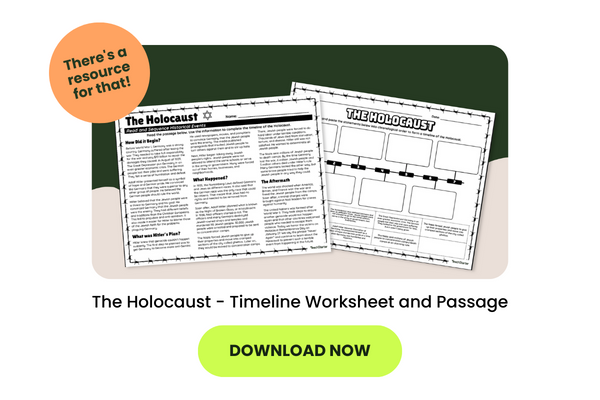 Refugee follows three different child refugees from different eras: Josef escaping Nazi Germany in 1939, Isabel fleeing Cuba in 1994, and Muhamad feeling Syria in 2015. Students will not only learn about difficult historical events, but they'll also be able to make comparisons between the three characters who all have shocking connections by the end of the book.
Written by the author of The Giver, Number the Stars is another Newbery Medal winner by Lois Lowry. This story is portrayed through the eyes of a 10-year-old girl named Annemarie. As German troops begin to relocate the Jewish people of Denmark, Annemarie's family conceals her Jewish best friend, Ellen, as part of their family to save her life.
Besides themes of friendship and bravery, Number the Stars can help students relate to what they're learning about the Holocaust as it puts the focus on children their own age and how it impacted them.
The innocence of two boys is highlighted in The Boy in the Striped Pajamas. Bruno is the lonely son of a Nazi commandant, and Shmuel is a Jewish prisoner in a Nazi concentration camp. Both boys develop a friendship despite the horrors and literal fence that divides them. Though emotional and tragic, this fictional story is truly memorable to its readers, symbolizing a horrible time in human history.
Here are some questions and lesson ideas you can use after reading:
Analyze symbols in the story, such as Shmuel's "pajamas."
Explore the meanings of friendship and innocence.
Why does the author have Bruno mispronounce words such as "Out-With" for Auschwitz?
What do you think the author wants you to gain from reading this story?
Someone Named Eva is another World War II story, this time from the perspective of a Czech Catholic girl who gets separated from her family during the Nazi occupation. Milada (Eva) is taken to a German training center to be reconditioned to become part of the "New Germany" and receives a new name and Nazi family. Throughout the hardships of war, Milada learns that holding on to her true identity is the most difficult task she's ever experienced. While many stories surrounding Nazi Germany are told through the perspective of Jewish people, this fictional account looks at the effects of Germanization on children and can spark discussions on identity and family.
Like Someone Named Eva, Sadako and the Thousand Paper Cranes is another example of a lesser-known perspective of World War II. Sadako is a young Japanese girl who learns her life is in danger after radiation exposure from the Atomic bomb begins to weaken her body. As a symbol of hope, she starts to create 1,000 paper origami cranes.
This story is an easy read and a good one to read after Number the Stars for a varying perspective of World War II. Sadako and the Thousand Paper Cranes is also based on a real person which can provide additional research and exploration after reading the book.
Browse our World War II resource collection to enhance these stories and solidify students' understanding.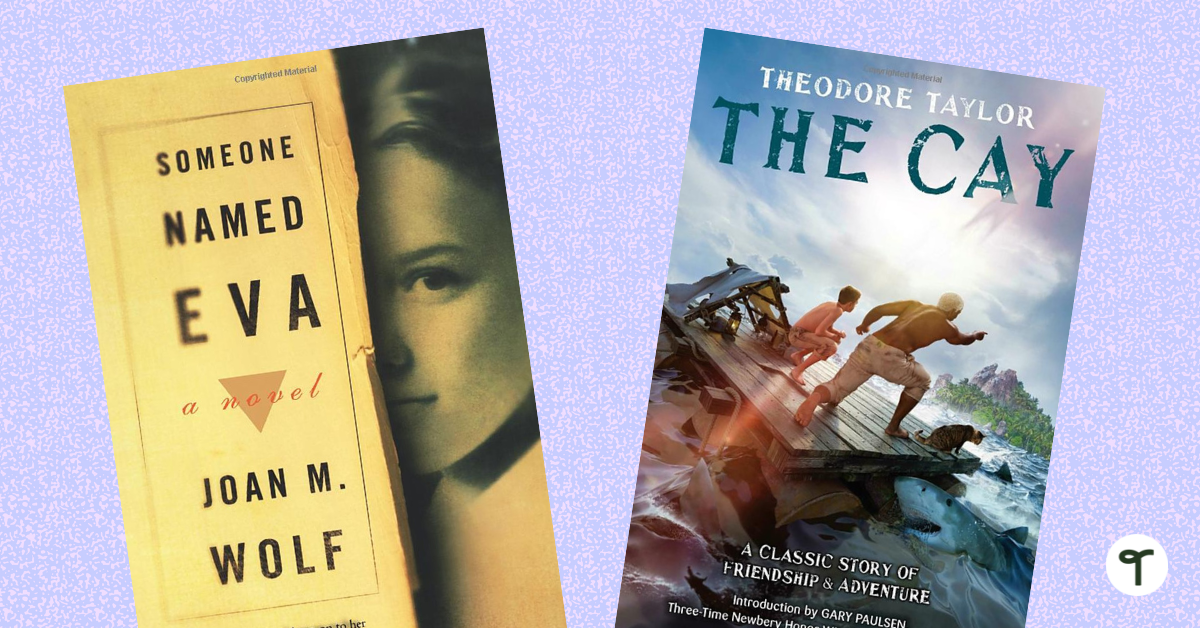 Mentor Texts for 5th Graders
Looking for new mentor texts to introduce to your students? Consider adding these to your classroom library or curriculum!
This story will demonstrate to readers the importance of kindness and how every decision you make can affect those around you. Each Kindness has a powerful anti-bullying message when the main character, Chloe, realizes she lost an opportunity for friendship after rejecting the new girl, Maya,  at school. This book is perfect for important class discussions surrounding bullying, acceptance, and kindness.
After reading, ask your students:
How do you think Maya felt after being rejected at school?
Do you think Chloe regretted her actions by not including Maya?
Have you ever felt like Chloe/Maya at school? How could you change your actions if you were Chloe?
Shawn is the fourth son in a long line of island lobstermen. He doesn't realize the value of their painted buoys and old fish house door until an art dealer visits and makes them an offer for it. Shawn realizes the unique history of his family, explores the traditions of the past and gains a new perspective on his future in this great mentor text for kids.
The illustrations in this book are vibrant and captivating — creating a vivid look of the Maine coast for students to envision. Students can learn and discuss themes like family history and the value of traditions. Here are some question ideas after reading:
What's something ordinary you look at every day that may be valuable to an outsider?
What's a sentimental object you have in your family or at home?
Do you have a family tradition such as how to cook, clean, or decorate something?
Another visually captivating story is Nic and Nellie; a tender story about overcoming the fear of new places and loneliness. Nic spends a summer with her grandparents on a small New England island, introducing her to a world different from hers. She slowly learns that friends can be found anywhere you go and that it takes time to adjust to a new environment.
Many students will be able to relate to the feeling of homesickness whether they've moved homes, visited somewhere unfamiliar, or even stayed overnight at a friend's house. You can ask:
Explain a time you felt homesick.
Have you ever moved to a new home before? What are some methods that helped you acclimate to your new surroundings?
How can you help someone feel welcome or comfortable if they're feeling homesick?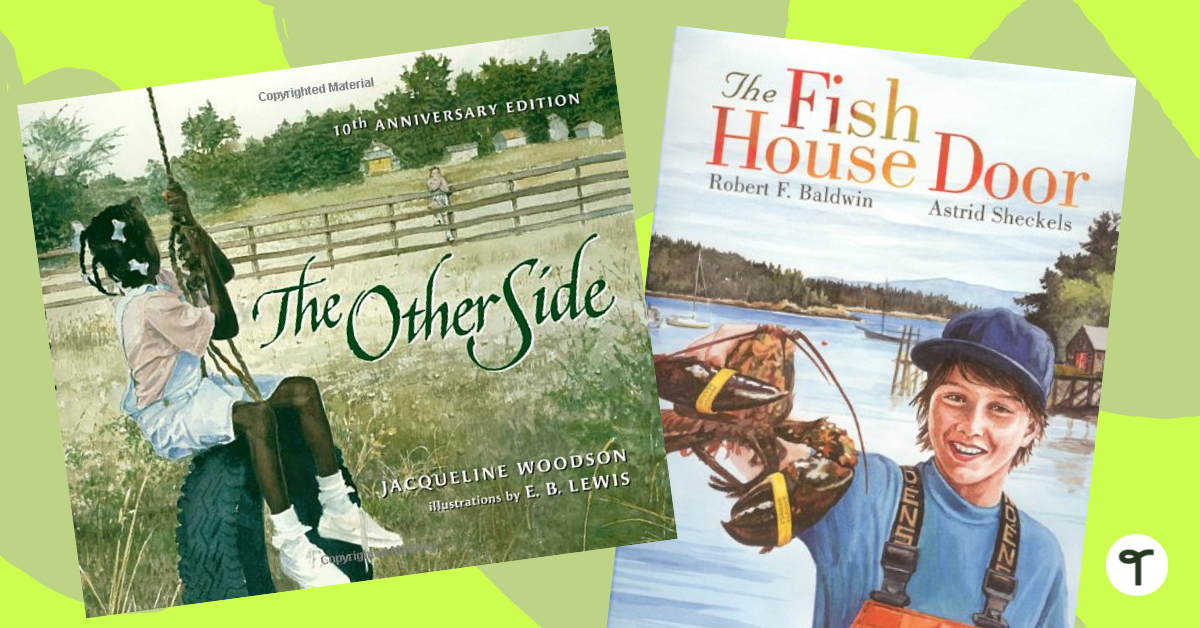 Need a good book for social-emotional learning? Strong themes of community and finding beauty everywhere you go are found in Last Stop on Market Street. You can use this story to discuss realistic fiction and dive into the author's use of figurative language and imagery.
This Caldecott Honor book is about a young boy named CJ who questions why he and his grandmother must take the bus, why he doesn't have other material items like the other boys, and why they exit the bus in the dirty part of town. His grandmother has a good answer to every question and shows CJ that beauty can be found anywhere. This story can spark discussions on gratitude, privilege, diversity and community.
Browse our collection of social-emotional learning resources to enhance your post-reading activities!
Twilight Comes Twice is a free-verse text describing the transition from day to night and night to day. This book would be good addition to your poetry unit or to look at the use of descriptive language. Fletcher's book is also a good review of personification, metaphors, onomatopoeia, and alliteration.
Read this story to your class a couple of times. Read the story once through without showing your students the illustrations so they can focus on the language and even draw what they hear simultaneously. Show them the pictures during the second read-through and discuss any differences they might have noticed. This book can also serve as a good warm-up before the class writes their own description of a special place they like, a sunset or even their own version of the transition from day to night.
Explore our poetry collection for additional exercises and activities!
Another great social-emotional learning text is The Other Side. Two little girls live on either side of a fence in a small, unspecified rural town. One side is where Clover and Black people live, and the other is where Annie and white people reside. Despite Clover's mother's warnings about crossing the fence, Clover and Annie become friends by sitting on top of the fence. They don't agree with the segregating ideas of the adults in their world.
Race, segregation and friendship are just a few of the themes your students can learn about and discuss with this story. Here are some discussion questions you can use after reading:
What's the symbol of the fence mean to you in this story?
Have you ever been told to follow rules you thought were wrong?
Why do adults have a hard time changing "the way things have always been?"
A blend of science and poetry, Winter Bees and Other Poems of the Cold offers an artistic appreciation of how animals survive in winter. This book is filled with beautiful illustrations that bring the words to life. Even if you don't live in a state with snow or below-freezing temperatures, this book will give you and your students a look at life in different geographic locations.
Use this book as a mentor text for nonfiction poetry or learning about the seasons.
Looking for 5th-grade worksheets, reading passages and more to supplement your read-alouds? Explore our entire 5th-grade section!