Are you looking for narrative writing examples? Or, perhaps you are searching for strategies to teach and motivate your students to improve narrative writing? If the answer is yes to either of these, it's your lucky day! Due to popular demand, we have created a Narrative Bump It Up Wall for Years 1 to Year 6.
In this article, we will look at what Bump It Up Walls are, why they are trending and how to use them. Plus we'll take a closer look at the Narrative Bump It Up Wall for Year 4.
---
What is a Bump It Up Wall?
So what is all of the fuss about? Why are Bump It Up Walls so popular? Well, there are many reasons. For example, Bump It Up Walls:
share explicit learning intentions
provide a shared language
provide clearly defined benchmarks for success
foster student self-assessment and peer assessment
track student progress
can be used as a teacher assessment tool.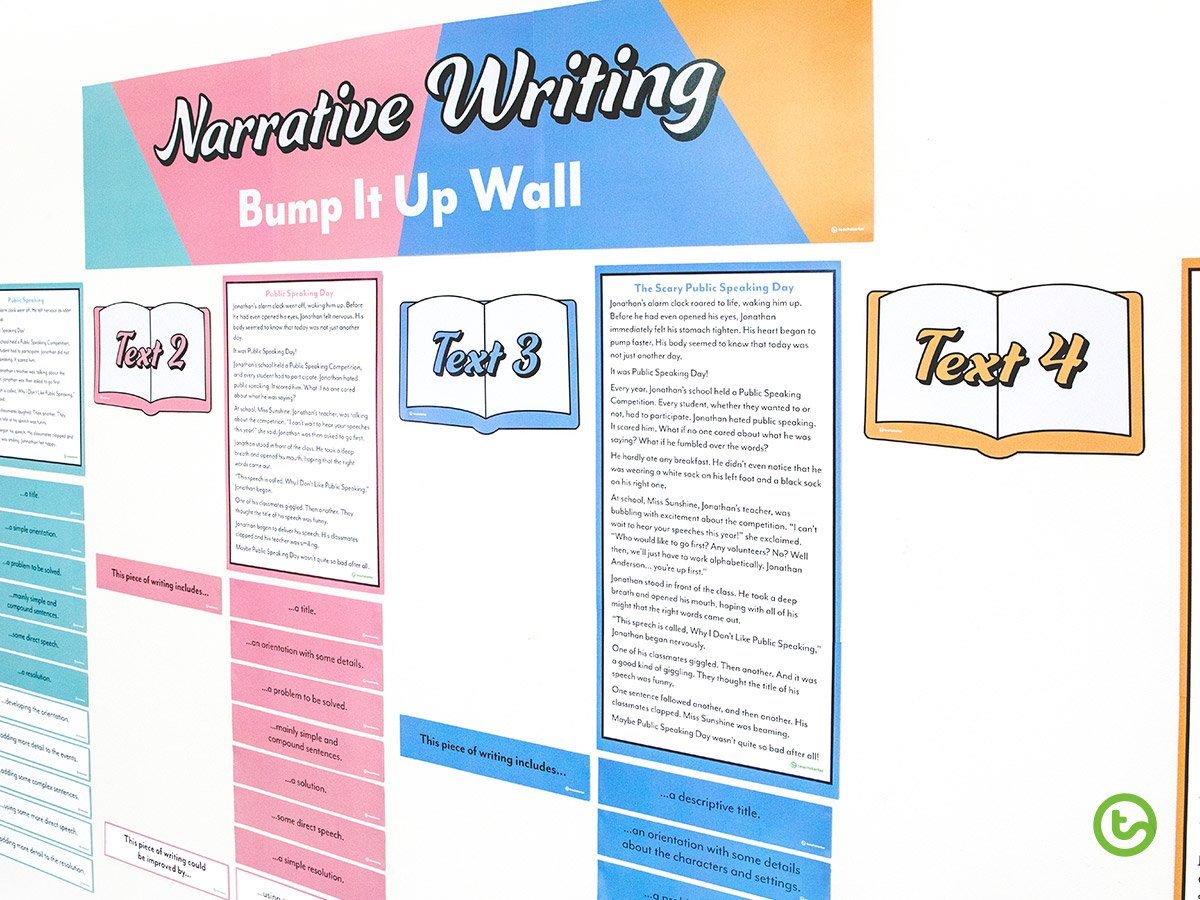 In other words, Bump It Up Walls are an effective teaching and learning tool that make learning visible. In fact, I'd go as far as to say that they can transform your teaching.
For more information on Bump it Up Walls and how to create one, read Holly's blog How to Create a Bump It Up Classroom Display.
---
What is Included?
We all know that creating a Bump It Up Wall (with all of the bits), takes considerable time. And so, we have done the hard work for you! We've put all of the components together as part of one quick download. Are you wondering what you get? Read on…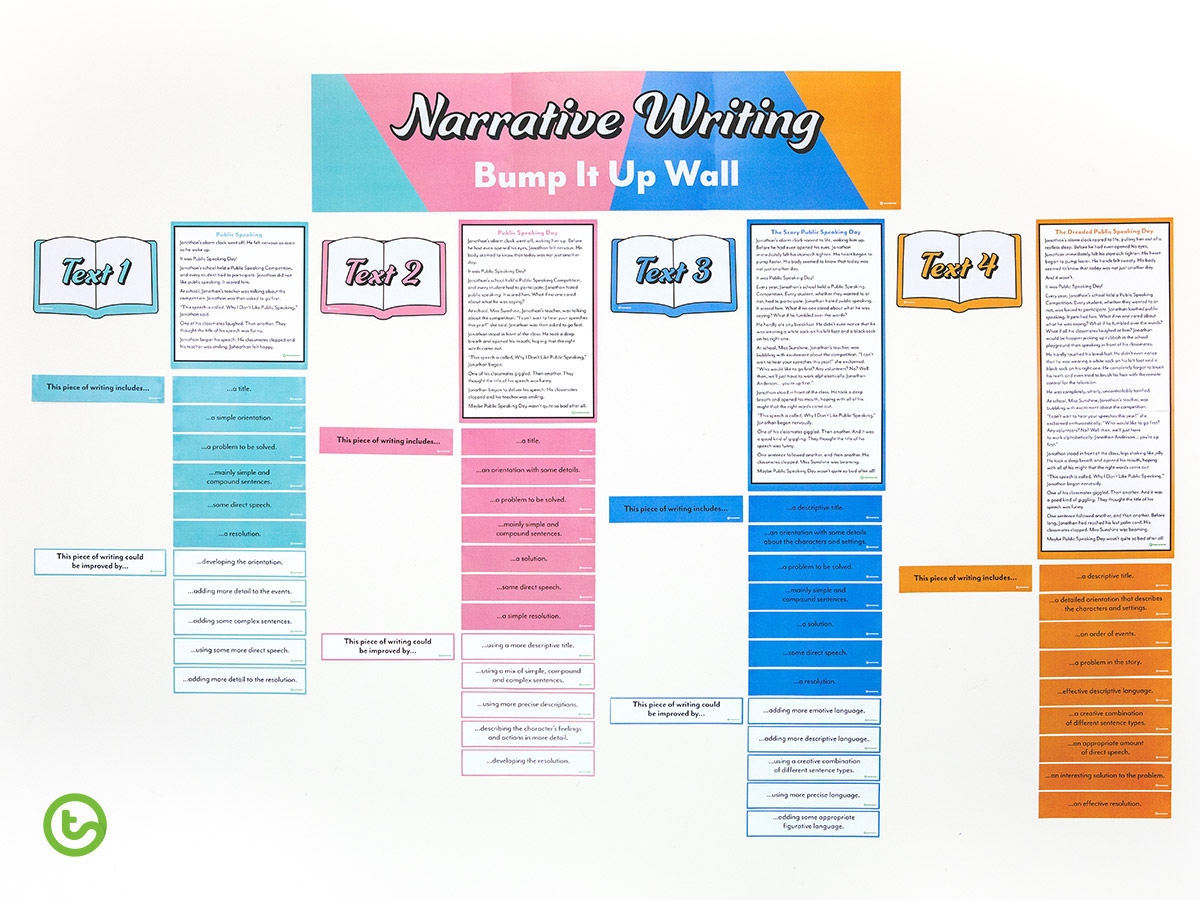 This brilliant visible learning classroom display includes:
a title banner (narrative writing and imaginative writing options)
four narrative writing examples of varying levels (simple to complex)
statements describing the structural and language features included in each example text
goals for 'bumping up' each example text.
---
Narrative Writing Examples
As you can see, each Narrative Bump It Up Wall includes four narrative example texts of varying levels. These texts have been created so that students can approximate the level of their writing and set goals to 'level up' their writing.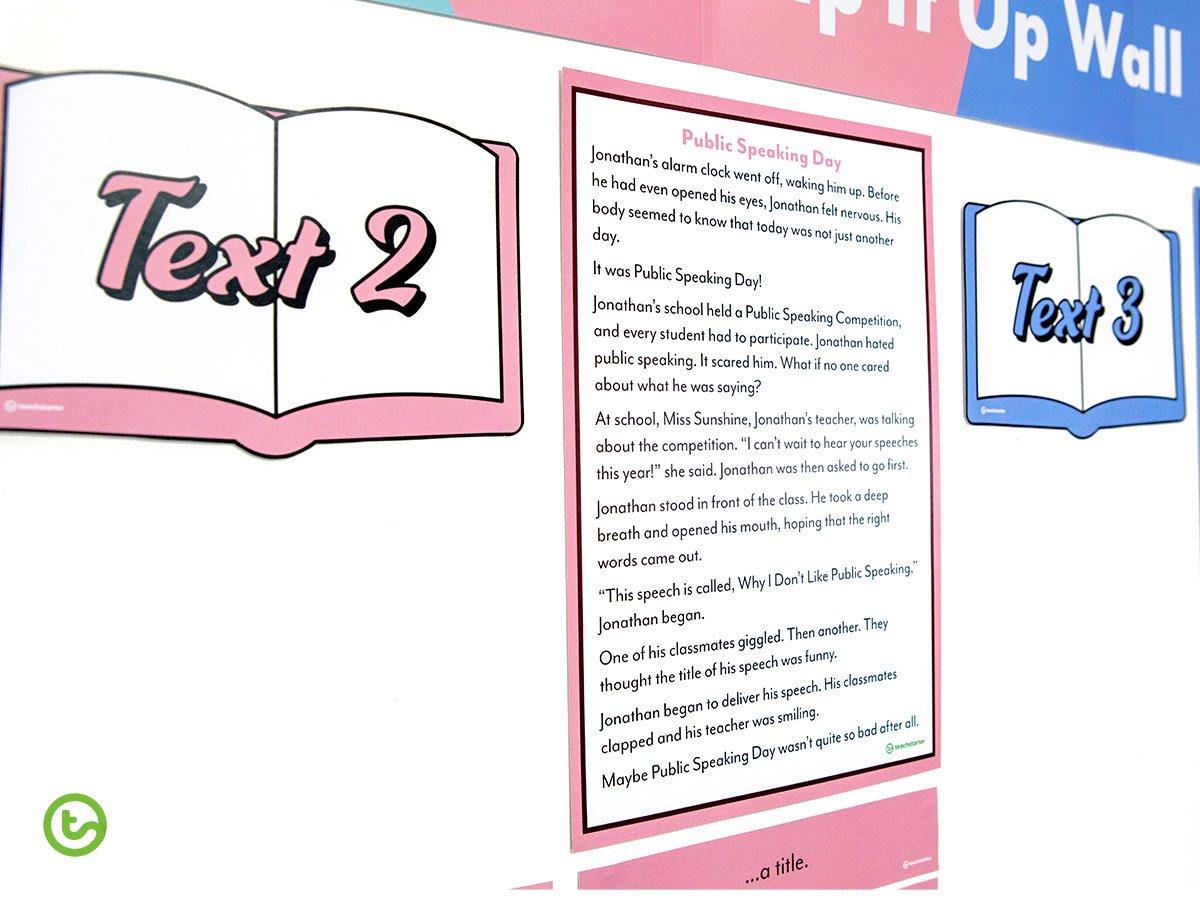 These narrative writing examples have been written by our expert resource producers. Each writing example has been carefully crafted to suit the reading, writing and comprehension level of each year group. Don't forget you can differentiate by using the Bump It Up Wall for the year level below or above.
---
 Setting Student Goals
As I have mentioned, each of the narrative example texts comes with a set of goals for bumping up to the next level of example text. So it couldn't be easier to set your students with writing targets and to keep track of their progress.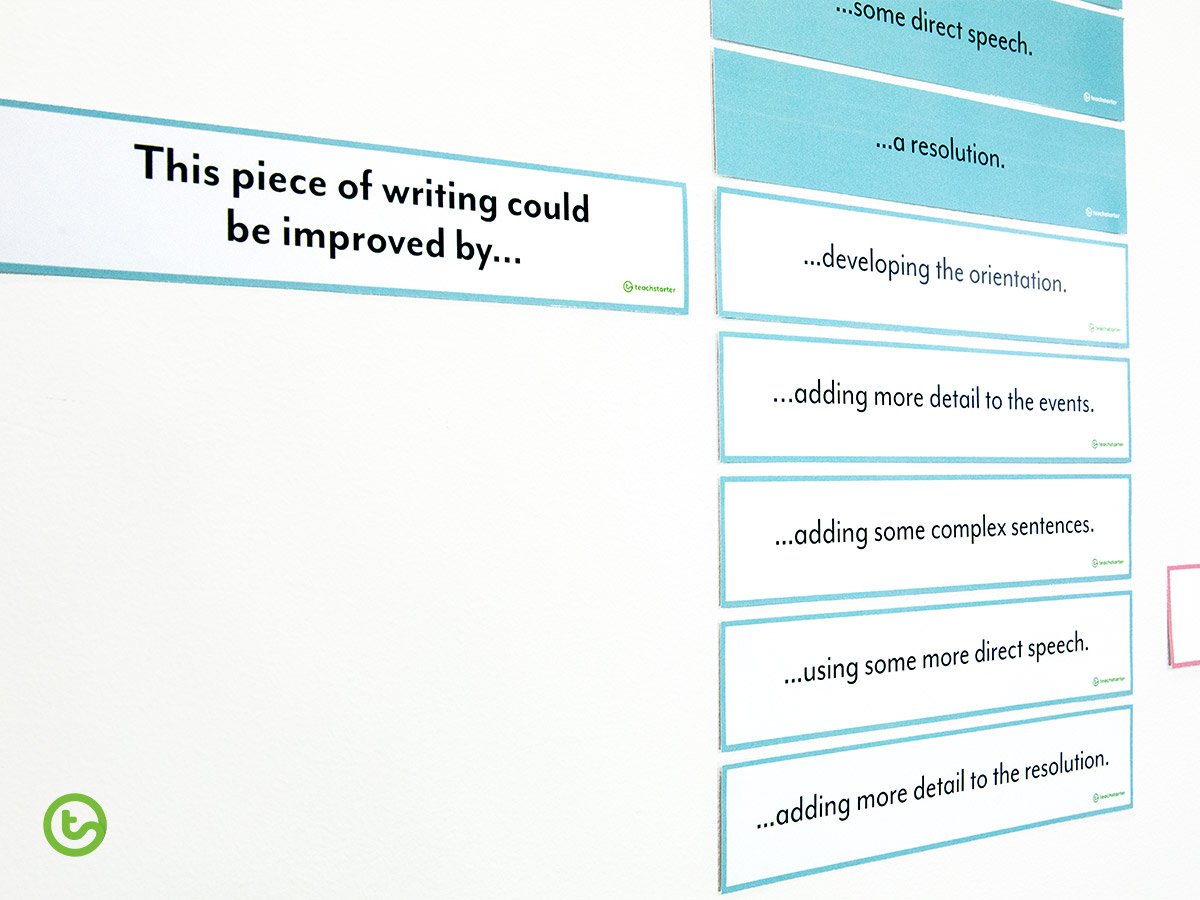 And the great news is, with goals displayed proudly on your classroom wall, your students will have a daily reminder of their personal writing goals.
---
Writing Self-Checklist
Another reason to love this Bump It Up Wall is that it includes a built-in narrative writing self-checklist. As you can see, for each narrative example text there are statements describing the structural and language features included. So your students can refer to this list before, during and after they have written a narrative.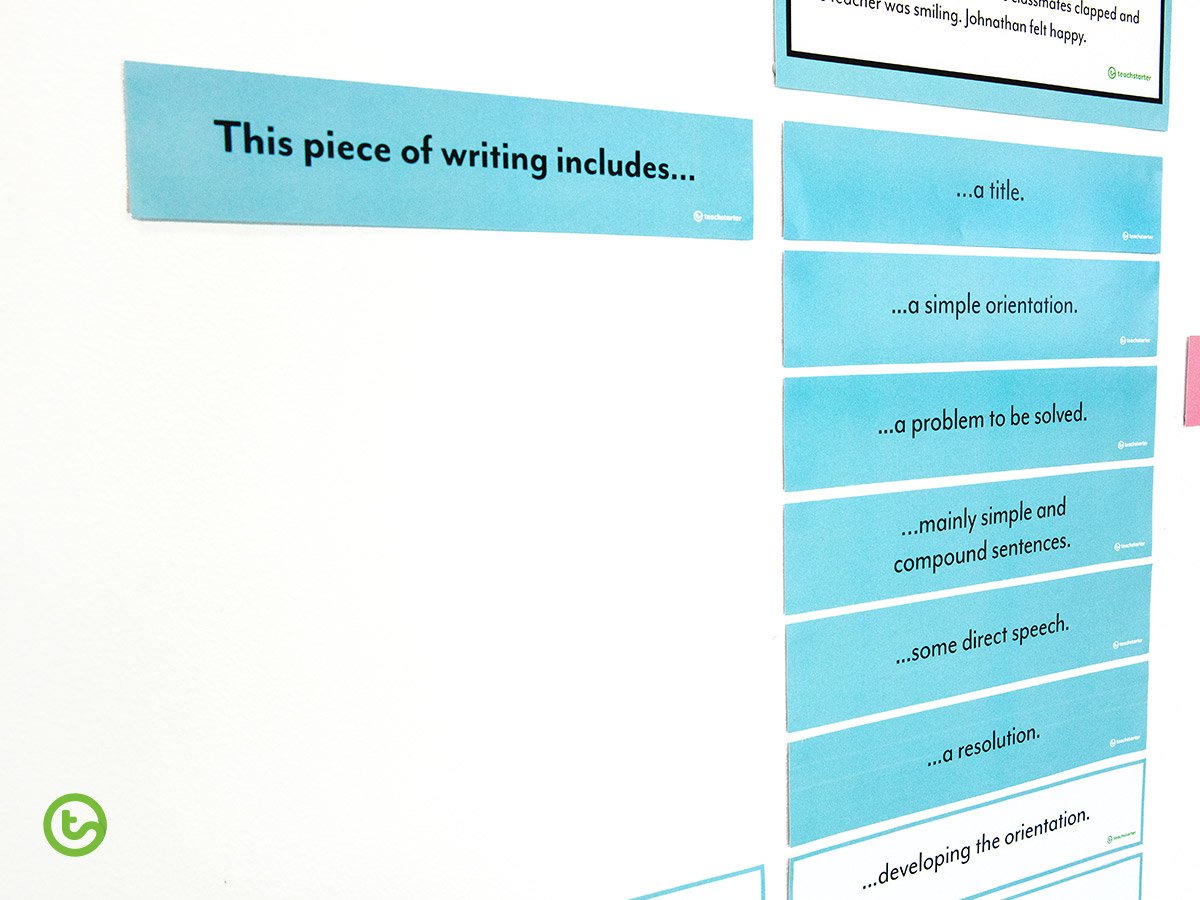 This feature is also a great teaching tool to use when introducing the text type of narrative writing to your class.
---
Different Text Types and All Year Levels!
Are you hoping to bump up a different text type? Head to our Bump It Up Wall Collection to find what you need!
To sum it up, there is every reason to use a Bump It Up Wall in your classroom! And now that we've done the hard work for you, there's an even bigger reason to make it happen!
We hope that this is the ultimate time-saver for you. Most importantly, we hope that it nurtures a love of writing in your classroom and results in writing success!
Share your love for writing success on Instagram #teachstarter