Practise spelling and reading CVC words by identifying and blending sounds using this interactive Google Slides activity.
Build CVC Words One Letter at a Time
Once your students have mastered the ability to match the letters of the alphabet with the the most common sound that each letter represents, they are ready to apply these skills to decoding and spelling simple words. Some of the first words your students will learn to read and spell are three-letter consonant–vowel–consonant (CVC) words.  
This interactive Google Slides resource requires students to click and drag letter tiles to build words based on a picture stimulus. The resource contains 18 examples of CVC words.
Scaffolding + Extension Tips 
A team of dedicated, experienced educators created this resource to support your phonics program. It can be used in whole-class or small-group setting, or as an individual activity for more-capable, independent learners.
We suggest the following differentiation strategies to support the diverse needs of your learners:
🆘 Support Struggling Students
Provide an

alphabet poster

to help students spell each CVC word.

Encourage students to segment each word on a mini whiteboard before building each word.
➕ Challenge Fast Finishers
Encourage fast finishers to create banks of rhyming words for each word.  

Have students write a sentence for each image in the resource.
🧑‍ Group Learning
Project the slides onto a screen and work through them as a class by having students record their answers in their notebooks or on mini whiteboards. 
Easily Prepare This Resource for Your Students.
Click the Download button to access the interactive Google Slides document.
Assign this interactive activity to Google Classroom. Please be sure to open in Edit mode, not Presentation mode. Students click/drag/drop/type to build words.
---
Make learning phonics an interactive experience with these other great evidence-based resources: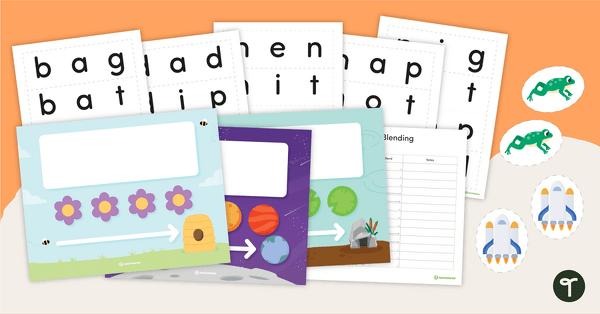 teaching resource
A set of beautifully designed templates for students to practise blending and segmenting words.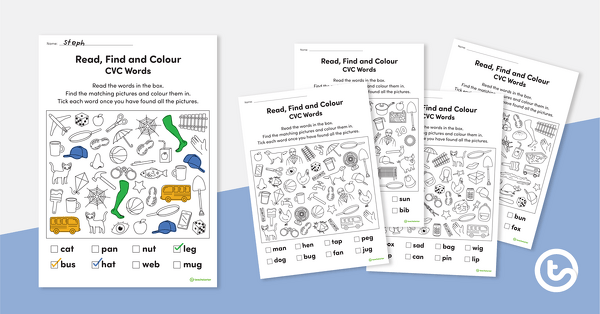 teaching resource
Consolidate your students' decoding skills with this set of search and find worksheets.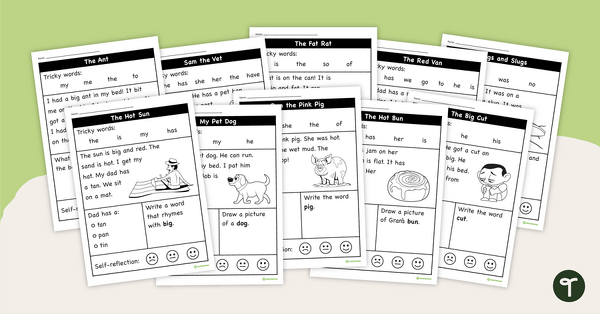 teaching resource
A set of 10 decodable text worksheets for early readers.