Whether you're looking to celebrate Space Week in the classroom (it's the first week in October, by the way), hoping to teach about National Space Day (that's the first Friday in May every year!), or you're just looking to teach your students about space and the solar system, let's talk.
Space isn't just the final frontier. It's a topic that tends to get kids excited and one that helps launch them (all puns intended) into just about any subject from language arts to math to phys ed. We pulled together some of our favorite space activities for kids to really get them excited about the universe.
Teaching Students About Space
Astronomy units are often some of students' favorites which makes teaching kids about space a blast for teachers (yeah, we're pretty punny). Space sparks students' curiosity and gets them asking those big "what if" questions, as well as broadening their thinking about the world around them — both inside your classroom and lightyears away.
Space Activities for Kids
Planning to teach your class about space? You can use outer space explorations in math class, history, and more with these ideas to kick off your solar system unit.
Connect the Dots for Kindergarten and First Grade
Astronaut training starts for your kindergarten and first-grade students with a connect-the-dots that lets them practice counting by 5s all the way up to the 400s, only to reveal one of these special people who head off on NASA's rockets into space.
Explore NASA's Space Missions
They say you should write about what you know, and the folks at NASA have written a treasure trove of information for teachers and students to consume about their various missions over the years!
Think Big With Mae Jemison
Encourage your space-savvy students to learn all about Dr Mae Jemison, engineer, physician, and NASA astronaut. She became the first Black woman to travel into space in 1992, and she's featured in our series of profiles highlighting inspirational women.
Your students can practice writing about what their lives would be like if they followed in Jemison's spacesuit steps with the If I Were an Astronaut writing prompt.
Get Funky With an Astronaut Craft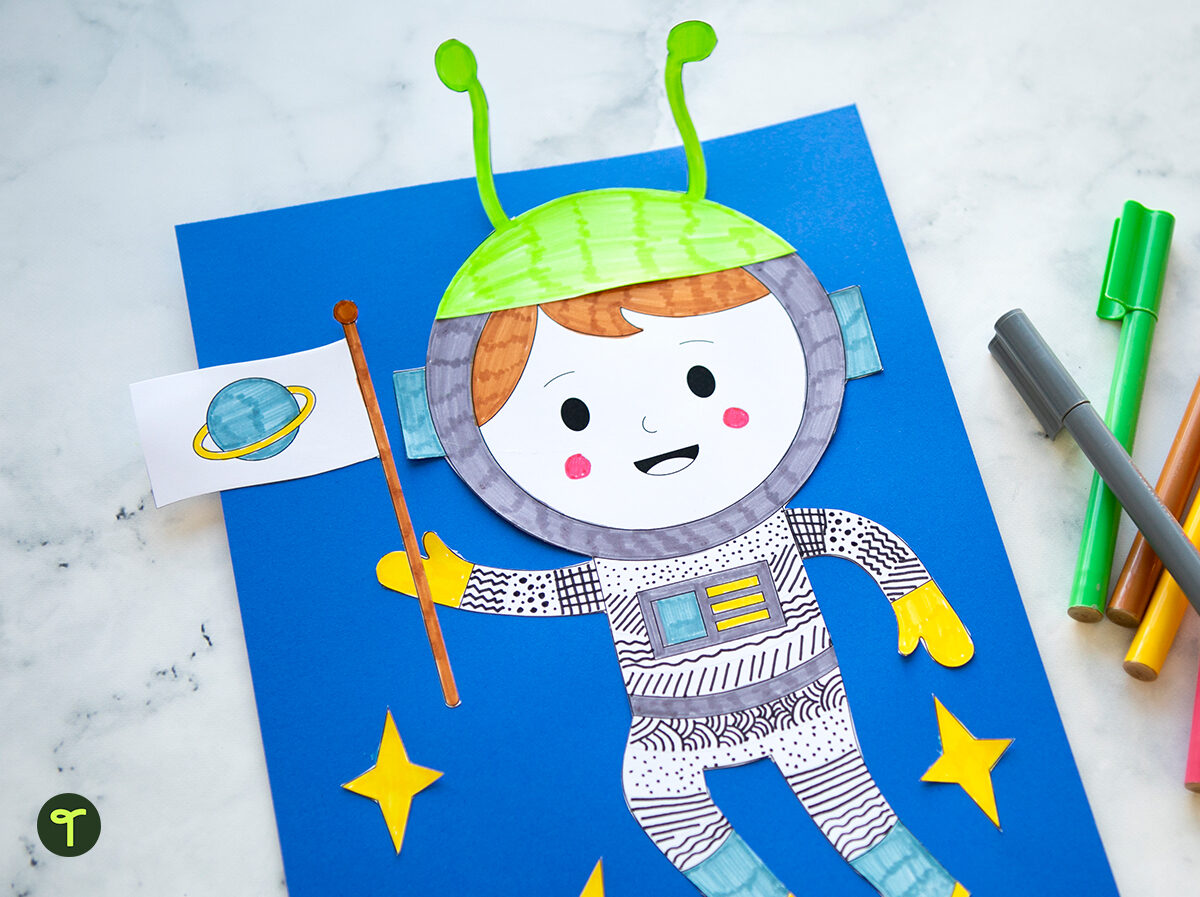 Or allow your students to grab their crayons and markers to practice patterns while putting together their very own funky astronaut craft. Students can choose from a range of cool accessories. Does an astronaut wear a cowboy hat? Maybe in your students' minds' they do!
Astronauts Can, Have, Are Anchor Chart
Young students who are learning about the solar system can practice describing what astronauts can do, what they have, and what they are as you create an anchor chart with them.
Teaching older students? Try a see, think, wonder graphic organizer to help them describe their observations and inferences about astronauts and what they do in space.
Solar System Model
Challenge students to create a model of the solar system that includes the planets in the correct order away from the sun with this mobile that can be printed, cut, and assembled!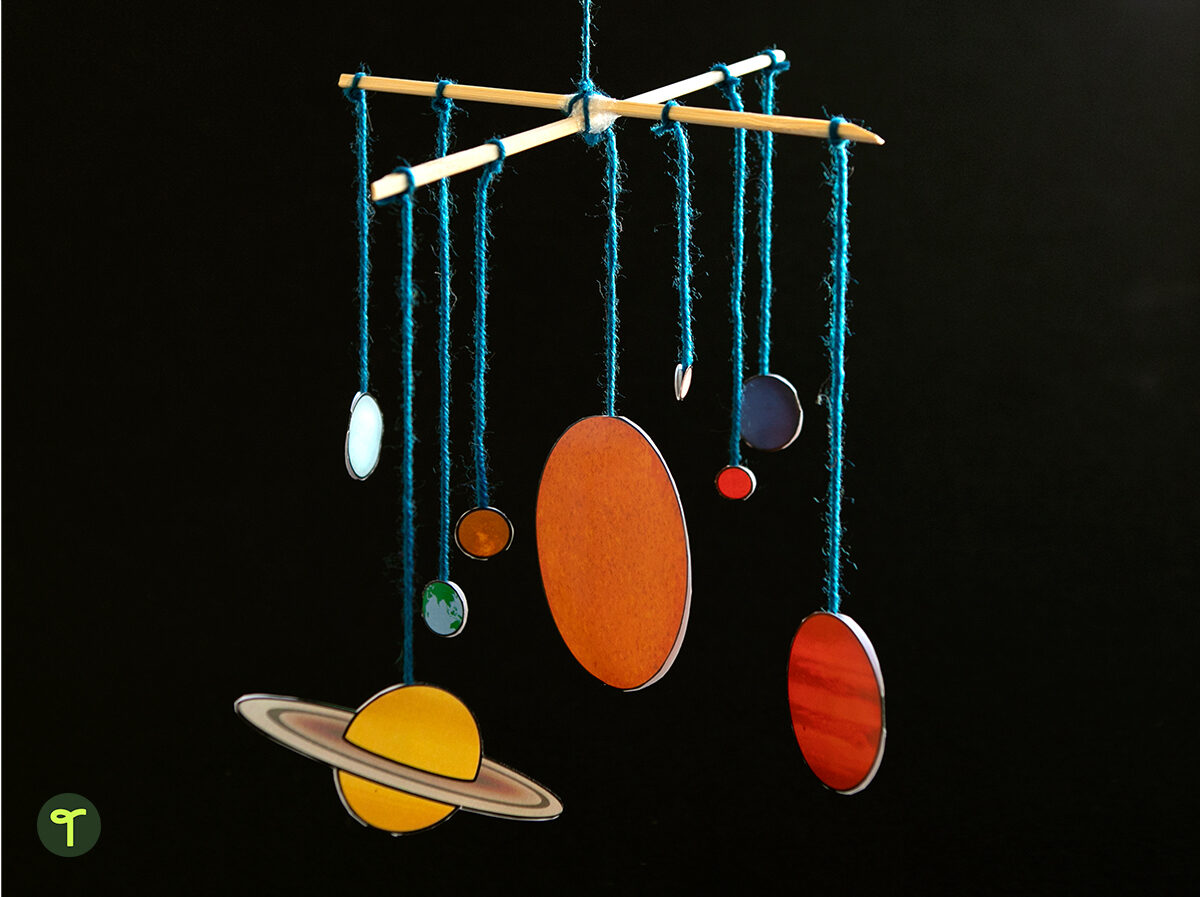 Want to focus on STEM-heavy projects for the classroom? These space activities are interactive and will get students to put on their thinking caps.
Make Eggnauts
Designed by the European Space Agency, the eggnaut STEM activity can get a bit messy, but it challenges students to think outside the box as they create their own space capsules to keep eggs safe as they blast off — just as a real astronaut would.
Supplies:
Raw eggs (enough for each student or groups of students)
Straws
Paper
Masking or painter's tape
Rubber bands
Tongue depressors/craft sticks
Students use the materials — and any others that you allow (can they choose from others in the classroom?) to build safe spaceships for their eggnauts to make a re-entry from space — aka to be dropped from several feet in the air into a selected space in the classroom.
Want to expand the space activity? You can ratchet up the learning by instructing students to also design landing zones for their eggnauts to enhance safety.
Primary Rocket Launch
Use this printable rocket template to try this fun STEM rocket activity for younger students while exploring motion, force, and energy.
Gather Materials
Colored pencils or pens
Scissors
Tape
Thick straws
Thin straws
Mounting putty
Rocket Template Procedure
Color the rocket template and cut it out.
Cut a piece of thicker straw half the length of the rocket shape.
Use tape to attach the thicker straw to the back of the rocket, and block the top of the straw with a blob of the mounting putty.
Put the thin straw inside the rocket straw.
Blow into the straw and watch your rocket take off!
Try variables like different directions, varied speeds, folding the rockets, indoor vs outdoor use.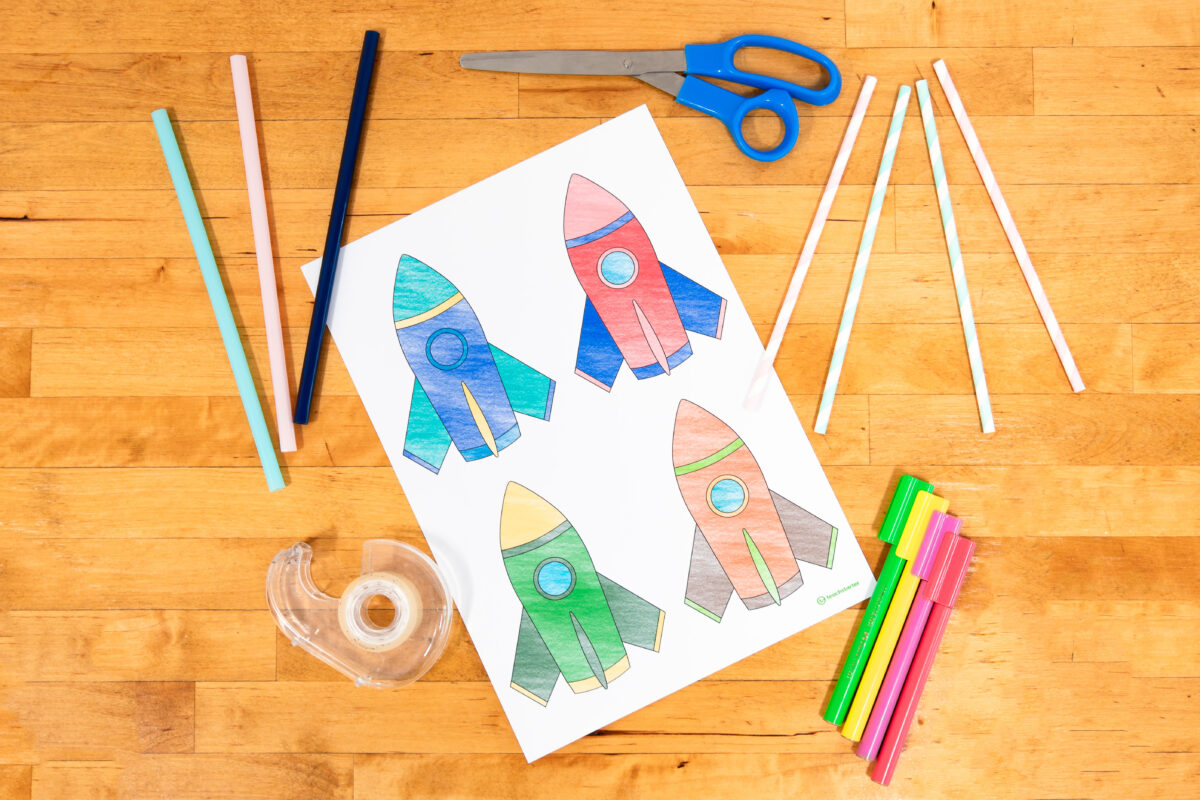 Play-Based Small World Activity
Sensory play helps young learners develop their motor skills and make important connections in the brain, so you'll want to leave space for a moon landing sensory table in your plans for pre-K and kindergarten kiddos. With make-your-own moon sand, foil balls, and of course astronauts, it's well … out of this world.
Find out how to make moon sand with just two ingredients!
Martian-Approved Space Math Activities
Since we're talking about space, it makes sense to start in math class, doesn't it? For little ones just learning to count, try this Rocket Dot-to-Dot for a bit of fun with one-digit numbers! As they connect the dots, they'll reveal a very special space-themed picture.
Fifth and sixth graders may be beyond the connect-the-dots stage, but we won't let them get lost in space! Have your students hone their location and direction skills with our rocket-themed drawing with ordered pairs activity, beefing up their plotting skills while also revealing a certain popular space object.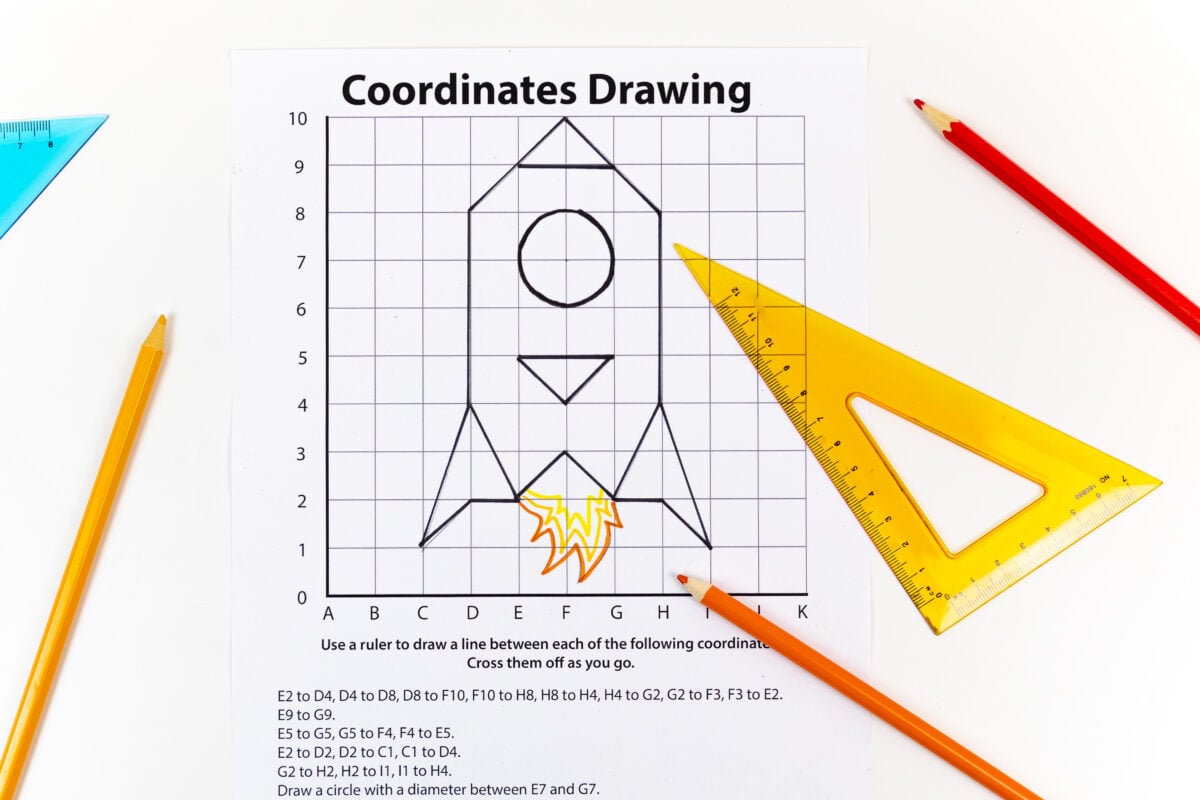 This Fact Family Rocket Blast Off is a great way to reinforce multiplication and division relationships. Check out the various versions, and pick the right one for your classroom:
[resource:2630254] [resource:2665006]
3D Astronaut
Create 3D versions of Mae Jemison, Sally Ride, John Glenn, and other space heroes while learning about shapes and how to problem solve!
Print the 3D spaceperson template!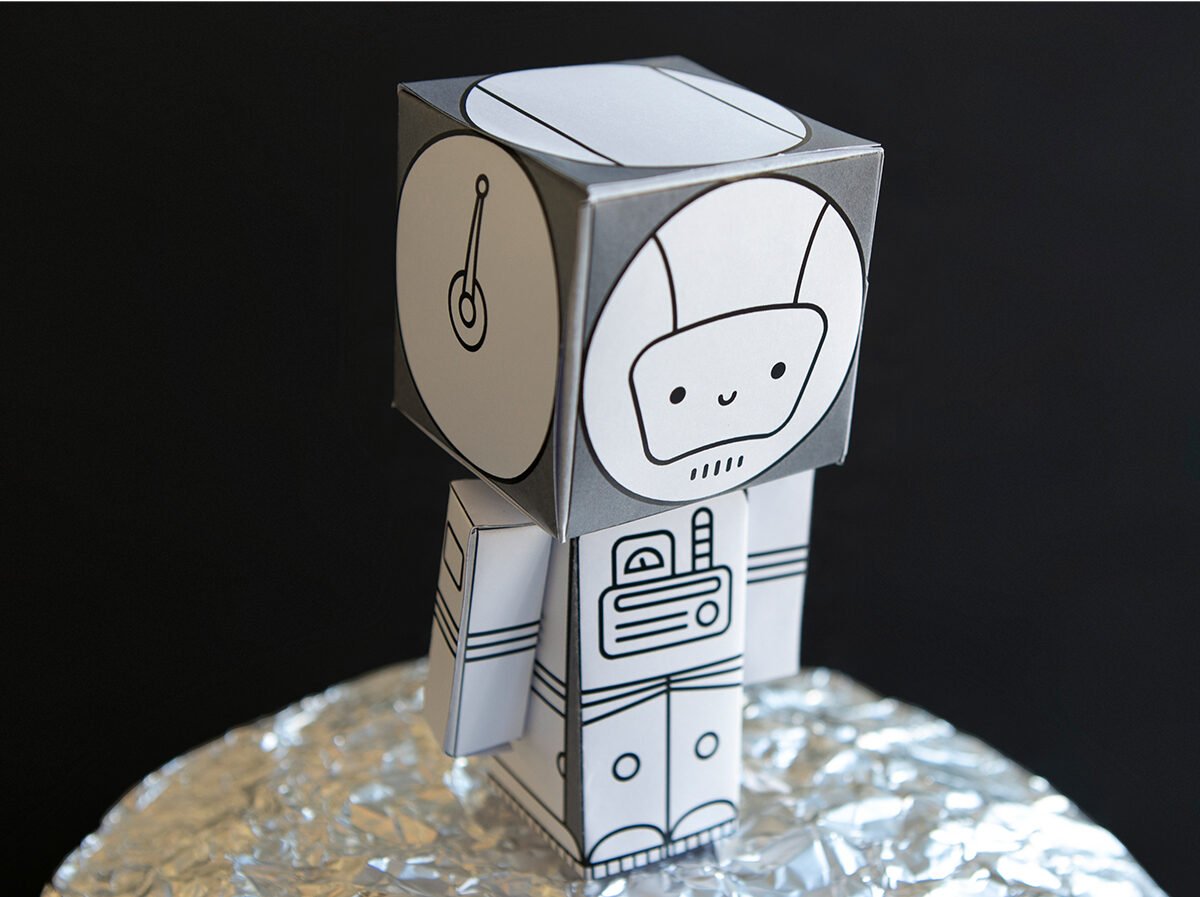 Space-Themed Vocabulary
Houston, we have some space words for you! Students in the upper grades can dive into a word search stocked with three- and four-syllable terms from beyond the Earth's atmosphere. We've put a twist in, though! There are no planets in this word search, so they'll learn about more than just Mars and Venus!
Or introduce your younger students to 90 brand-new words from space with a space-themed word wall that will teach take them on a trip from black hole to the vernal equinox and back again! Print and post around your classroom for an immersive planetarium experience.
Space-Themed Writing Prompts
Once they've got their space vocabulary down, it's time to put it to good use. This range of narrative writing prompts contains these engaging space-themed posters perfect for your class. The prompt posters could be used as stimuli for quick-write lessons throughout your space lesson.
For older children, teach the critical skill of inferring with the Ducks in Space Inference Scenario Poster and accompanying worksheet. Inferring is a valuable skill, and these quirky quackers will have students examining the scenario and answering a series of related questions. It also asks students to decide whether they have used inference or prediction in giving their answers.
---
Stellar Space Crusade Game
Why not use our blank Space Crusade Board Game template to create an enjoyable activity which aligns with your planning? You can mix it up depending on the year level!
Create a Creature from Another Planet
This exciting extraterrestrial activity requires students to research the fictitious planet of Xubos. The fact sheet provides students with information on the planet and its main habitats.
You may like to use this resource with the Xubosian Creature Report and the Create a Creature Cut-Outs in the following sequence:
read the Planet Xubos Fact File
select a habitat
create a creature that can survive in the selected habitat
complete the Xubosian Creature Report
use the cut-outs to create a 2-D or 3-D model of the creature.
Track the International Space Station
NASA's Spot The Station website allows users to track the location of the International Space Station in real-time! Your students can find out when the Station will be overhead and plan for a viewing.
It is the third brightest object in the sky and easy to spot if you know when to look up. Visible to the naked eye, it looks like a fast-moving plane — only much higher and traveling thousands of miles an hour faster.

-NASA
Read Books About Space
Must-read books about space for elementary teachers include:
A Hundred Billion-Trillion Stars — An excellent choice for classes interested in STEM and for children with curious minds, this picture book explores numbers! Author Seth Fishman and illustrator Isabel Greenberg bring to light the variation between some of the largest numbers (a hundred billion trillion stars) and smallest numbers (one very unique You) in the universe.
The Darkest Dark — The debut picture book by astronaut Chris Hadfield, The Darkest Dark tells the story of his childhood decision to become an astronaut after watching the Apollo 11 moon landing.
There's no need to go into orbit in search of engaging teaching resources! Teach Starter has everything you need in our Space Sciences resource collection.
Banner image via shutterstock/lightfield studios